Like many car fans, one of the things I love about owning an old car is delving into its history. The folder full of receipts which spills out of the glovebox will tell you not just about the work which has been done on your car, but also a lot about the people who have previously owned it.
Some of this can be found easily in the paperwork, with wads of receipts, names and addresses. Other parts you might need to sleuth, such as looking online to see the house where the car first lived. This history all leads up to the happy day when a classic falls into the loving ownership of an enthusiast like you.
How much is your car to insure? Find out in four easy steps.
Get a quote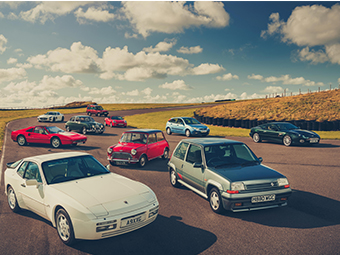 For example, a classic Range Rover I once owned was driven out of the showroom by the manager of Bradford Football Club. My current Land Rover was bought in 1984 by an officer in the Royal Navy, which possibly explains why he ordered it in battleship grey.
My 10,000 mile, 2003 Ford Ka has a more poignant story: for the last few years before I bought it, the paperwork shows the car had only travelled eight miles between MoTs. The elderly owner never used it but wouldn't sell as she insisted she might need it 'to get away in a hurry'. The poor lady had been a Jewish refugee in World War II.
But while some cars lose their paper trail of history over time, I have stumbled across the opposite – a complete and thorough sheaf of documents telling the story of a car which was scrapped 33 years ago. And reading through them tells the sad story of how a stranger came to scrap his Citroën when it was less than a decade old – the same age as a C4 Cactus now.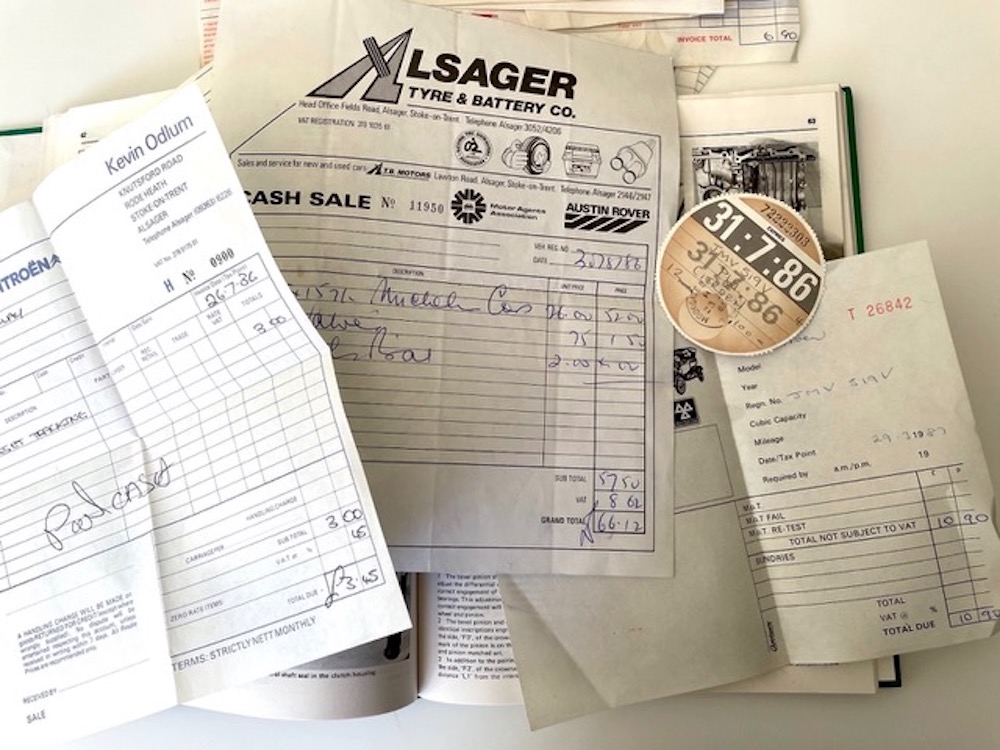 It's a tale of frustration and cost which tells us much about why the everyday cars of this era are now so rare.
It all begins when I bought a Haynes manual for a Citroën GS in a charity shop. Between the pages was a pile of bills, letters and MoT certificates dated from 1985 onwards. It documents the big bills, breakdowns and finally the scrapyard – for a fault which it seems could have been fixed relatively easily.
It was in 1985 that Mr R. Sidaway of Rode Heath, near Stoke-on-Trent appears to have acquired his GS, as that's where the meticulous paper trail starts. The first MoT certificate is dated 18th March that year and shows the mileage as 36,377 – low for what was then a six year old car. The next test shows he added just over 7000 miles in the next 12 months. But he also appears to have drained his bank account.
Besides the usual expenses of tyres and bulbs (a pair of 145×15 Michelins cost £66.12, or around £155 today according to the Bank of England's inflation calculator), the first big bill came in early March of 1986. The GS went in for a service at Kevin Odlum Ltd., the local Citroën dealer. In addition to oil, plugs and points, it also had the clutch replaced, involving a total of 10 hours labour, at £10 per hour. The bill was £228.10.
Then, seven months later, Mr. Sidaway booked the car in again with the invoice saying it was to investigate "poor starting and heavy on fuel". The dealer replaced all the ignition components – including another set of points. They also tried to remove the spark plugs they'd changed at the last service, but one was stuck. So they charged for an hour and a half's labour to helicoil it. The bill? £65.83.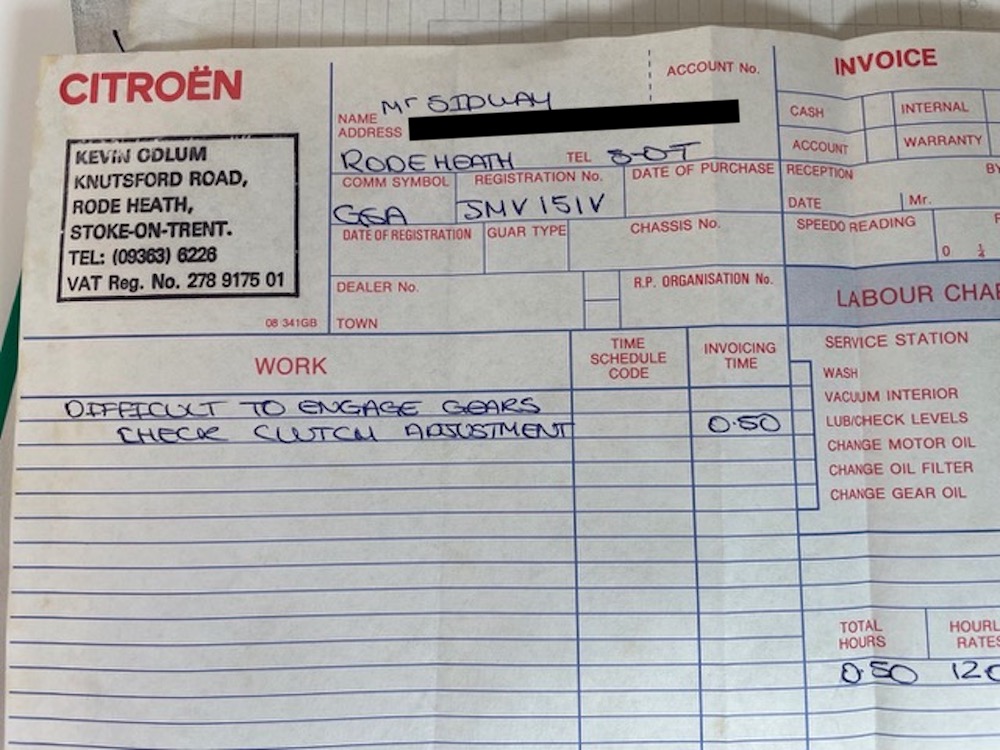 Then comes the final straw. On 5th March 1987, there is a bill for just £6.90 to adjust the clutch. Mr Sidaway is clearly outraged enough about this fault to take handwritten notes: "Taken to garage because making odd grinding noise when changing gear… clutch was adjusted. But car made the same noise. Mechanic said it needed a new clutch release bearing."
The obviously incandescent Mr S pointed out that it had been changed by the garage a year ago, but the service manager told him: "it would only have a parts and labour warranty for six months and there was nothing they could do…" He was given a quote for eight hours labour to fix it.
Understandably this outraged Mr Sidaway, who immediately tries to recoup the cost using the guarantee on goods and services bought with a credit card. A copy of the letter to Barclaycard also adds extra detail, telling how the fault had developed on his holiday.
There is no record of the response or any further bills, but the oily marks on the gearbox pages of the Haynes manual suggest he might have attempted to repair the ailing Citroën himself. It certainly lasted long enough to get an MoT at the end of March 1987, showing 54,714 miles. That is the final piece of paperwork in the folder – except for one.
On the back of a flyer from a TV repair company is a series of scribbled notes and phone numbers, listing the local scrapyards. Mr Sidaway has clearly had enough of the bills and the GS is going to make its final journey.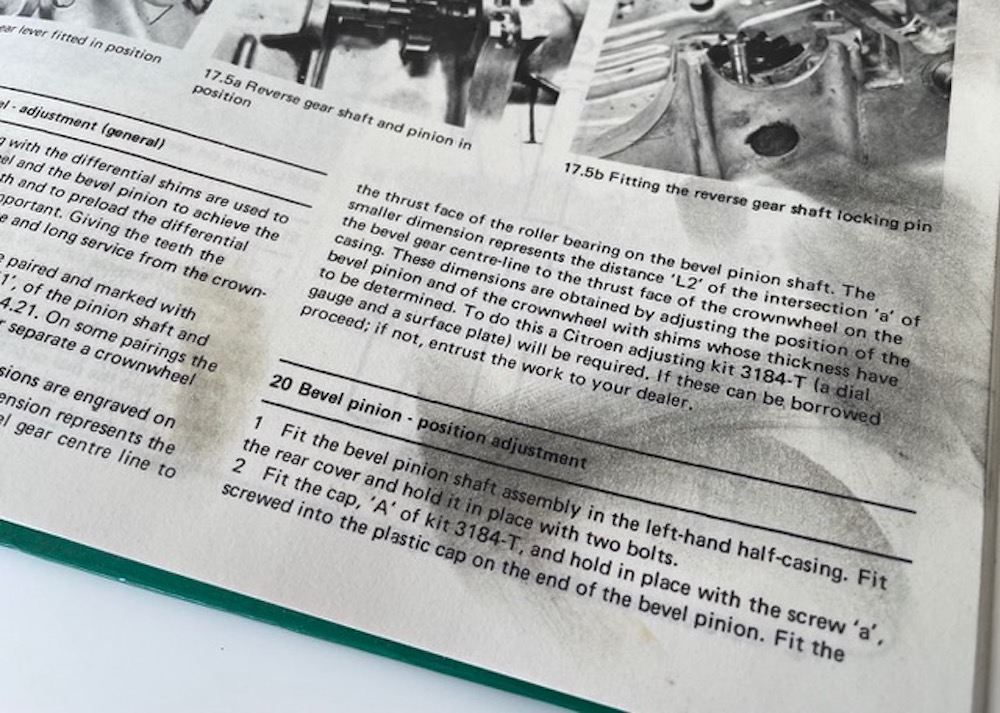 I showed the paperwork to Rob Moss, the boss of Chevronics in Hertfordshire, considered to be Britain's leading Citroën GS specialist. I asked him for his take on it. He said: "First, you have to remember that cars were different then. That seven-year-old GS will have had rusty door bottoms and will have been leaking oil over his drive.
"It will have been difficult to wear out a clutch plate or bearing in that amount of time and mileage, so I'd suggest there was a crack in the bell crank. Changing or adjusting the clutch will have hidden it, but it will have come back as the crack opened up."
Looking at the clues, it seems the clutch was changed once by the dealer. Again, a year later, by Mr Sidaway. The fault was never diagnosed properly, so never fixed. When it failed the second time, Mr Sidaway had just had enough.
I tried to find Mr Sidaway or his relations using social media, but neither Facebook nor Google could find him, even when we asked on the Rode Heath local groups. He seems to have left less history than his car.
Even though I've never met him or seen his car, I feel his frustration, even after 33 years.
Read more
Your Classics: Oliver Pickard and his 18bhp Citroën 2CV daily-driver
The run-down delights of a French roadside car lot
I scrapped a car… and I liked it