It was a hard-to-find part, and I had to have it. Who knows when I might see another? I bid hard and bid high – well, relatively – and for around £25 scored myself a large piece of black moulded plastic, complete with manufacturer's logo, in mint condition. It was a radio housing for an Alfa Romeo Alfetta GTV coupe, it was unsullied, unused and I now had it in my grasping paws. All I needed now was an Alfa Romeo Alfetta GTV to which I could fit it.
Yes, I had bought a part for a car I didn't own. Or rather, a car I didn't own yet, because I was sure that at some point I would buy an Alfetta of the type to which this part belonged. After all, most of the second-hand GTVs I'd looked at had been butchered with a Stanley knife to house some oversized sound system – this was the era of graphic equalisers – making my purchase entirely logical. To a bloke increasingly fussy about the condition of any classic he owned this was foresight, and a chance to make the condition of a future purchase just so.
How much is your car to insure? Find out in four easy steps.
Get a quote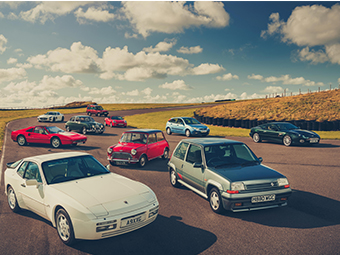 A couple of years later I saw an Alfetta that was exactly that – just so. It was for sale at the Alfa Romeo Owners Club national day, there was a for sale sign in its windscreen and it had been a previous concours winner, with a trophy to prove it. More than that, it appeared to be entirely rust-free. And if you know anything about 1970s Alfas, you'll know that finding a rust, crust, scab, bubble and corrosion-free Alfetta was as difficult as finding one… well, with a virginal radio housing gracing its centre console. Although the fact that this GTV had exactly that feature, being stereo-less from new, was no deterrent to a chap who already owned that part. I bought the Alfa and enjoyed several years of radio silence with it, preferring the sound of its sucking Dellortos and thrashing cams to the patchy pleasures of Radio 1.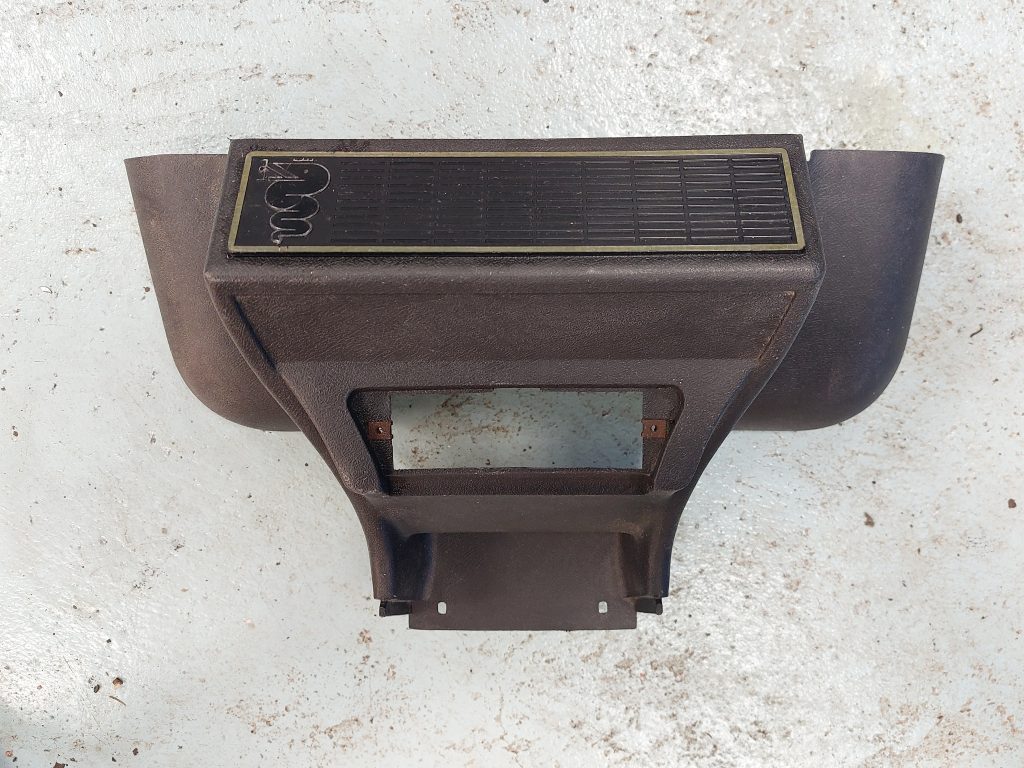 That Alfetta has long gone from my garage – although I'm happy to say that VRE 167S is still alive – but not the radio housing, which lurks in a shed with dozens of parts for cars I once had, parts I might need for cars I do have and some items for a particular car that I might yet buy. Some habits are hard to break.
Eventually, then, I must devote a few days to eBaying the spares I have for the Alfasuds, Austin Metros, Citroen DS and Triumph TR7 that I have bought, enjoyed and since sold. Although that's a lot less fun, somehow, than buying said parts in first place, despite the fact that selling them might bring in some cash.
For me, one of the many-faceted joy of classics is the chase for the car and, if I succeed in buying it, the hunt for the parts needed to bring it up to standard. This is a task that is dangerously easy to execute with eBay, a resource that makes it vastly simpler to unearth rare parts for old cars. Especially if people can be bothered to list their stashes of stuff, unlike your reporter. Besides the thrill of the chase, the acquisition of parts fulfils another, usually male habit – hoarding. In my case, often fired by the doubtless irrational belief that a hard-to-find part might be the last example I'll ever encounter.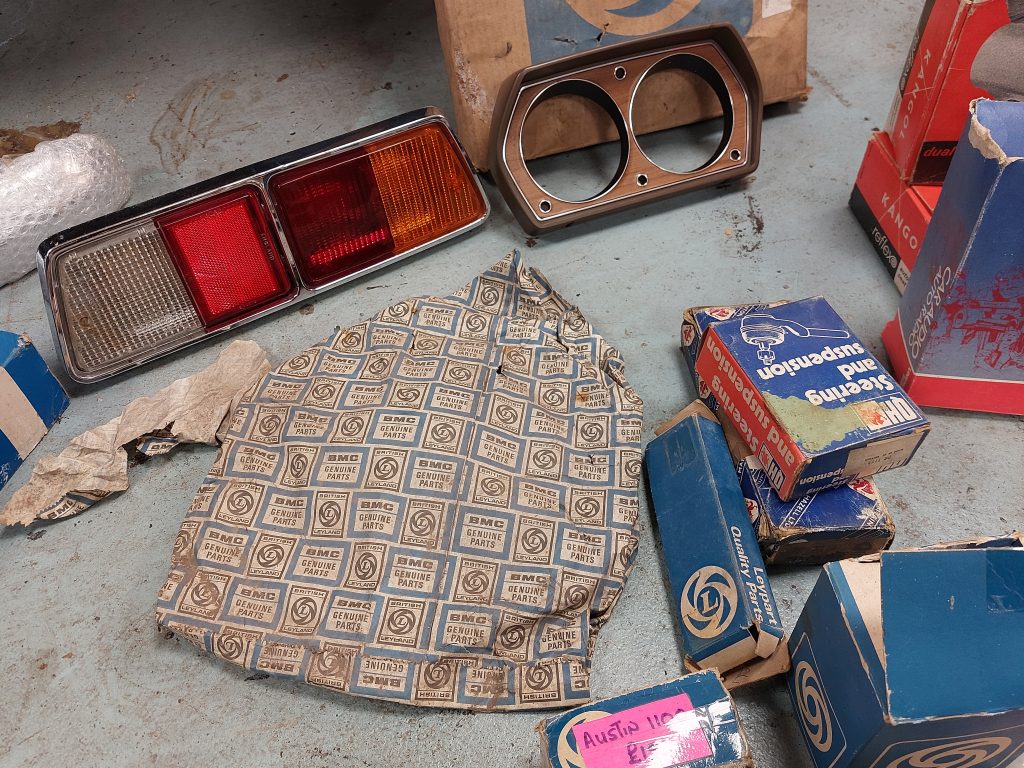 This is why I have a spare vinyl roof covering for my 1977 Leyland Princess 2200 HLS, headlights and taillights for the same, a complete set of spare hubcaps, a clock, a speedo, an interior light cover – bought cheaply because the eBay vendor didn't know what car it was for – Princess badges, door handles and more.
My mansplaining excuse for hoarding these boxes of bits is that Princesses are very rare now (no need for barbed suggestions as to why, please) as is any component apart from routine service items. True, it's hard to imagine a realistic circumstance in which my prized, near-mint '70s wedge might need a new vinyl roof – a meteorite shower perhaps, or an accident with a chain saw – but hell, I have a new-old-stock sward of brown vinyl should disaster strike.
If you're unfamiliar with the new-old-stock phrase, it refers to an unused spare, often bagged or boxed, from the era in which the car in question was made, or in the few years shortly after production ended. In one sense it's new, being unused and unliberated from its packaging, but of course it will be decades old.
New-old-stock often enters the market when car dealerships are closed down, the sale of the property forcing a clear-out of the spares department and the auctioning of its contents. Which is when specialists in this field pounce, buying job-lots of old bits that they will identify from period parts catalogues prior to reselling them at autojumbles or on eBay. If you're restoring a car these parts can be invaluable, especially as they are quite often better made and more durable than any reproduction part you might buy. Gradually acquiring a sizeable heap of these higher calibre parts considerably eased the restoration of my Austin 1300 GT, which has not required any repro parts to finish it.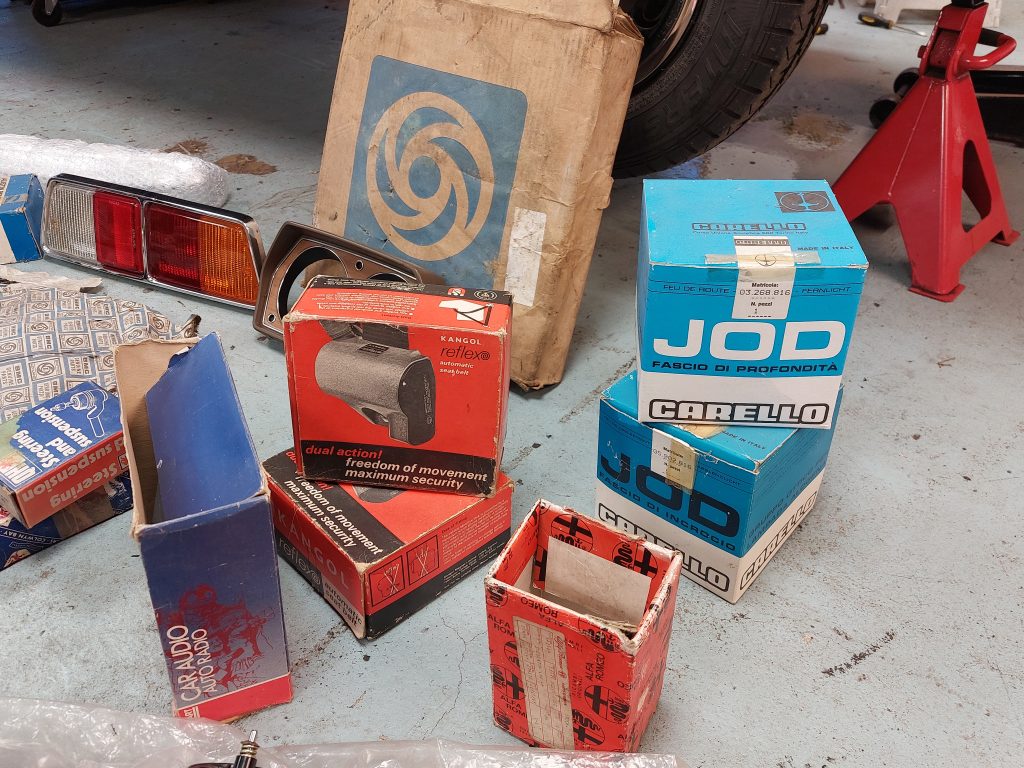 The same prepping for the non-availability of parts/hoarding/time-wasting on eBay obsession has acquired me a decent reserve of spares for my Rover 75, the rarest of which are a new-old-stock steering wheel and leather front seat cover in the correct shade of blue. They were quite cheap at the time, and very hard to find now. Although the first Rover 75 that I bought them for has been sold and replaced by another, better example, which of necessity also has a blue interior.
The stashing process even runs to my 2018 Abarth 124 Spider. It's a modern machine, but was deleted in around 2019 after only three years on sale and less than 3000 examples distributed here. So, I've bought a spare set of Abarth drop-in floormats, spare mirror caps and spare badges, all of these items vulnerable to heavy wear, damage or sun-bleaching. I'm figuring that it won't be so long before these parts are NLA, or no longer available, as the parlance goes. Will I keep my Spider long enough to ever need these? Er, probably not, but such is my disease that it feels good to have them. One day, perhaps years from now, I'll put them on eBay and make some Abarth 124 restorer's day.
Oh, and the parts I have for a car I have yet to own? They are an owner's handbook and parts catalogue for a Riley Pathfinder, a large and rather handsome 1950s British saloon whose career was a little longer but no less troubled than Liz Truss's premiership. They're hard to get parts for, you know.
Are you a self-confessed crankcase? Think you've got it as bad as Richard Bremner – or worse? Write to the editor, summarising your affliction, and you could be featured here! jmills@hagerty.com