Our time on this planet – and that of the ICE motor car – are both indeterminate entities, notes Paul Cowland. His advice? Buy something with a V8 engine while you still can…
Have you ever wondered what a car show of the future might look like? It's something I think about all the time. In some ways, they'll look a lot like car shows do now. Perhaps clever apps will eliminate queues, whilst air-fried wholefoods might have usurped the burger magnates, but with any luck, there will still be lines of vehicles for us to peruse and enthuse about.
How much is your car to insure? Find out in four easy steps.
Get a quote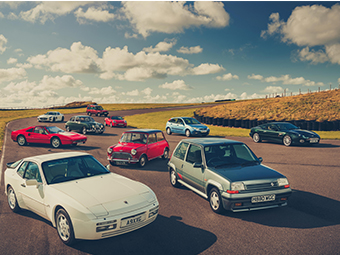 Many of them will be electric cars, of course. And while I'm sure we will all be passing muster on the timeless styling of a Polestar or reminiscing wistfully on when Tesla panel gaps could once be measured using inches rather than microns, the one thing I'm convinced we won't be talking about is the character, tone and personality of the drivetrains. I note, with little surprise, that 'Go on, give it a rev, mate!' has not yet entered the show-going vocab' of the electric vehicle enthusiast. After all, a Nidec electric motor at full tilt sounds much like a Yasa does. Whichever collection of wires and metal components your car will have, it will doubtless move the thing along quite successfully. What it will never do, I believe, is move your soul.
Conversely, despite also being a simple collection of castings, forgings and stampings – and a little wiring of its own, the internal combustion engine manages to convert energy into movement whilst doing so with some degree of emotional charm. How much charm often depends on the kind of engine you've gone for. An early French diesel on cold start may not perhaps lift the spirits in the same way that a V12 Aston at full throttle can, perhaps, but if its clattering discord takes you back to that amazing French gîte holiday in '85, in the back of your parent's Peugeot, then I'd argue that it really does. Fuel-fired engines have that ability to viscerally connect us to the machine, in ways that no other form of propulsion can.
While I'm an ardent admirer of them all – the flat 4 and 6, the V12, the inline 4 and 6 – even the right 3 banger, there will always be, for me at least, one engine configuration to rule them all: the V8.
You can blame it on a diet of near-constant American films and TV as a kid, but whether it was Starsky and Hutch's Torino, the Duke's Charger, B.A Baracus' Vandura or Bullitt's Mustang ringing through the tinny speaker of our wood-effect, push-button Bush telly, I knew then that there would only ever be one engine for my daily commute. No matter what displacement or power it created.
Anyone that knows American cars will understand that, particularly during the so-called 'malaise' era of the 1970s, some of these engines really were pretty terrible. And let's not forget that with the various smog controls and near-futile attempts at improving fuel economy you got 7-litre engines that produce less power than a modern hatchback.
And yet, they're still endearing to drive. They're also pretty tough, too. Being engineered to work, poorly serviced, in even the most inaccessible parts of the great states, they are, in all the best ways possible, as dumb as a box of frogs. It might explain how, on a recent trip to try and bring my friend James' 1977 Buick Le Sabre back to life after a TEN year slumber outside, it started with just a little dash of fresh fuel – and on the first turn of the key…
V8s work on every single level. They look good, they sound good, they're torquey, even if they're not powerful, and in some cases, and when well maintained, they're often surprisingly economical. My 5.0 Ford Mustang GT easily gets 33mpg on a run, for example – exactly the same as our Subaru Outback with half the displacement (and admittedly twice the driven wheels).
Realising that both my time on this earth – and perhaps that of the car as we know it – cannot be guaranteed forever, I have decided to fulfil a promise to my nine-year old Fall Guy watching self. And that is to drive a V8 to work or for pleasure, whenever humanly possible. I've started already. As the lease on my base model, diesel Volvo S90 finishes this month, it's already been replaced with a 1997 4.0 V8 Jaguar XJ8, acquired outright for the cost of a few month's Volvo rentals at a recent Manor Park Classics sale.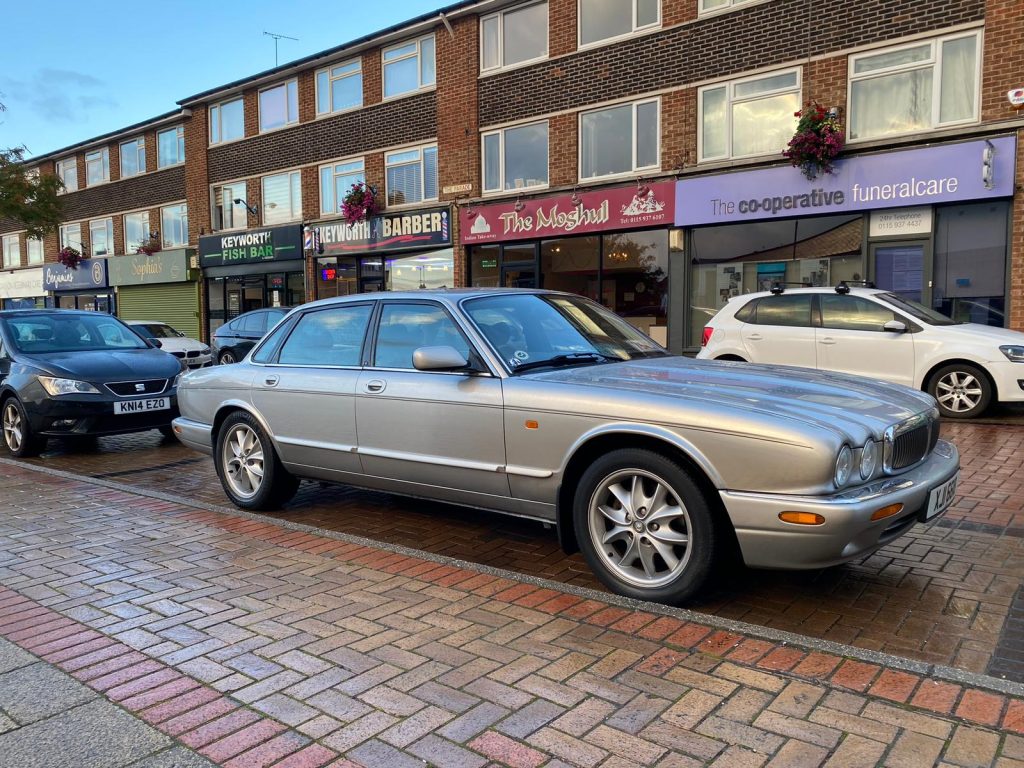 The Jag is already proving to be a stylish and useable upgrade to the Volvo in many ways – plus it doesn't engender the look of slight disappointment that I used to get when arriving at 'car guy' places looking – to all intents and purposes – like an airport transfer.
Now, the astute amongst you may have already worked out that a 4-litre petrol Jag can't deliver the fuel economy of a 2-litre diesel Volvo. And you'd be right. It's usually about half, or less. That said, I'm now £300 a month better off, lease wise, and petrol is much cheaper than diesel. As it stands, I'm currently a little up on the deal, and I get to arrive everywhere looking like either an extra from a Guy Ritchie movie – or a successful pub landlord from the turn of the millennium. (I'm quite happy with both looks, if I'm honest.)
As for the environmental impact, according to a recent study by Mike Berners-Lee, author, researcher and professor in practice at Lancaster University, a largish car creates around 17 tonnes of CO2 just by being made, so for me to keep this quarter-century old one going for a while, is still better for the planet, even if it does emit a little burnt fuel through its catalysed exhaust as it wafts along.
The benefits of going 'old school' were brought into sharp focus during the recent Christmas break. I'm sure many of you saw, as I did while travelling, the endless queues of Teslas, politely waiting their turn to charge their batteries for the onward journey. Some had to wait for up to six hours, I understand, leading to a few reheated Christmas dinners, and plenty of stressful moments along the way.
To balance this, 'charging' the Jag did take almost ten whole minutes. But that included a full loo break, coffees, a pasty stop and a gentle amble through WHSmiths – as well as a brimmed tank of Super.
Despite the fact we're clearly not quite ready for the mass switch to EV yet, I'm sure many more will be sold this year. However, for as long as it's deemed acceptable to do so, I'm going to stick with my V8 Jag. Well, at least until I've created those 17 tonnes of CO2 and squared the environmental equation against the new car I could have bought instead.
It's not just that I prefer the sound and drive of a V8 over an EV. In 2023 I turn 50 – and at that age, I really don't want to be sitting in a cold car for six hours. My bladder just won't take it.
Check out the Hagerty Media homepage for daily news, features, interviews and buying guides, or better still, bookmark it.