In 1982 my dad, Ivan, went into a Mazda dealership to buy a sensible, reliable used 323 GLC as my sister's first car and came out with a brand new metallic blue RX-7 for himself as well.
My teenage years were spent squeezed into the tiny rear seat, where if I twisted sideways I could almost stretch my legs, but seldom see where we were going.
How much is your car to insure? Find out in four easy steps.
Get a quote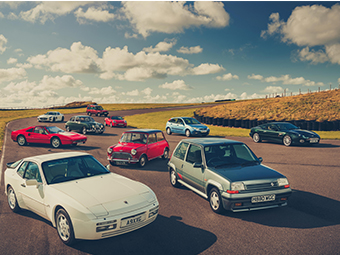 Sometimes, if I was running a little late in the mornings or it was raining I'd get a ride to school. Rainy days were the best as we'd often get into a little second-gear slide on the left-hander at the top of our road. Dad would dial in the opposite lock and carry on as if nothing had happened. I learned far more about physics on that corner than, well, in physics.
A trip to a bowling alley with a couple of my friends is memorable not because of the strikes and spares scored, but the donuts in the car park afterwards, and in a similar gravelly open space I would drive the RX-7 for the first time.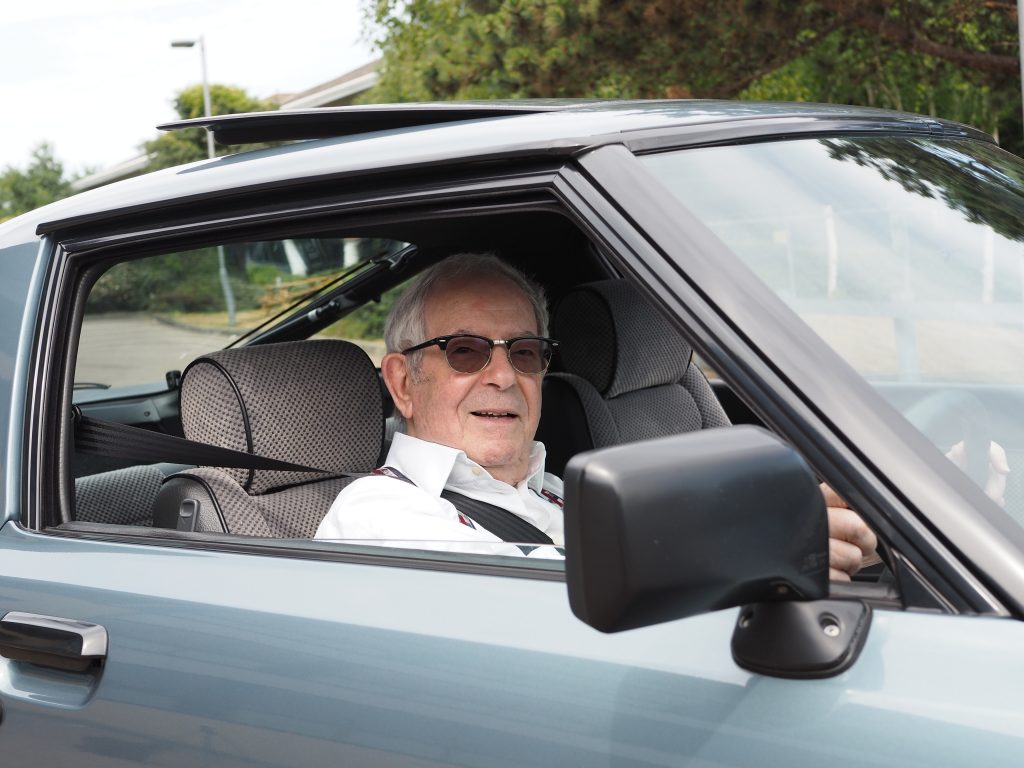 It was the day of Live Aid, July 13, 1985. Many of my friends went to this once-in-a-lifetime concert, but I had an even more formative experience. For several years we'd had a little Enterprise sailing dinghy, kept at a reservoir near London Heathrow airport, but, now that I was 15 we were going less and less frequently. On this day, as we headed out my father started talking me through the RX-7's gauges and switchgear while Bob Geldof shouted at people to "Give us your fookin' money" on the radio.
After an uneventful bit of bobbing about on the water, I thought we were all set to leave when my dad stopped the car and said "Your turn."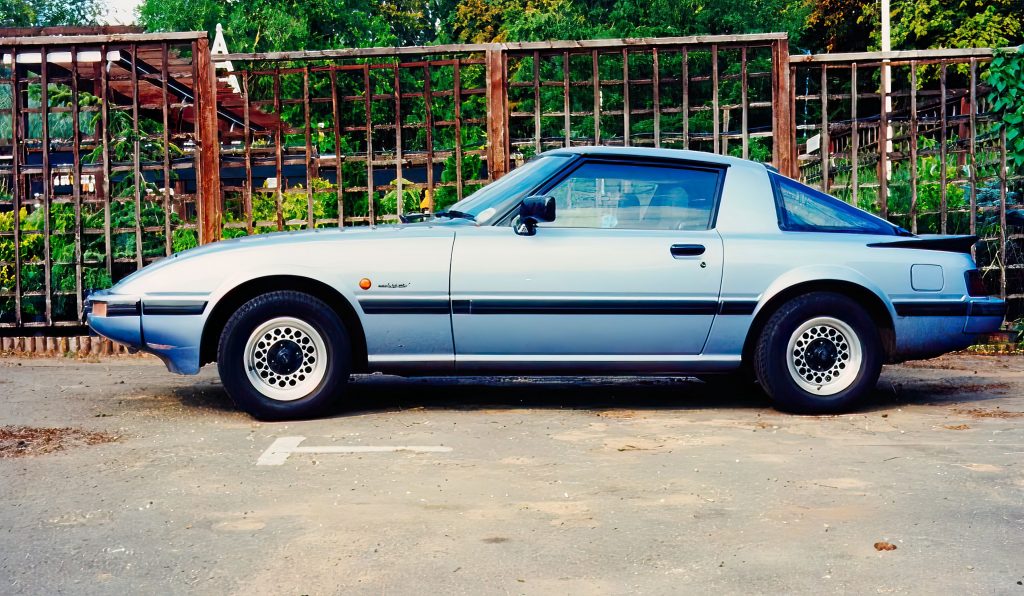 This is the moment that floods back as I settle into Mazda UK's pristine 1984 RX-7. Incredibly the car has done just 950 miles since new, having been kept by a dealer in Scotland after he gave up the franchise. It is essentially a new Mazda RX-7, just like my dad's. So it's even better that he is sat beside me.
Now 86 years young he kept his RX-7 for 14 years, only giving it up for a more powerful Turbo II. "It's even the same colour," he smiles as we set off.
It's been warmed up so there's no need to use the choke, which is a shame as I remember some sensational backfires when starting from cold – especially on the two-star fuel it ran on before the arrival of unleaded.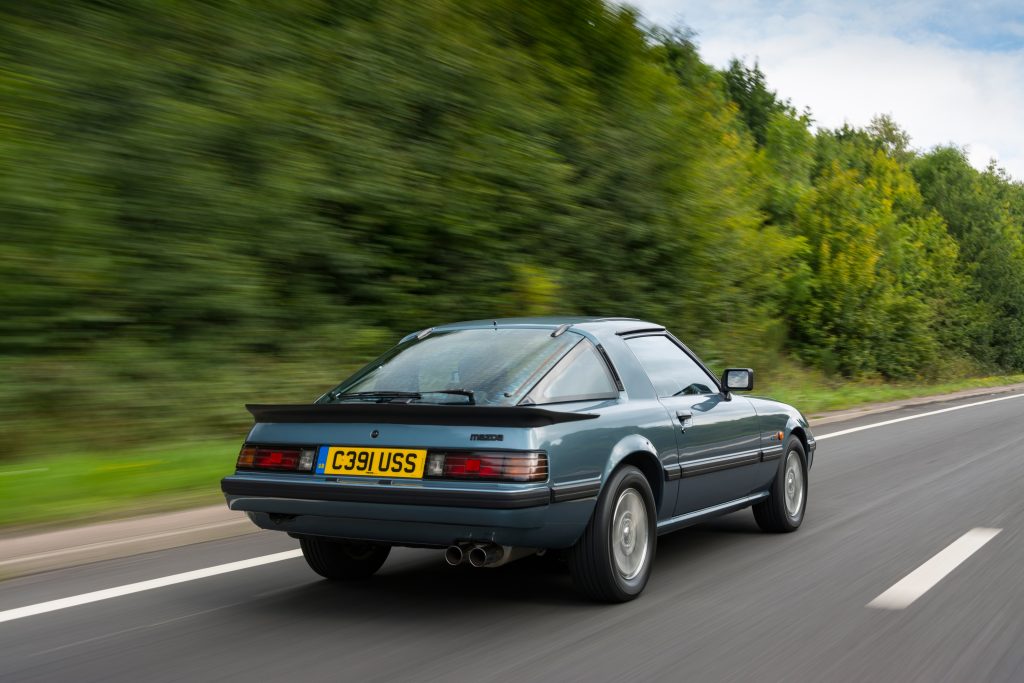 The driver's seat feels surprisingly high, my head almost on the roof, so I crank the seat back a notch or two. The switchgear is a bit scattergun but the pedals are perfectly placed and spaced for heel-and-toe shifts as my dad used to demonstrate on a daily basis.
Setting off it's the steering that's most alien. Mazda used a recirculating ball setup on these first RX-7's and it manages to be both heavy and vague, with very little self-centering action. My admiration for my father, hustling his car along country lanes – and parallel parking it in tight London spaces – just went up a notch.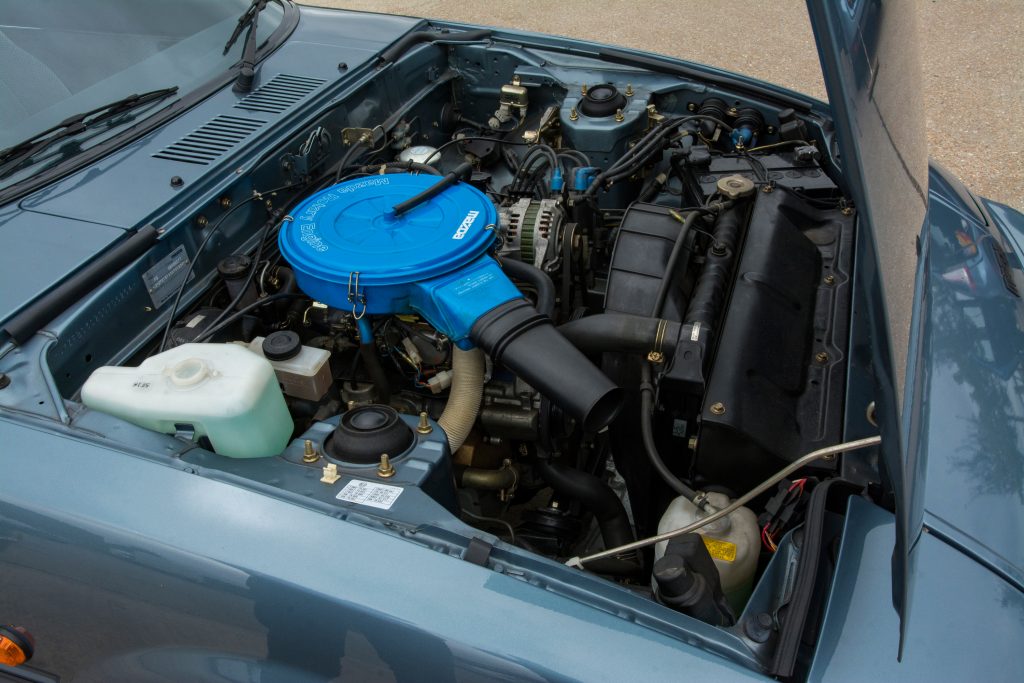 The star of the show is, of course, the 12A Wankel rotary engine. Just 1.3-litres in displacement and with a skinny 116bhp it needs revs to make progress. Short gearing helps and, despite being barely run in, the engine spins eagerly to its 6,000 rpm power peak. Go further and you'll hear (as I often did growing up) a beep from the dash, warning you to shift up. Give it everything and the RX-7 would reach 62 mph from a standstill in 8.4 seconds and top out at 125 mph – all the while accompanied by the simply wonderful wail of twin rotors spinning at speed, and unburnt fuel from the twin Weber carbs popping in the exhaust on the over-run.
It's a small car by today's standards, low, light and agile once you get the hang of the steering. No wonder my dad kept his so long.
Our time is rather limited as Mazda is, understandably, keen to keep the miles down, but I have now driven a car just like my dad's further than I ever did before. It's my opportunity to say "Your turn" and hand the keys over to him.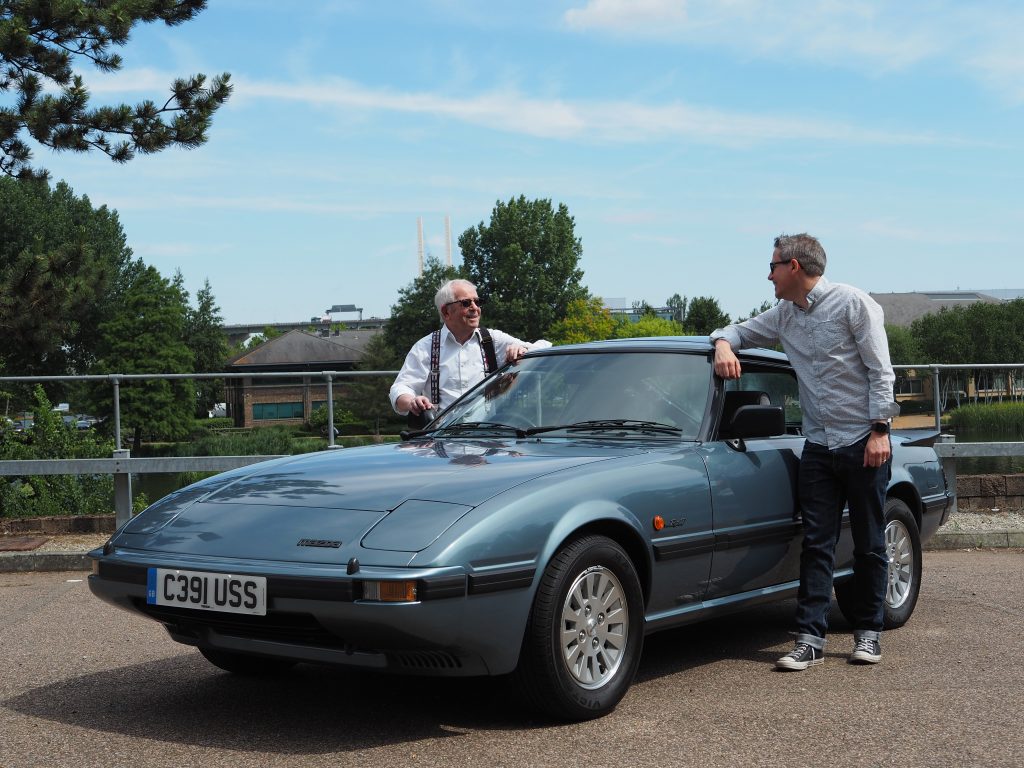 "Everything just feels so immediately familiar," he smiles, deftly pulling away despite a decade of only driving automatics. His shifts are seamless, and while there's no prospect of us slewing around like we used to, this drive down memory lane is brilliant for both of us.
"It brings it all back. I remember driving through the Scottish Highlands, Dire Straits on the stereo and the rotary on song. It was the best drive of my life," he recalls.
Like father like son. Except, perhaps, the taste in music.
Read more
Our Classics: 1994 Mazda RX-7
Mazda starts making heritage parts for the RX-7
The Mazda RX-7 is everything you want in a sports car | Revelations with Jason Cammisa