Colour is really important to me. I may be a guy, but I know which colours work and which don't, whether we're talking, clothes, curtains and, yes, cars.
Why does Ice Blue Metallic look sensational on an Austin-Healey 100/4, yet it looks awful on an MGA? There's no real explanation, except that some colours make a car and others are just plain awful. Some colours are universal and many cars look incredible in them — like black — and others just don't translate. Can you imagine using the Lamborghini colour palette on a Morgan? It just wouldn't work.
How much is your car to insure? Find out in four easy steps.
Get a quote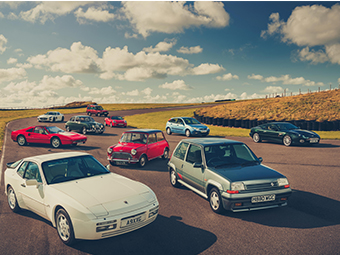 When it comes to British cars, some colours are for the ages:
Old English White: Whether you're talking Morgan Plus 4, MGA, Big Healeys, TVR Vixens or any postwar MG, this colour works on them all, especially when paired with a red interior. And if you have your doubts about OEW, take a look at an XK-120 OTS with steel wheels in this colour; it works as well as any hue on earth.
Pale Primrose: Even if you don't like yellow, this is a colour you can live with and learn to love. It looks fantastic on Series I E-Types, MG Midgets, Bs and GTs, and when known simply as "Primrose Yellow," it works beautifully on side screen Triumph TRs and early TR6s (where is was known as "Jasmine"). With the even simpler name of "Primrose," the colour was available on Austin-Healey Sprites, 100/6 and early 3000 models.
Call it Iris Blue (BMC) or Powder or Wedgewood Blue (Triumph) or Speedwell Blue (Sprite), and you have a light blue that really works on sports cars, be they TR3 and TR4 or MGA and MGB. For the most part, I've always felt that it works best on less curvy cars, but for some reason Frogeyes look incredible in their Speedwall Blue version of the colour. If it was good enough for Gulf Oil's iconic GT40 and 917 livery…..
Metallic Ice Blue: This colour is truly iconic for Austin-Healey 100s and 3000s, and is a light silvery blue with a bit of yellow in it. For some reason, great colours that they are, Colorado Red or British Racing Green just never set off a Big Healey as well. Forget the two-toning with OEW, just paint mine Metallic Ice Blue, fit painted wire wheels and a dark blue interior, and I'll be very, very happy. Jaguar called it Opalescent Silver Blue and it suits SI E-Types quite nicely.
Silver Birch: There are only about three people on earth between the ages of 30 and 90 who haven't been exposed to 007's stunning Silver Birch Aston Martin DB5, and today more of the model have been painted that colour than ever left the Newport Pagnell paint room. For some reason, a lot of British cars don't look great in silver. For example, MGs and Morgans, Triumphs, Sunbeams and classic Lotus cars suffer terribly when painted silver, yet on an Aston Martin DB5 or DB6 the result is simply sensational.
British Racing Green: This colour comes in many hues. Sometimes it's even called Brooklands Green or Woodland Green, and other times it goes by different names such as Racing Green or Dark British Racing Green. One of the very best iterations of this iconic colour was used on Series III E-Type Jaguars, though the hue used on 1963-1970 is great also. This colour looks great on cars with curves (Healeys and AC Ace, Frazer-Nash and Morgan), but also with cars that are fairly straight with flat sides (Triumph TR5 and TR6 and Rover P6).
Dove Grey: This hue may not scream sports car, but it is so elegant and to me is the best colour on an MGA, particularly on the coupé. And that red interior accents it beautifully. The XK-120 also came in the colour and looks sensational in it, as does the Mark II. Similar greys were available from Triumph and several other companies and always seem to look great. The rare B GT colour, Grampian Grey, is a bit darker but still quite nice.
Almond Green: Also known as Aston Racing Green, this really is a signature colour for Aston Martins of most vintages. Whether we're talking DB2, DB3S, DBR1, DB4 and even DB7, this is the colour most often associated with Aston Martins not connected with James Bond. It also works on other cars, as I've seen it used on both a Frazer-Nash LeMans Coupé and an Arnolt Bristol.
French Blue: For some reason, this mid-blue colour looks absolutely sensational on a TR6. For me it's the best hue for the model. There is quite a bit of grey in the colour and it sets off the flat surfaces beautifully. Surprisingly, it looks equally good on the much more curvaceous Spitfire.
Tartan Red: There are hundreds of different hues of red, but Tartan Red as used on 1964 through 1967 has to be one of the best. It's deep and rich and not nearly as yellow (orangey) as Orient Red (MGA) or Carnival Red (Sunbeam Alpine and Tiger)
These aren't the only great colours, but they are among the most iconic. There were any number of maroon hues, which look fantastic on anything from an Aston Martin DB MkIII to an XJ6 or MGB/GT, and both Lotus and TVR had screaming yellows, which suited their cars brilliantly. And before you criticize me for leaving out that most universal of colours, black, I can't think of any British Car from Allard J2 to HRG 1500 to Lotus Europa to Silver Shadow that doesn't look sensational in black. Set it off with a contrasting interior in green, red or tan, and it really is hard to beat.
Jonathan A. Stein is the author of "British Cars in America" and is the owner of an MGA Twincam fixed-head coupé finished not surprisingly in Dove Grey (See, #7 above).