When we drive our cars, they collect signs of that use – patina, in collector-car speak. The latest issue of Hagerty Drivers Club magazine explores the delight found in such imperfect cars.
Everything is somewhere. That simple belief has kept treasure hunters going down through the ages, from the first people who searched for Blackbeard's hoard to that one guy who, back in 2019, pulled a 500-year-old gold Tudor pendant out of the English mud. Everything is somewhere, waiting to be found – though Randy Carlson has come to believe that "this one found me."'
How much is your car to insure? Find out in four easy steps.
Get a quote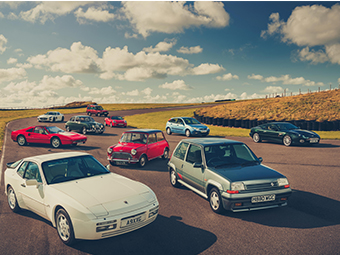 What found Carlson at his compound out in the rural inland hills southeast of Los Angeles is a couple of tons of unrestored prewar Mercedes-Benz. If cars could talk, this one would have some tales, starting with its years as a limousine in wartime Berlin, then as the recipient of a sporty new cabriolet body by an obscure German coachbuilder, then as a traveller in the New World that took it as far west as Albuquerque, thence to a barn in Michigan, now back to California and Randy Carlson. After eight decades, the Mercedes manages to wear its years with a battered dignity perhaps only possible in a car built by the world's oldest surviving car company. That silver star on the radiator cowl still means something, even when showing some serious patina.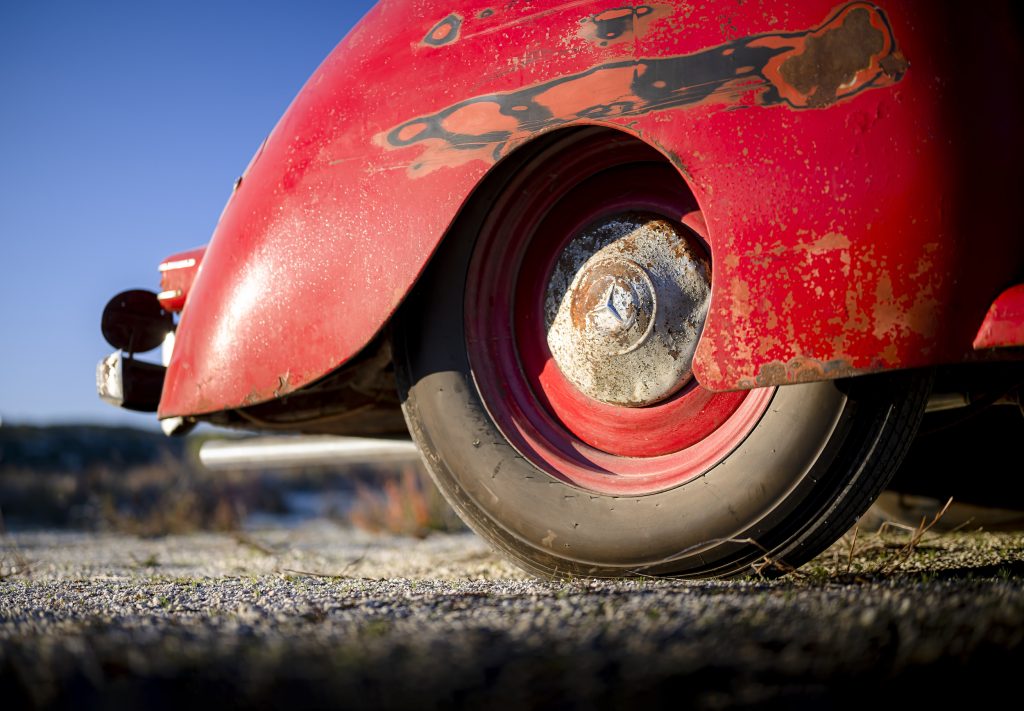 ***
The story begins the summer of 2021 when Carlson's son came home with Covid. It quickly rampaged through the house right as Carlson was about to leave on his annual pilgrimage to Pebble Beach. "It's August, I'm supposed to be in Monterey, and instead I'm stuck at home with Covid and pissed off," he recalled. "I'm spending the whole time watching everything going on up there on the internet and also trolling Facebook pages, looking at car stuff and saying, 'Why the f*** am I not up there playing with my friends?'"
Carlson is a familiar face in the online VW community, frequently posting VW and related content on YouTube and Instagram and running a VW ad-listing website called Oldbug.com. He describes his profession as "playing around with this stuff," and he had no idea that he was about to be reminded that everything is somewhere, waiting to be discovered. If you look close enough.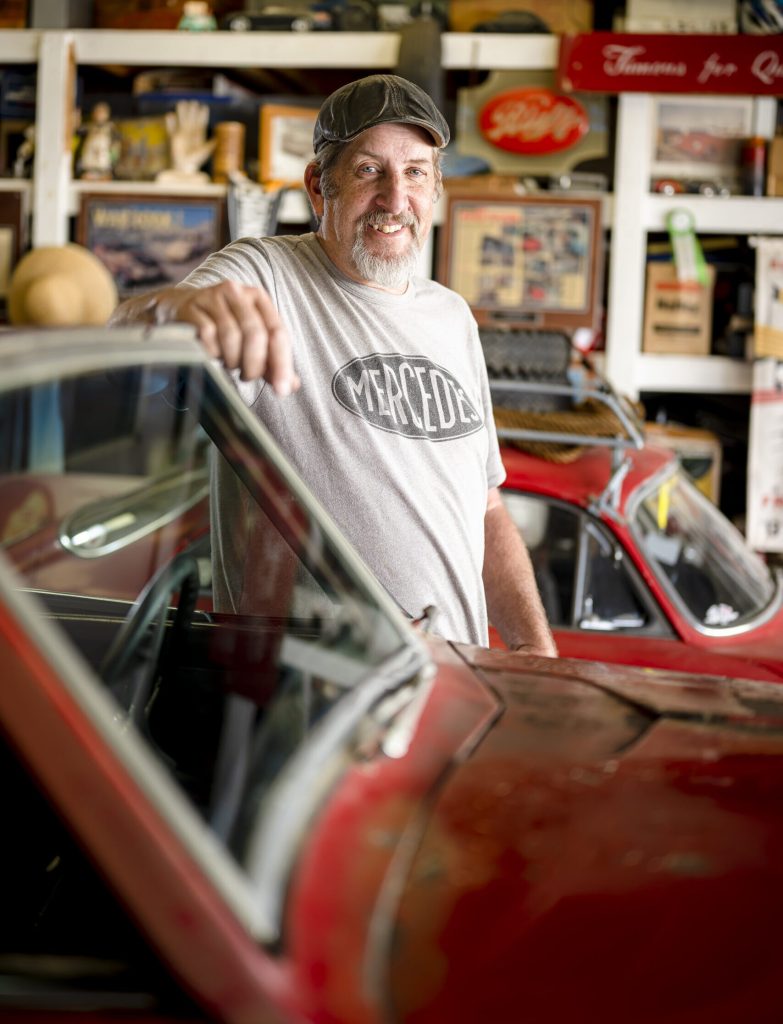 It happened totally by chance, while he was hacking and sneezing and scanning a Facebook group for barn find cars. A fellow Facebooker named Mike Coyer in Portage, Ohio, posted some pictures of a 1934 Packard that he had just extracted from a barn in rural Michigan. Carlson posted a comment, as he still owns a '34 Packard that has been in the family for decades. The two got to talking online, then on the phone.
"I bought a truck and then sold it to a trucking scrapyard," explained Coyer of the series of chance encounters that instigated the affair. "The guy who bought it said he knew of some cars in a barn in Michigan." Coyer buys and sells things, and he plays a long game. He waited 30 years for an old quarry truck to come down to a price of his liking. Naturally, he was curious, and he went to see the farm where, besides a barn full of cars, there were also more than a hundred antique tractors.
"Eventually I asked Mike if there was anything else in the barn," said Carlson, and he replied that there was a similar vintage Rolls-Royce. Carlson asked for some photos and, upon seeing those, noticed some slivers of an old red convertible buried in the barn behind the black Rolls. Carlson asked his new internet friend about that, "and he says, 'A Mercedes.' And I said, 'Tell me about that.'" Coyer sent another picture that wasn't much more revealing. "I said, 'Are you interested in that car?'" recalled Carlson, "and Mike said, 'No I don't want anything to do with a Mercedes.' And I said, 'Well, can you help me get it?'"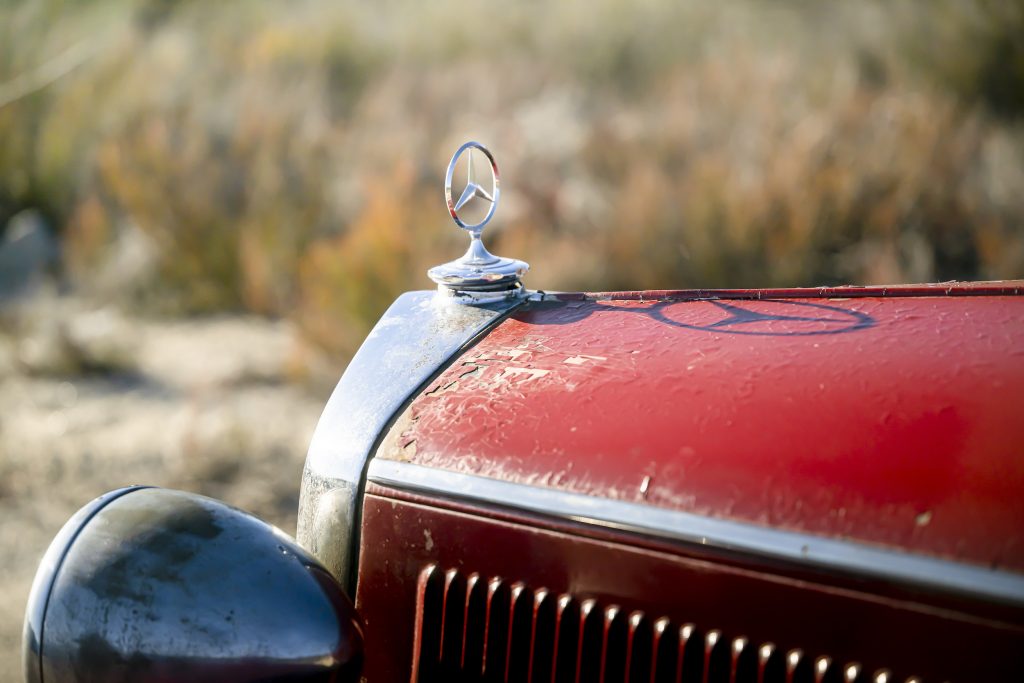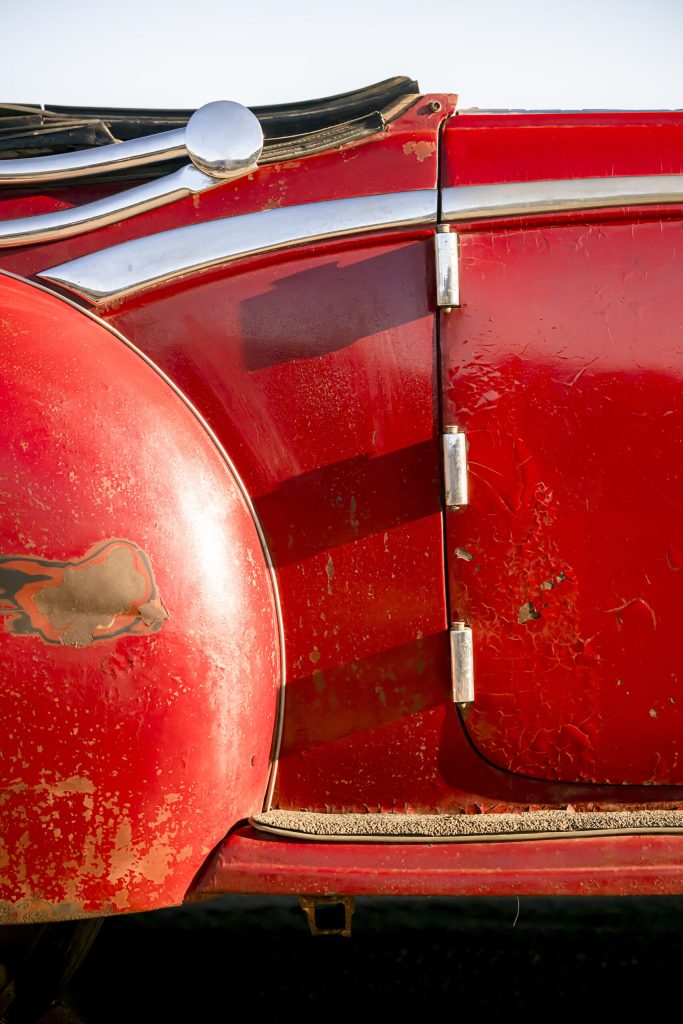 Coyer agreed to drive the few hours back to Michigan and take more pictures and a video "that was low light, you couldn't really see it," said Carlson. "It's a red Mercedes convertible and supposedly from 1940, and I said, 'I don't care, it may be rotten from the bottom down, I'm in. What do they want for it?'"
The family was reluctant to sell at first, but with Coyer acting as an intermediary, a price was agreed upon. Carlson wired off a substantial cache of money, including a 30 per cent finder's fee, "to a guy I never met before, that I only talked to on Facebook and one phone call, for a car that wasn't his, that was in the next state over from where he was. I wired the funds off and thought, 'I am the biggest idiot in the world.' I couldn't sleep for three days."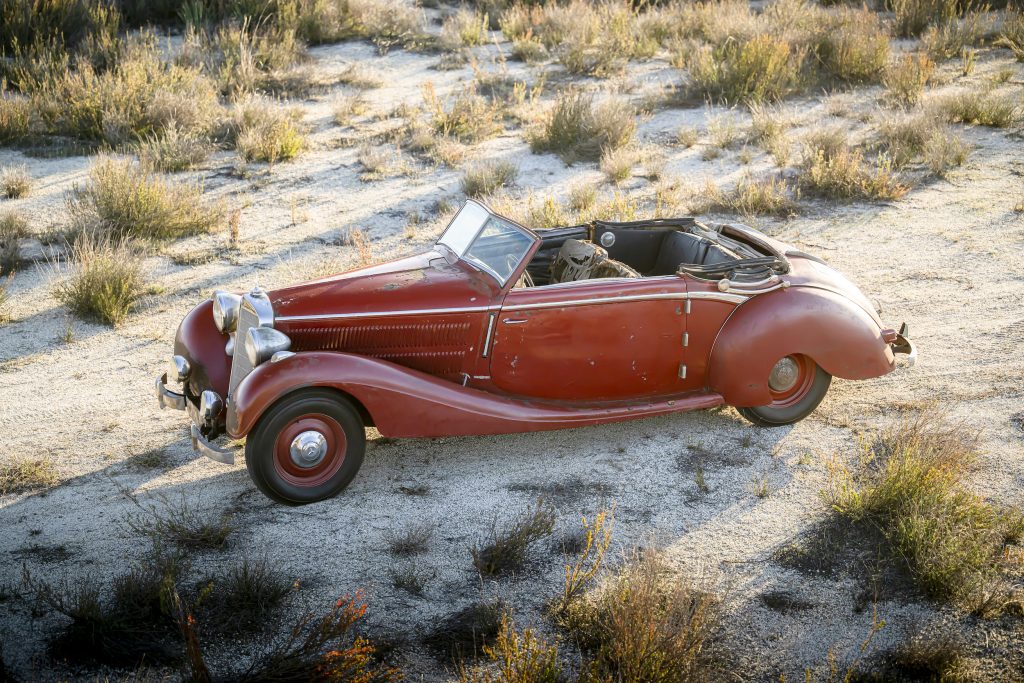 Coyer was an honest actor, however, exchanging money for the bill of sale – the only hitch being that nobody could find a key for the car. Then they started pulling cars out of the barn to free the Benz. Carlson was still at home recovering from Covid and anxiously awaiting texts and photos. "They pulled the Rolls out, which was actually a pretty nice-looking car. Then they get this Ford Model A out, and I get the first picture I've seen of the profile of the car, and I lost my mind. I'm like, 'Gah! What did I get?'"
Carlson didn't know the model, but he could tell the Mercedes was unique, not just from the elegant shape and exquisite trim but from the unusual rear-wheel arch. Then Coyer sent him some detail pictures including one of the coachbuilder's placard. Carlson said, "Then I completely lost my s**t."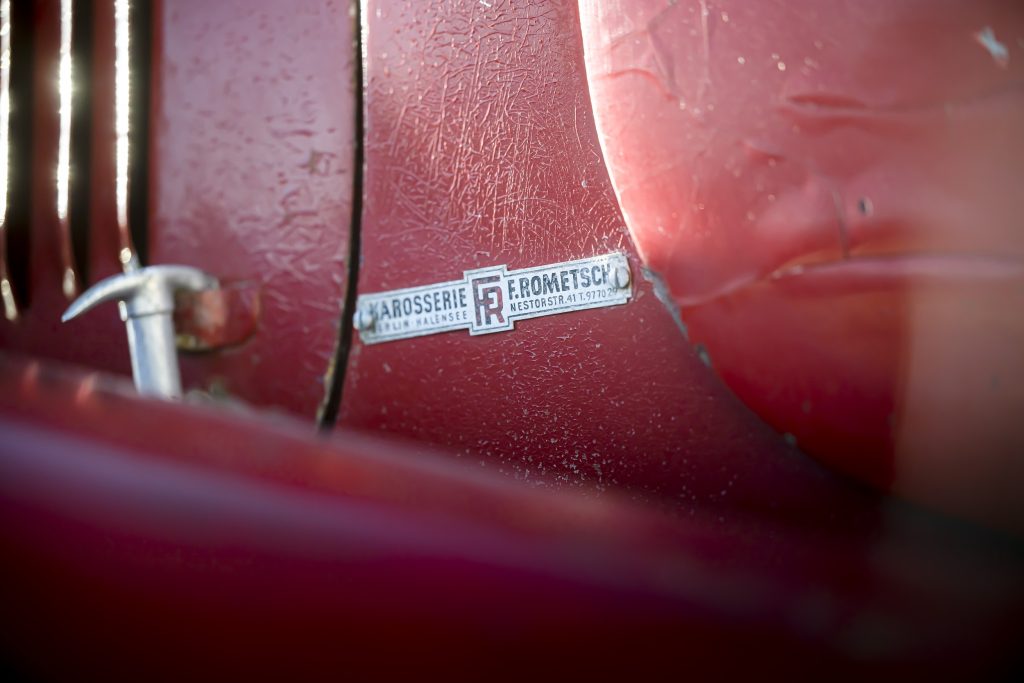 ***
By 1940, British bombers were already in the skies over Germany, attacking industrial targets such as aircraft factories and plants that built airplane components. Daimler-Benz was one of them, a supplier of V12 engines to Luftwaffe fighters and bombers even as the company still built trucks and passenger cars for the domestic market. At some point that fateful year, one of the final Mercedes-Benz 320 civilian models, a Pullman limo, rolled off the line at the company's sprawling Stuttgart plant, headed for Berlin and most likely government runabout duty.
The 320, known in Benz-speak as the W142, launched in 1937 as a 'tweener car between the company's entry-level 170 and its "Grosser" 770 luxury models. Mercedes offered a wide range of body styles, the sexiest being the Stromlinien-Limousine, a streamliner coupe that was dubbed "a pocketbook 540K." But the car was all flash and no bang; the initial 3,208-cc flathead inline-six put out a wheezy 78 horsepower, not much for propelling a car weighing over 1,800 kg. And the power figure didn't change much when Mercedes upped the displacement to 3,405 cc in 1938, mainly to compensate for deteriorating fuel quality in the Reich. Even so, a garden-variety 320 sedan can fetch more than $100,000 (£82,500) on today's market, with special body cabriolets going for over half a million.
So far, no amount of digging has turned up the story of what happened to this particular 320 after it left the factory for Berlin, or how the car survived a war that flattened much of Germany's cities. Or, indeed, who in 1948 brought the car – likely somewhat the worse for wear – to the offices of Karosserie F. Rometsch in Berlin's western Halensee neighborhood to be lavishly rebodied into the graceful cabriolet you see here.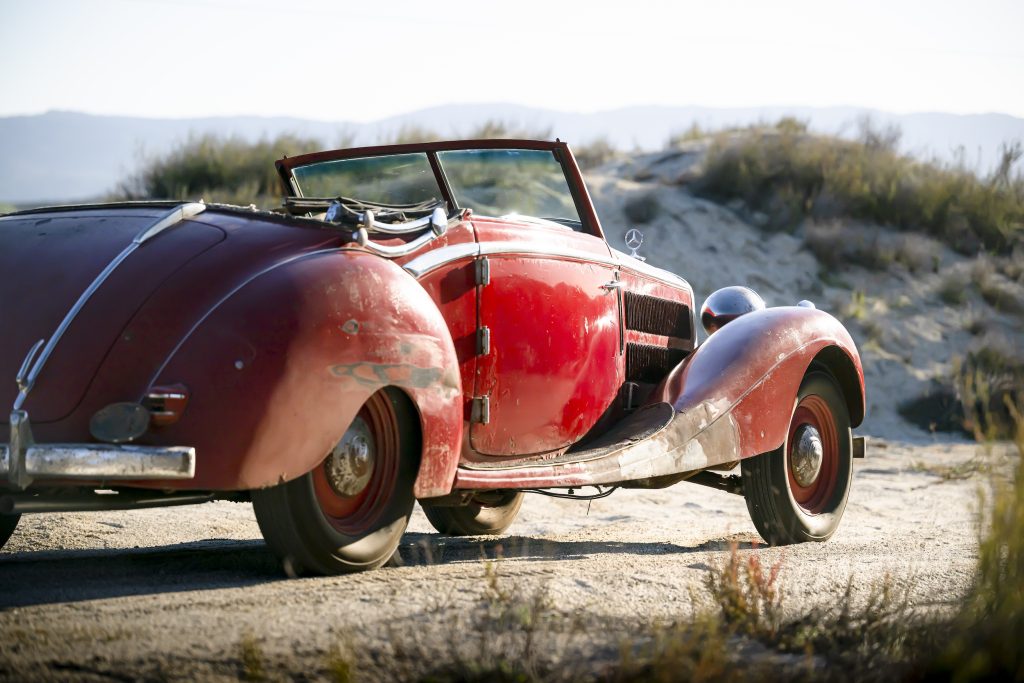 The glorious irony of Randy Carlson's chance encounter with this car is that he was already a knowledgeable fan of Rometsch, a somewhat obscure name in the rich pantheon of European bespoke coachbuilders. The firm, established by Friedrich Rometsch and his son Fritz in 1924, is best known today for producing a series of special bodies for postwar Volkswagens, including a sporty coupe and convertible based on the Beetle that was a precursor to (and perhaps an inspiration for) the later Karmann Ghia. Rometsch also built a stretched four-door Beetle that was sold to taxi companies.
One of the firm's designers, Johannes Beeskow, was a veteran of the more well-known Erdmann & Rossi coachbuilder that in the 1930s draped spectacular teardrop bodies over Mercedes-Benzes and Rolls-Royces. Before he went on to work for Karmann in later years, Beeskow is thought to have penned the body for Carlson's car even as Berlin lay in ruins and its population foraged for basic needs. At Rometsch, while the Soviets commenced a blockade of Berlin in 1948 that led to the Berlin Airlift, during which aircraft shuttled vital supplies to the besieged city for 13 months, the Benz's new body took shape from hand-beaten steel and copious lead filler.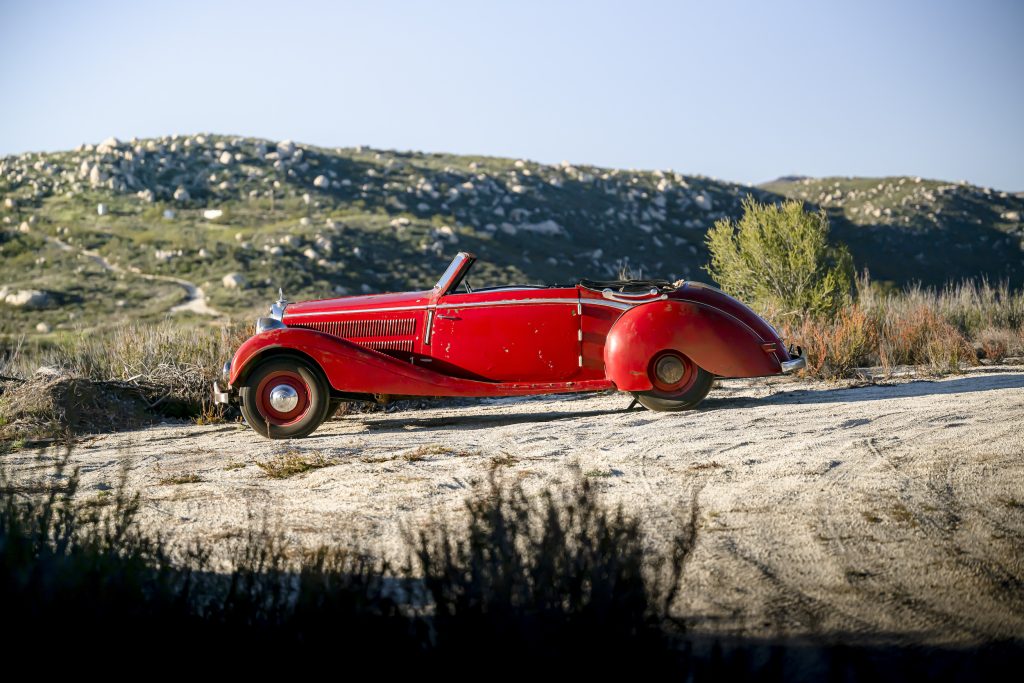 It's hard to imagine anyone in that city living under those circumstances wanting and paying for a handmade, 1930s art deco–style coachbuilt body on a used eight-year-old Mercedes chassis. But somebody did, and they weren't alone. Photos of the finished Mercedes as well as a rebodied Maybach in front of Rometsch's workshop in 1948 are believed to have come from Beeskow's personal album. (That book, according to Carlson, went to Karmann and then disappeared into the vast Volkswagen archive after Beeskow's death in 2005. He would love to get a peek at it but figures it's hidden away in some "Indiana Jones–like warehouse at Volkswagen.")
***
Carlson has seen a photo of a personal list kept by Beeskow of his projects, the Benz as well as the Maybach listed next to a hand-scrawled notation in German: "The last." Perhaps, guesses Carlson, because they were the last of the one-off coachbuilt cars done in the prewar style. Years ago, Carlson visited the former site of Rometsch in Berlin – that's how big of a fan he is. After the Karmann Ghia arrived in 1955 to wreck Rometsch's business modifying VWs into sporty coupes, the coachbuilder turned to making ambulance bodies and the occasional modified Range Rover, then was a body repair shop before finally going under in 2000. "I had two Rometsch [VWs] in this garage at one point, and it's literally the most obscure car you can have. They made maybe 100 cars, and with the Mercedes, I've now owned three of them."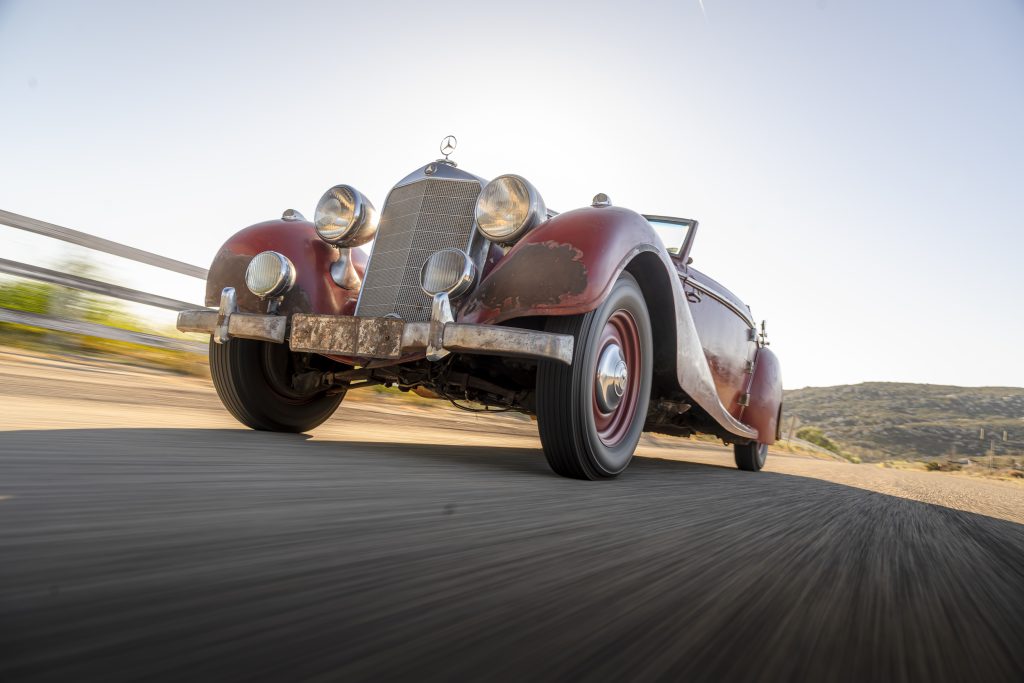 At some point in the late '40s or early '50s, the Mercedes made its way across the Atlantic – again, the story is unknown, but Carlson suspects it was a US serviceman or possibly even a German rocket scientist who brought over the car. After the war, a coterie of the Reich's missile men immigrated – along with their leader, Wernher von Braun – to work on rocket development at the US Army's ballistic missile range in remote White Sands, New Mexico. The fact that this car's known owner history begins in Albuquerque is tantalizingly suggestive, as is an old business card that Carlson found in the car for a chrome shop just across the border in Mexico, where German rocket engineers used to go regularly for weekend benders.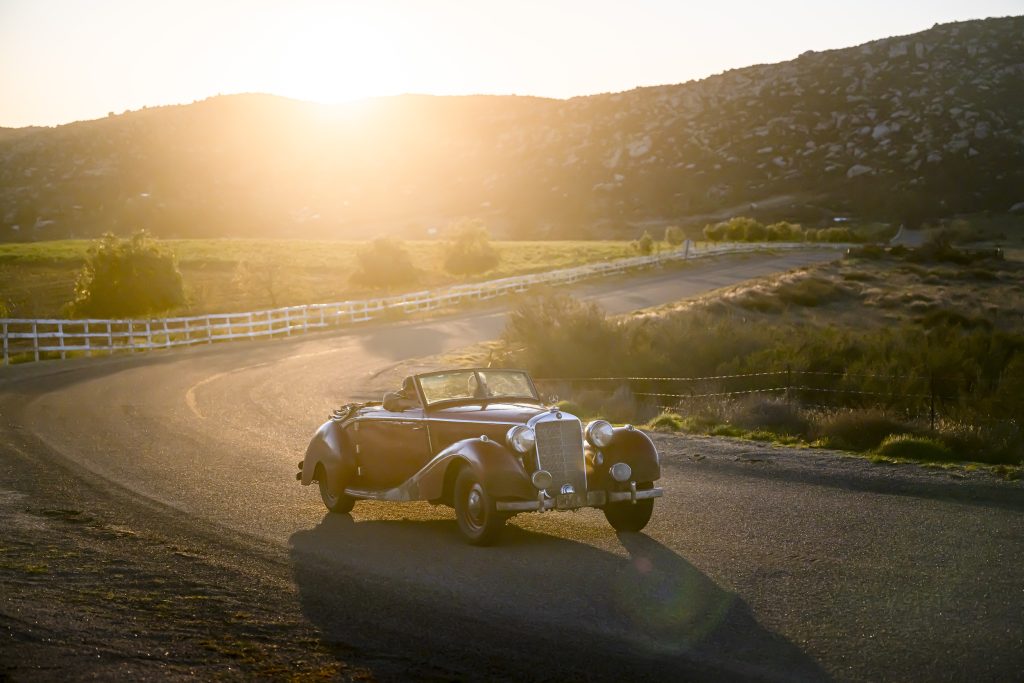 The story really firms up when a new owner from the Midwest bought the car in the mid- or late '50s. The car's new custodian had relocated to New Mexico from Wisconsin, according to Coyer, and there assembled the bulk of his car collection, including both the Mercedes and the Rolls-Royce. In 1968, he decided to move his family back to the Midwest, to Michigan. All of the cars were driven except, for some reason, the Benz, Coyer says he was told. Instead, the owner widened the holes in the front fenders where the bumper brackets poke through to fit a homemade tow bar and flat-towed the Mercedes all the way, there to go into a barn and wait for Randy Carlson to grow up. And for the internet to be invented. And for Mike Coyer to come along. And for a pandemic that would unite the three for a spontaneous rescue.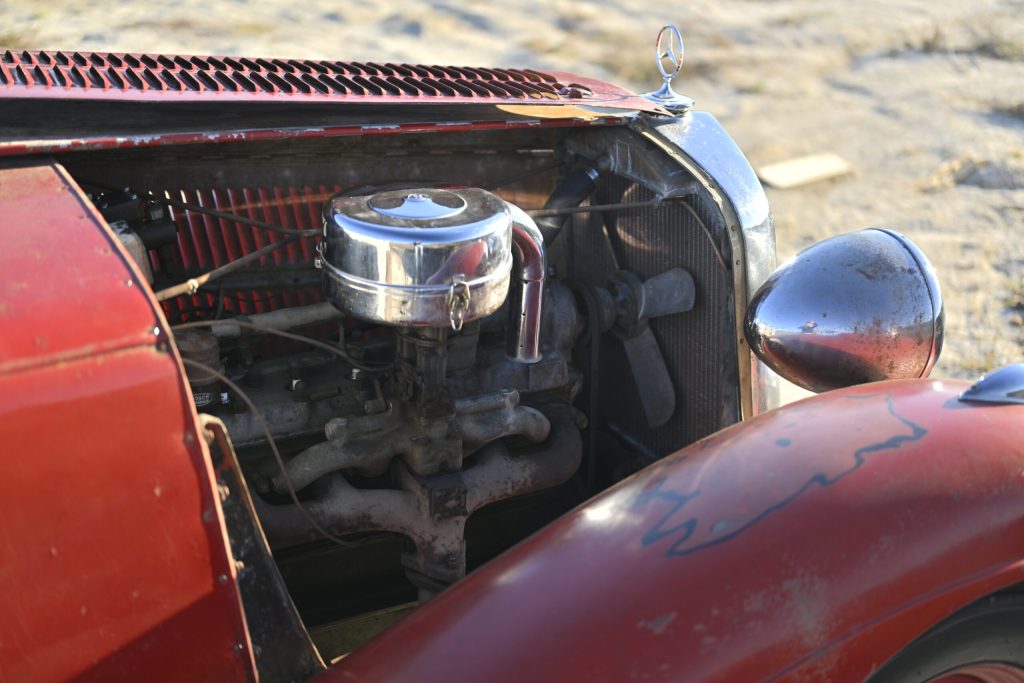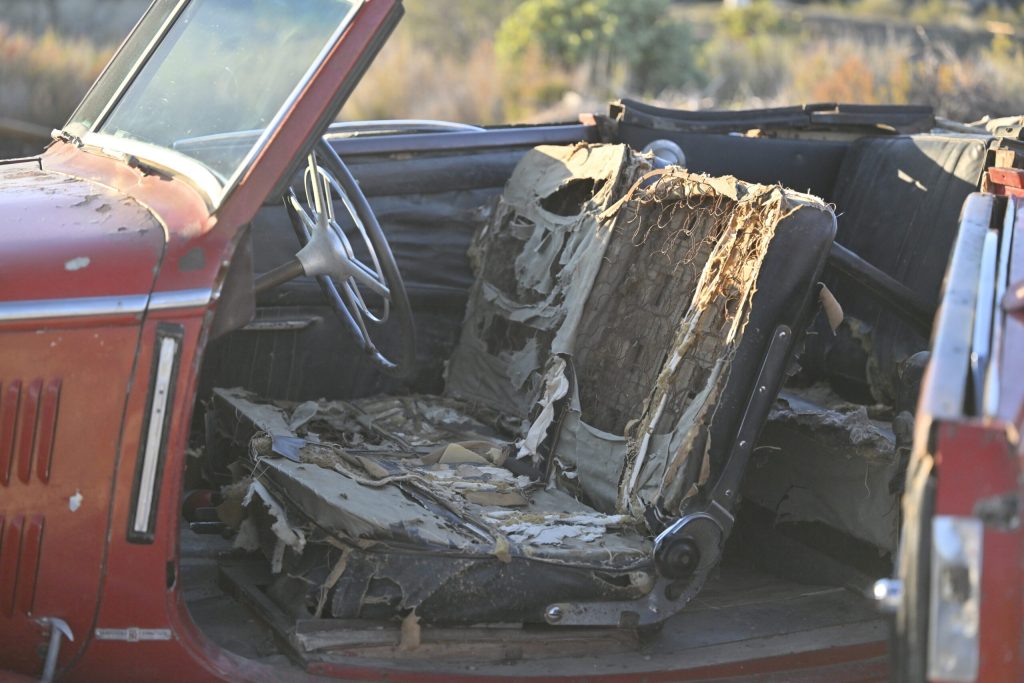 After the money changed hands, Carlson was so keen to get the car that he arranged for a truck to pick it up the same day it was extracted from the barn and to haul it out to California. What you see on these pages is not that car, exactly, but the car after Carlson went to work on it. When it arrived, it was in a sad state and missing quite a few parts. The semaphores, or mechanical turn-indicating trafficators, were missing, as were the bumpers, fog lights, and door handles. Luckily, a subsequent trip by Coyer to the Michigan barn turned up a previously overlooked wooden box that contained many of the missing bits. "I had the parts air-freighted," said Carlson, "because it's not like you can go to AutoZone and get semaphores for a coachbuilt Mercedes."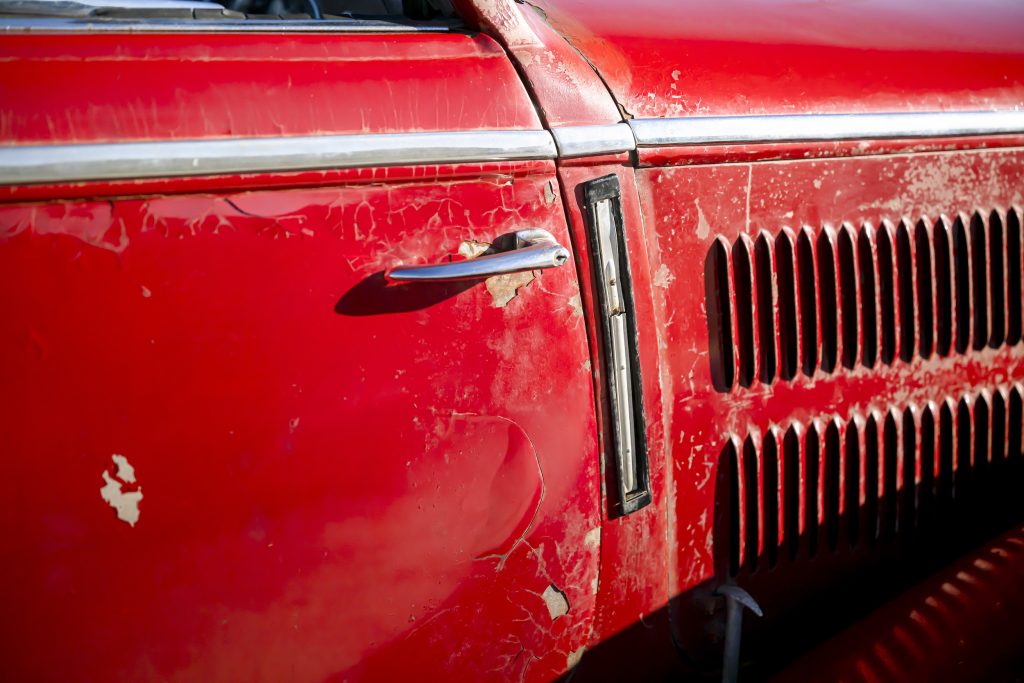 The doors were completely disassembled when it arrived, so he put them back together while he waited for the lube he sprayed into the cylinders to free the rings so he could lever over the 3.4-litre flathead-six. Eventually the engine seemed ready to execute combustion, and Carlson put fuel and spark to it. It fired up for likely the first time in five or six decades with a cloud of smoke and a sporty snore from its long, thin tailpipe.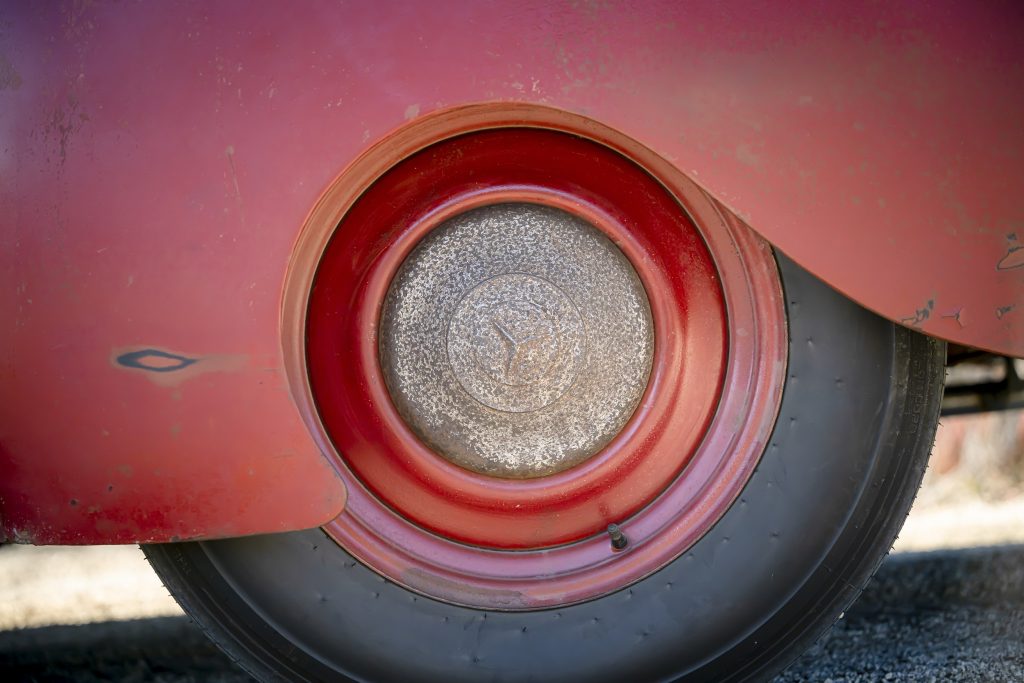 Since then, Carlson has fixed the brakes, fitted new tires, rebuilt the radiator, replaced the exhaust, and done a host of other small jobs to make the car drivable, confining the cosmetic work to cleaning and waxing it and throwing blankets over its rotting upholstery. It does move under its own power, if not with a lot of alacrity, and on a short drive from his compound, it proved a stately and smooth cruiser with a lot of what the marketers used to tout as "road-hugging weight." Unlike American cars of the same period, Mercedes had all independent suspension in the 1930s, with swing axles in the rear supported by two pairs of coil springs. It makes for a relatively sophisticated ride, especially over rough surfaces.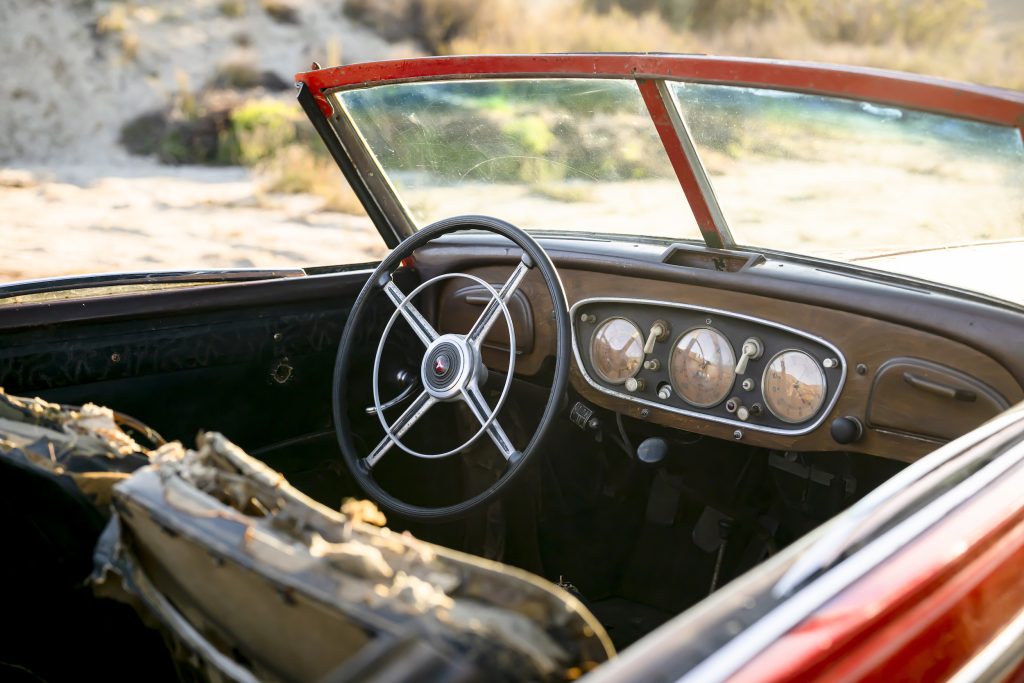 And this is about all Carlson plans to do with it. "It would take the rest of my life to restore it and a crap-ton of money. While I could pull it off to some level, it wouldn't be to the level it deserves – it wouldn't be a Pebble-quality restoration." Besides, he's got a lot of other projects, including a rare Brubaker Box, an iconic VW-based kit car from the 1970s of which perhaps 28 were made, that needs a few bits to get going.
So far, the old Mercedes has given him plenty of joy in the heavily patinaed state it's in. "The goal was to get it together, get all the pieces on it, make it run and drive, and take it places. The couple events I've taken it to so far, it gets a ton of attention just like this. So as far as restoration goes, what is the point?"