The M5 has always been the thinking driver's BMW M car of choice. Less obvious and more subtle than the M3 or other cars from M Division, the M5 is a way to travel quickly while remaining under the radar. However, hands up who remembers when the E39 M5 caused a bit of stir among its faithful, when it was announced at the 1999 Geneva Motor Show?
Gone was the motorsport-derived six-cylinder engine of the previous two generations of M5, and in its place a V8. Those M5 loyalists needn't have worried as the S62 V8 was developed by M Division's engineers to be a technical tour de force. With a capacity of 4941cc and still naturally aspirated, the new motor was a significant step up from the previous 3.8-litre straight-six, making 394bhp and 369lb ft of torque, which arrived at 3800rpm – a good deal earlier in the rev range the old six-pot motor.
How much is your car to insure? Find out in four easy steps.
Get a quote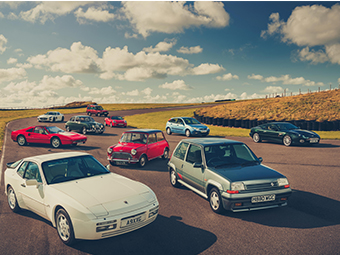 All of this was channelled through a six-speed manual gearbox and the 1795kg M5 (only about 50kg heavier than its E34 predecessor) had an official 0-60mph time of 5.3 seconds. Contemporary road tests showed that BMW was being a little coy here as some hot-shoed road testers hit 0-60mph in 4.8 seconds. Either way, top speed was electronically capped at 155mph, which the V8-powered machine could reach with revs to spare.
The S62 V8 was something of a testbed for BMW as it introduced Double VANOS variable valve timing, which worked on both the intake and exhaust camshafts. There were also individual throttle bodies for each cylinder, which were electronically controlled. A limited slip differential helped control this power, while multi-link rear suspension ensured the road holding and ride comfort were up to the job.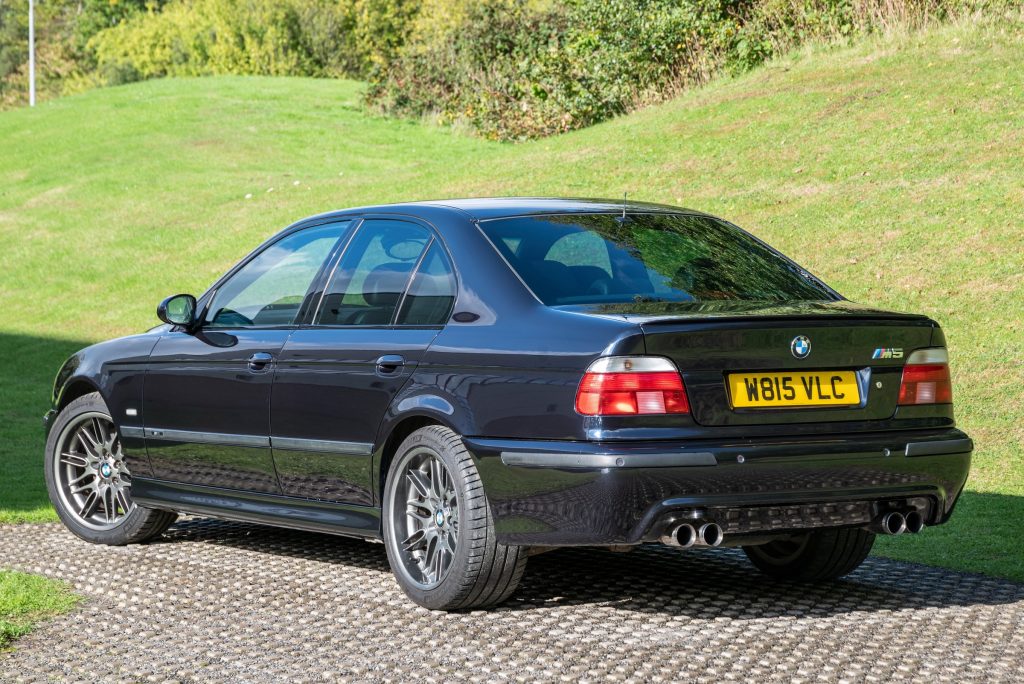 Up front, BMW swapped the standard 5-series MacPherson struts for aluminium items, and the M5 rode 25mm lower than the regular saloon on 18-inch Chrome Shadow alloy wheels. Behind these sat floating brake discs that were well up to the job. The only part of the mechanical side of the M5 that seemed below par was the recirculating ball steering set-up. This was due to packaging issues with the V8 that simply wouldn't allow rack-and-pinion steering as found in the six-cylinder 5-series models of the time.
Few M5 buyers would worry about that when they sat in the car and were presented with a full leather interior, and a three-spoke steering wheel that felt just right in diameter and width. The rest of the interior presented much like other any other well equipped 5-series of the time, except for the grey-faced instruments. The speedo reads up to 180mph, while the rev counter has a telltale 8000rpm red line. BMW also used amber warning lights in the rev counter to remind drivers to let the oil warm through before piling on those revs.
As for its outward appearance, the M5 remained a subtle looking saloon, with were few clues for all but the initiated to tell this was the must-have super saloon of its day. A deeper front spoiler and small rear lip on the boot were there for the eagle-eyed, but only the four exhaust pipes and those arch-filling wheels really spoke of the M5's potential.
A facelift in 2000 brought new headlights with the 'angel eyes' corona rings, LED rear lights, and a few small interior improvements. What it didn't offer, however, was a Touring estate version – that would have to wait until the V10-powered E60 M5. Even so, it didn't stop BMW building 20,482 E39 M5 saloons before production ended.
What's an E39 M5 like to drive?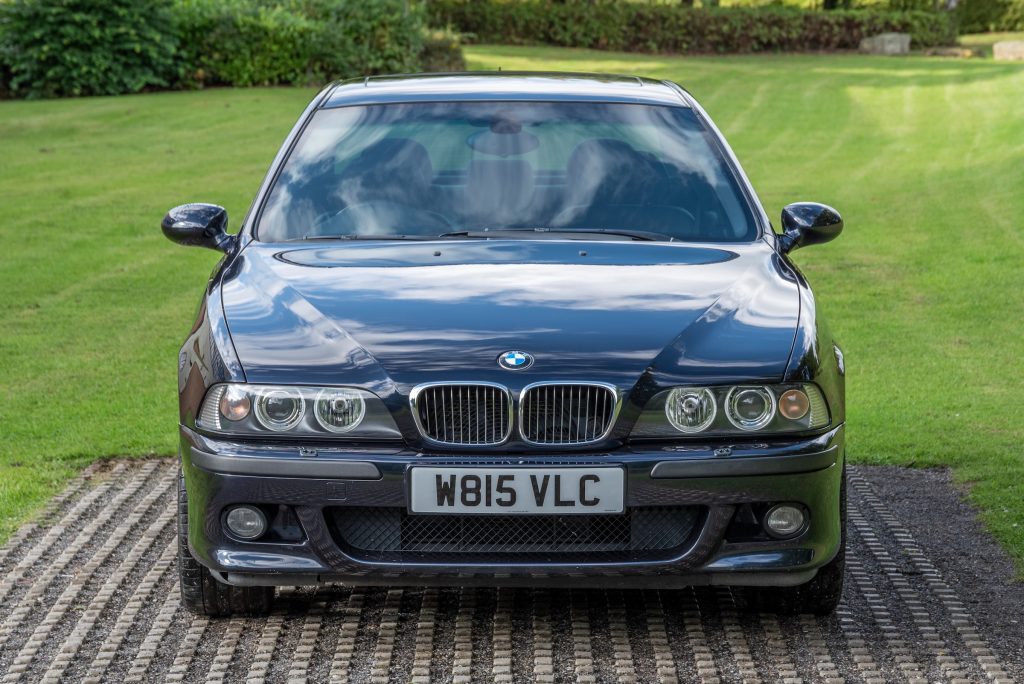 Anyone looking for raw, seat-of-the-pants thrills would be advised to look at the contemporary E46 M3 as the E39 M5 is an altogether more subtle car. This isn't to say it's not quick or visceral to drive, just that it goes about its business in a more understated manner.
Turn the key in the ignition and the 4.9-litre V8 comes to life with sophisticated rumble, gently rocking the body before settling to an idle. The six-speed manual gearbox has quite a long shift action, but it's precise and engages gears without any reluctance from cold.
You have to be mindful of the rev counter's amber lights as you set off. They're a prompt for how much performance you should call on as the engine comes up to temperature, and are supplemental to the oil temperature dial. Once warm, you have a full 8000rpm to play with and the V8 engine is quick to zip round to this mark in the lower gears. From a standing start the M5 is fast even by today's standards.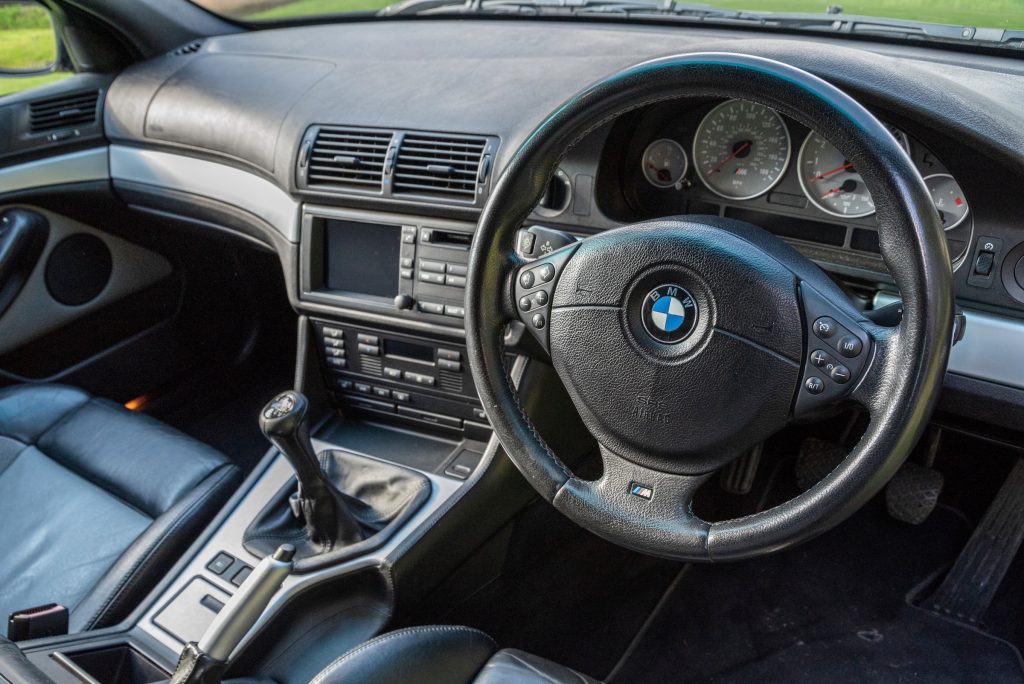 However, it's on the move where the motor's 394bhp and 369lb ft of torque truly come into play. Overtaking slower traffic is the work of but a moment, and the gearbox is light to use when making progress down country roads. On more open stretches, you can leave the gearbox in fifth or sixth and rely on that mid-range shove to do the work. On an autobahn, the M5 will run to its 155mph maximum while remaining completely stable.
Arguably the only fly in the ointment is the recirculating ball steering set-up, which reacts in time and tune with the driver's inputs but doesn't provide the same sort of feel or interaction as the E46 M3's rack-and-pinion arrangement. It doesn't spoil the driving experience, but it does underline the M5 is more a continent-cruiser than B-road scratcher.
Inside, the M5 offers supremely comfortable seating for four people. It's not quite as generous with rear seat space for adults as a Mercedes E55 AMG from the same era, but it's still perfectly acceptable and comes with a decent boot. Good refinement and all of the luxury equipment that you'd expect of a super saloon are present and correct – the E39 was already superb in this respect – so it's still more than up to everyday use of you can live with average fuel economy of around 22mpg in mixed driving.
How much does an M5 cost?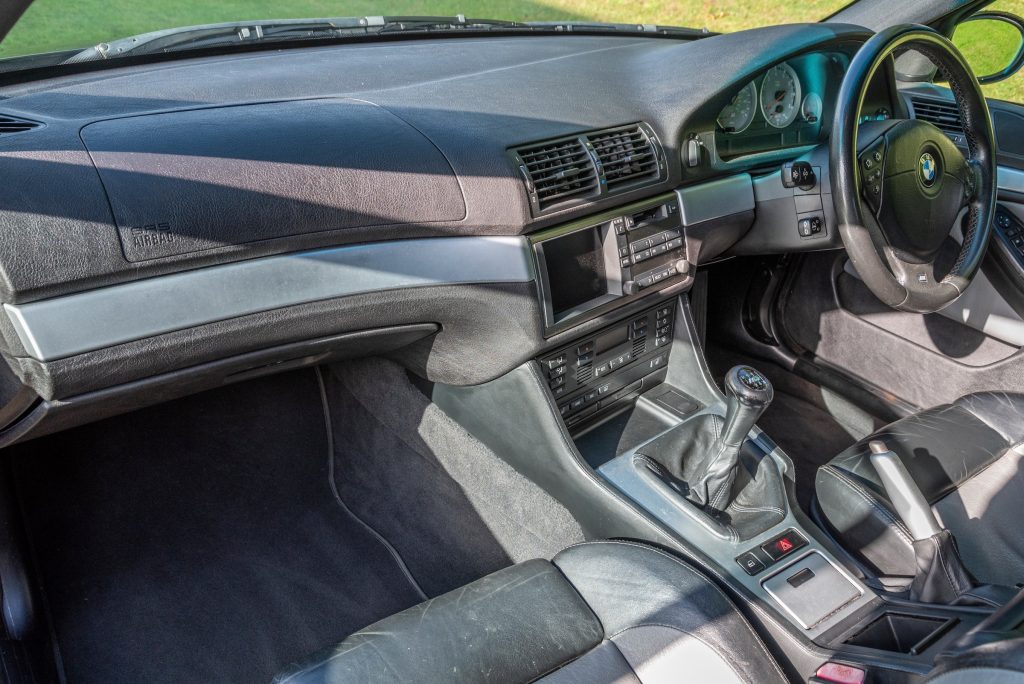 Starting money for an E39 M5 in reasonable working order is £12,000. That sum gets you into a car you can use, but it will be well worn around the edges and need plenty of work and money spent to turn it into a well presented and dependable machine that's fit for more decades of pleasurable driving. It's also worth bearing in mind that M5s were very well built when new, so they can appear sound but still need a lot of attention.
Move up to the £20,000 mark and you begin to find smart examples, mainly from private sellers. These are the sort of cars you can use and enjoy while being confident they will retain their value so long as their maintenance and condition are preserved.
At the top end of the E39 M5 market, the best cars from specialists are now commanding between £35,000 and £40,000. This gets you an immaculate car that will take you right back to when these cars were new. For the exceptional low mileage cars out there in perfect nick, a £50,000 price tag is possible but these cars are – for the time being – the exception rather than the rule.
What goes wrong and what should you look for?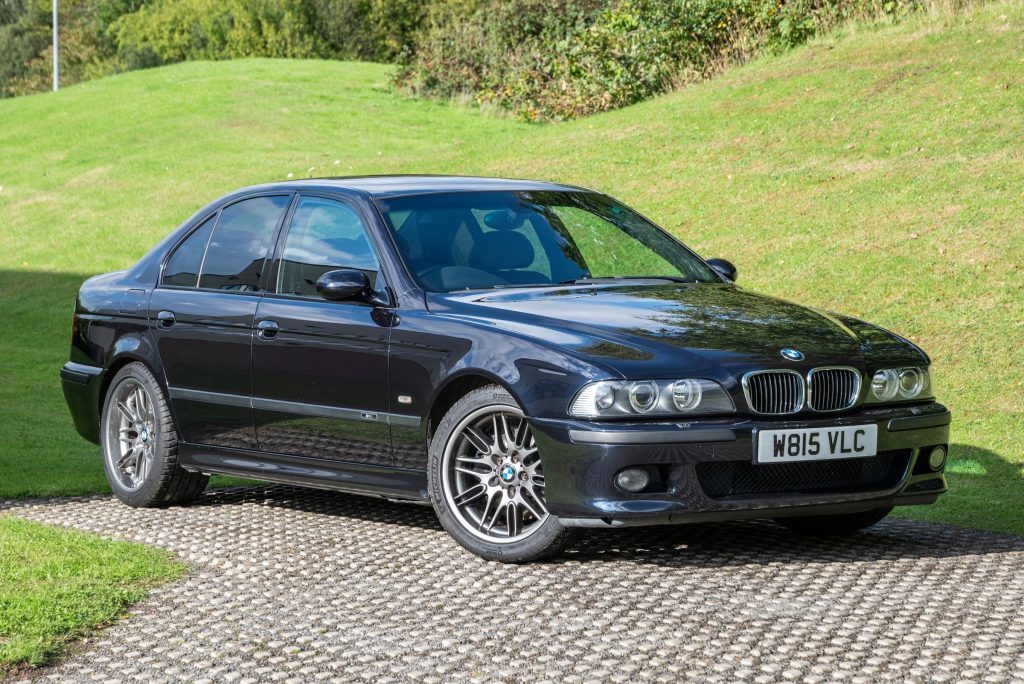 The all-aluminium S62 V8 is a development of the 4.4-litre motor found in the 540i and needs some careful checks. It uses chains rather than a cambelt, which is good news, but the tensioner will wear at higher mileages. It's also good practice to replace the chains at around the 100,000-mile mark. The cam position sensor can also go wrong, but it simple to sort.
More of a worry is the VANOS variable valve timing. A bit of noise from the VANOS system on start-up is normal, but if this persists it means a rebuild of the system is on the cards. It's not ruinously expensive to solve, but if left unchecked it can lead to a wrecked engine. The MAF (mass airflow) meter can also deteriorate and is a pricey replacement from BMW, though aftermarket parts are available.
Don't be put off, as the gearbox is strong and clutches can last up to 100,000 miles. And aside from consumables like brake discs and pads, the M5's suspension lasts well. There are some bespoke parts, such as the springs and reinforced wheel bearings, so check the service records that any replacement parts are the correct type. European M5s have a floating disc brake set-up, which is different from US-spec cars.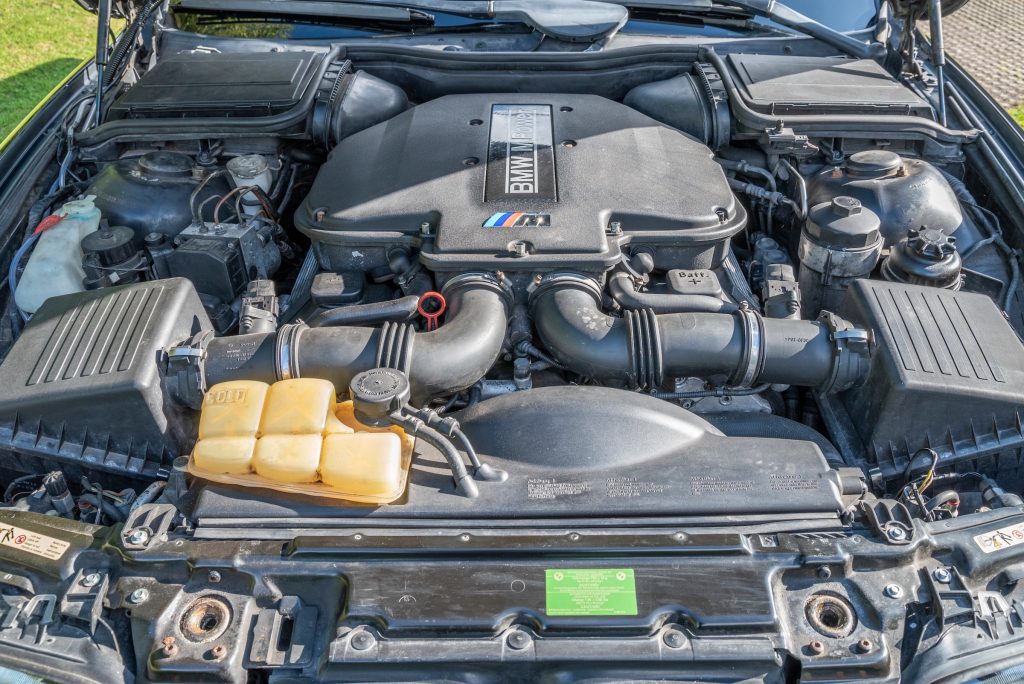 For the body, the checks are the same as for any E39 5-series. This means having a close look at the wheelarches, sills, door bottoms, jacking points, and boot lid. Also have a look underneath the rear bumper to make sure the panel there is intact and rot-free. Any seller should be open to an independent inspection by a BMW specialist or someone who knows their way around M5s.
As for the interior, wear and tear to the leather upholstery should be easy to spot and can be sorted by a good trimmer. Beyond that, just make sure all of the electrics and air conditioning work. The digital dash display can lose pixels, and repairing it requires removal of the cluster.
When new, the Communications Pack was a pricey option and the sat nav is comically outdated now, but it does have novelty value if fitted and working and has not been replaced with a later infotainment screen.
Which is the right M5 for you?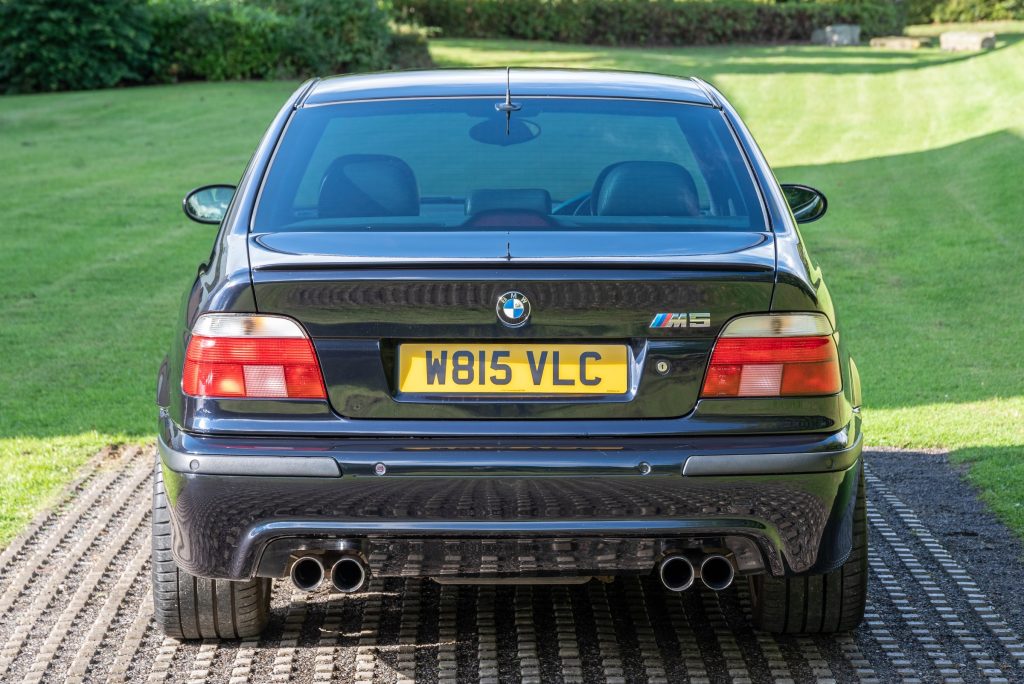 The only real decisions to make when choosing an E39 M5 are colour, trim, and whether you go for a pre- or post-facelift car. Many earlier M5s have been upgraded with the later corona headlights and LED rear lights, but the market now prefers cars in their standard, original state. Pre-facelift cars had the option of an Alcantara headlining, which then became standard on facelifted cars from 2000-on.
All E39 M5s share the same free-revving 4.9-litre V8, though many owners reckon the facelifted cars use less oil. Whatever age of M5 you choose, you're buying into one of the best M car made and a super saloon that thoroughly warrants the description.
Browse all our comprehensive Buyer's Guides – complete with valuation insights from the Hagerty Price Guide – via this link.