Car enthusiasts constantly daydream about owning this car or that car. But what about owning a car factory? If a full-service plant, from production line to paint booth, has been on your wish list, today is your lucky day. Strange as it sounds, Stellantis will actually sell you one.
And not just any car factory either: a Maserati factory.
How much is your car to insure? Find out in four easy steps.
Get a quote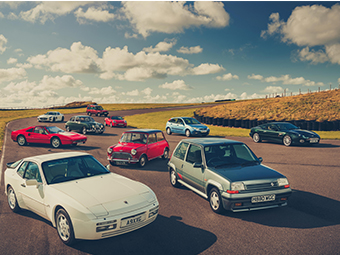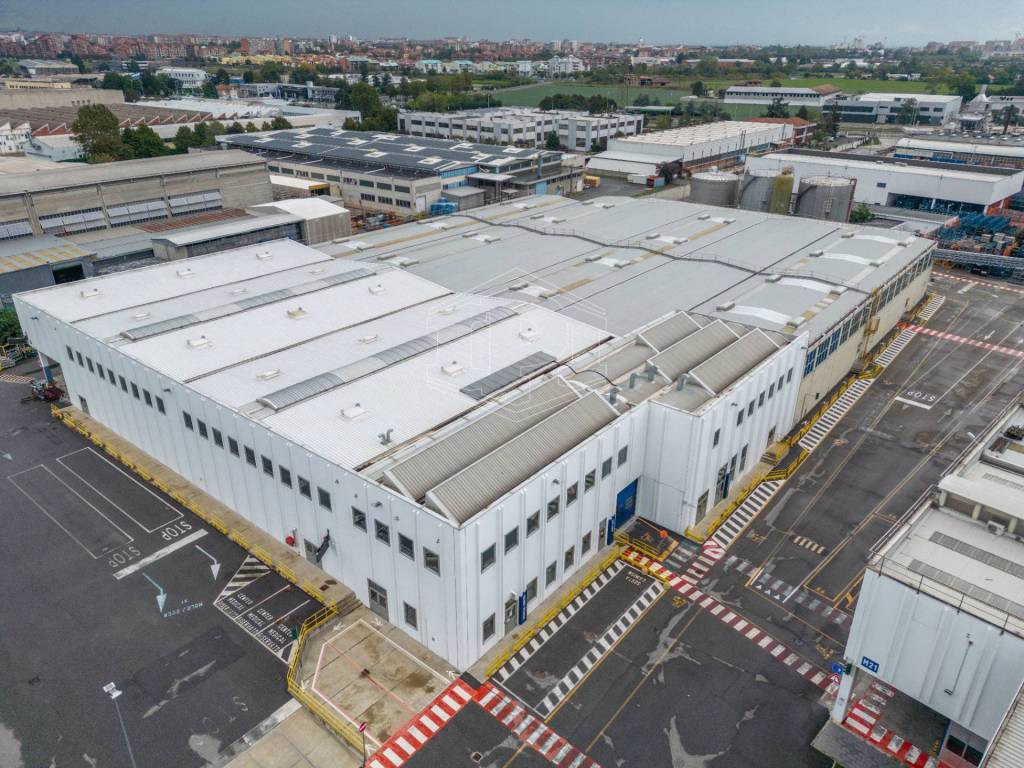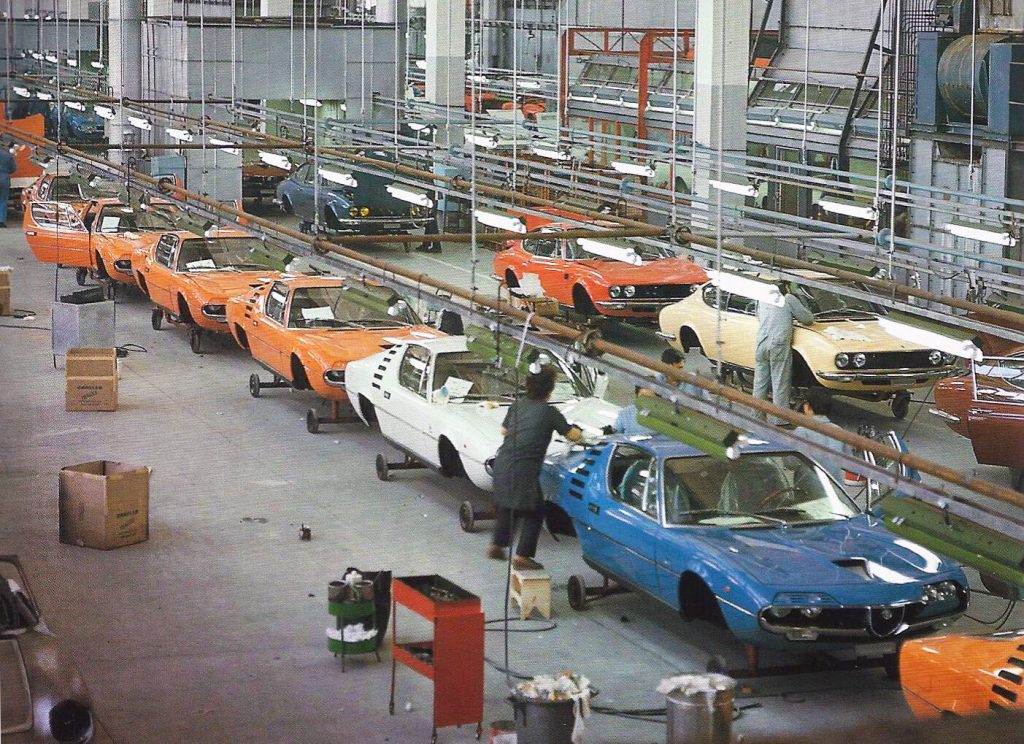 Currently listed on a popular online Italian real estate portal, the 1.2 million square foot complex on the outskirts of Turin was the production site for the Ghibli and Quattroporte between 2013 and 2021. After that, assembly of these slow-selling saloons was moved elsewhere, leaving only a few residual operations onsite. But now, with both models heading to the great scrapyard in the sky by this year's end, it means lights out for a factory complex whose history stretches back to the golden age of the Italian coachbuilding industry.
The story of the former Maserati factory actually begins 100 miles away, at Alfa Romeo's Milan headquarters, in 1953. Alfa's engineers were busy working on the new Giulietta saloon, whose launch was scheduled for the spring of 1954. However, due to some resonance issues within the car's steel unibody that were proving tricky to solve, it looked like the Giulietta's debut would have to be delayed.
That simply would not do, for one critical reason: The Giulietta's development had been partly funded through bonds issued by Alfa's parent company – the state-owned conglomerate Finmeccanica. Said bonds were marketed to small investors with the promise that a few lucky subscribers, drawn by lot, would be gifted a brand-new Giulietta. The government had no intention of backing out of its obligations.
To get out of this tight spot, Alfa greenlit the creation of a small batch of coupés whose bodywork conveniently – demanded styling and construction by an outside supplier. In this case, the Turinese coachbuilder Nuccio Bertone.
The result was the beautiful Giulietta Sprint, penned by Franco Scaglione and presented at the Turin Motor Show in the spring of 1954. The public immediately fell head over heels for Alfa's sweet little coupé, leading to an influx of orders that subverted Alfa Romeo's small-batch plans and put Bertone under severe pressure.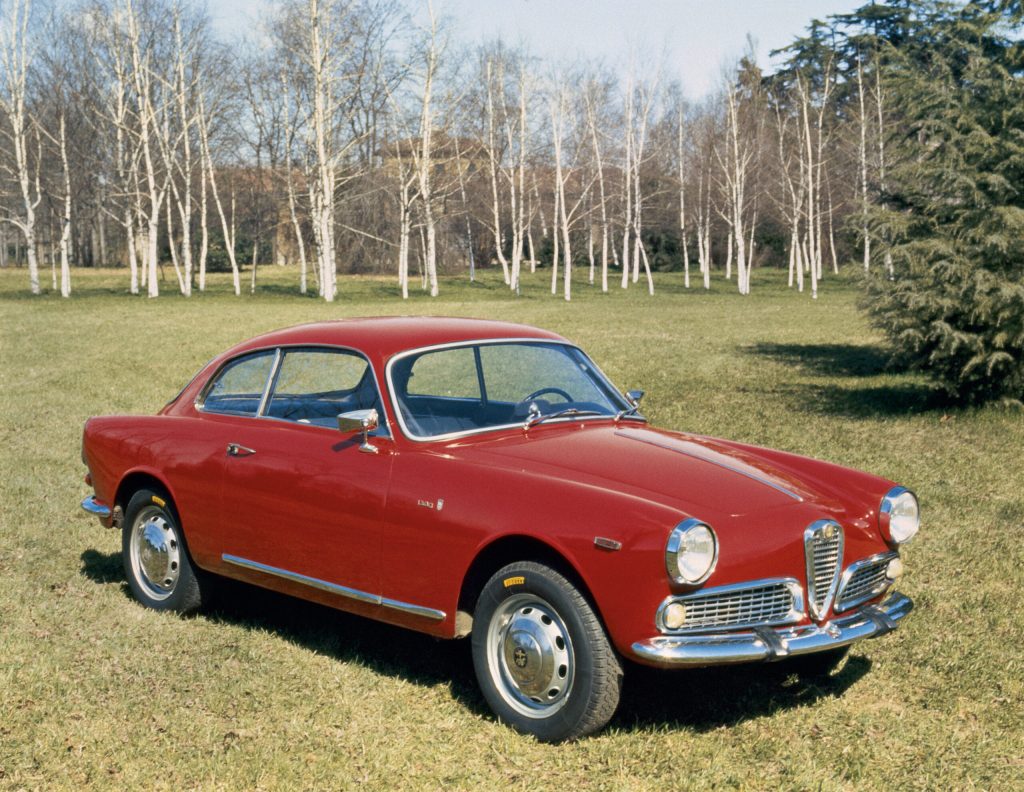 Remember, the Sprint was meant to be a short-lived stopgap. No investment existed for tooling to manufacture such a car at scale. Each Sprint bodyshell was created by Bertone's workers the traditional way, using hand-beaten panels, as it was customary for low-volume production. But with Alfa Romeo now demanding over 30 Sprint bodies per day to keep up with demand, Nuccio Bertone had to do the impossible. So he did.
By outsourcing Sprint body panels to craftsmen scattered all around Turin, while also hiring hundreds of additional workers, Bertone pulled off a miracle that could only happen in 1950s Turin: genuine human craftsmanship on an industrial scale. Around 6000 Giulietta Sprint had already been produced by the spring of 1958, turning Bertone from a simple coachbuilding atelier into a proper industrial complex. The company could now invest in tooling and transition from hand-made panels to pressed ones, all while building a new factory on a large plot of land in Grugliasco, a suburb on the outskirts of Turin.
Bertone shifted all its operations to the new facility between 1959 and 1960, and the move marked the definitive transition to spot-welded and pressed panels for all Sprint bodies. These moves led to a sharp increase in productivity, and by June 1961, the Grugliasco factory celebrated the production of the 20,000th Giulietta Sprint bodyshell for Alfa Romeo.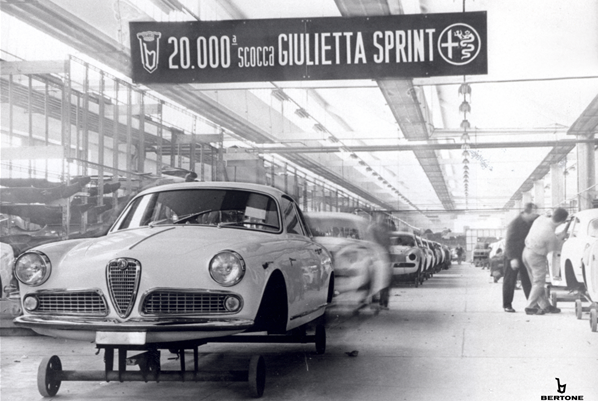 The success cut two ways. Such contract manufacturing arrangements, while lucrative, also placed Bertone at the mercy of the automakers it served. The Turinese firm styled the Giulietta Sprint's replacement, but Alfa's decision to build the new Giulia GT in-house sent Nuccio Bertone scrambling to avert the loss in production. He managed it, and then some, by smooth-talking Fiat's management into a spider based on the small 850 saloon.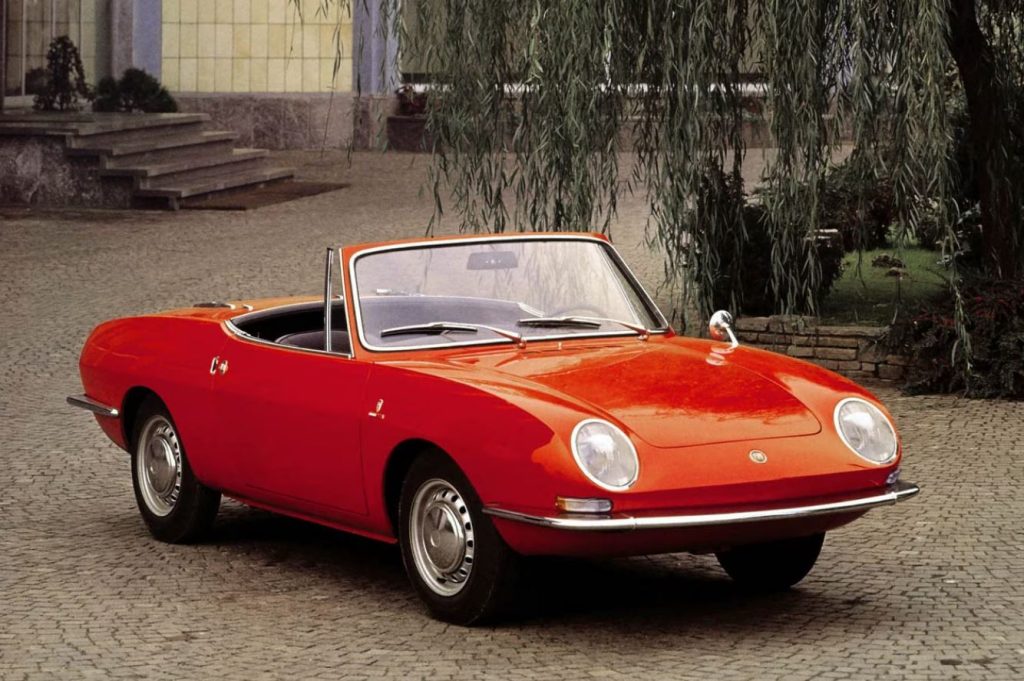 Penned by Giorgetto Giugiaro and presented at the 1965 Geneva Motor Show, the 850 Spider was a smash hit for Bertone. Despite the car's diminutive size, demand for the 850 Spider from the US pushed the Grugliasco factory's output to over 100 car bodies per day. By the time production ended in 1972, over 130,000 850 Spiders had been made, of which about 92,000 went to America.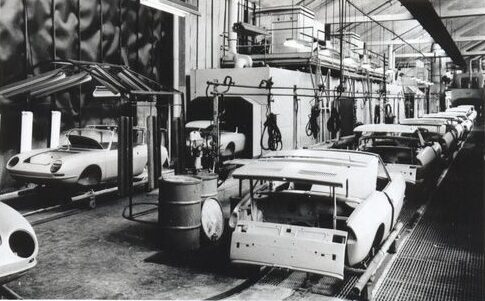 The little Fiat's has a big claim to fame nowadays, in that it shared its headlights and taillights with the Lamborghini Miura. Again, the Miura bodies were built, painted, and fully trimmed at Bertone's factory before going to Sant'Agata Bolognese to receive their engine and running gear. But perhaps the product most strongly associated with Bertone and its Grugliasco factory is another pioneering mid-engined car: the X1/9.
Much like the 850 Spider it replaced on Bertone's production line, the X1/9 proved much more popular in America than in its native country. So much so, in fact, that once Fiat left the States in 1982, Bertone brought the model's entire production process in-house and sold it under its own brand until the end of the decade.
Fortunes changed, however, and the subsequent 1990s and early 2000s marked a steep downturn for the Italian automobile industry. This, along with the emergence of more flexible production methods that enabled automakers to produce different models on the same assembly line, made it increasingly difficult for Bertone's factory to secure work.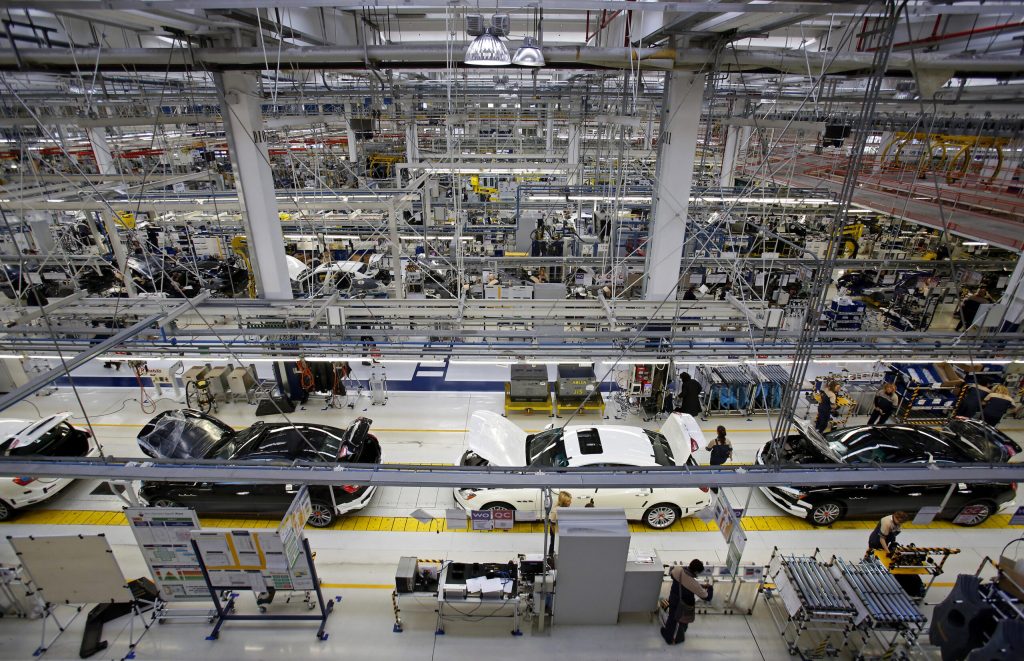 In fact, the Grugliasco plant stayed in business mainly because of General Motors' largesse; three generations of Opel convertibles were produced in Turin between 1987 and 2005. Once the last Opel rolled off the line, the fate of Bertone's manufacturing business was sealed. Few things burn cash quicker than a large factory with nothing to make.
In 2009, the late Fiat CEO Sergio Marchionne took over the idle, bankrupt Bertone factory to turn it into the launchpad for Maserati's bold, if ultimately fruitless, assault on the luxury saloon segment. With the Grecale and Levante SUVs representing the brand's near-term strategy, the Quattroporte and Ghibli are no more.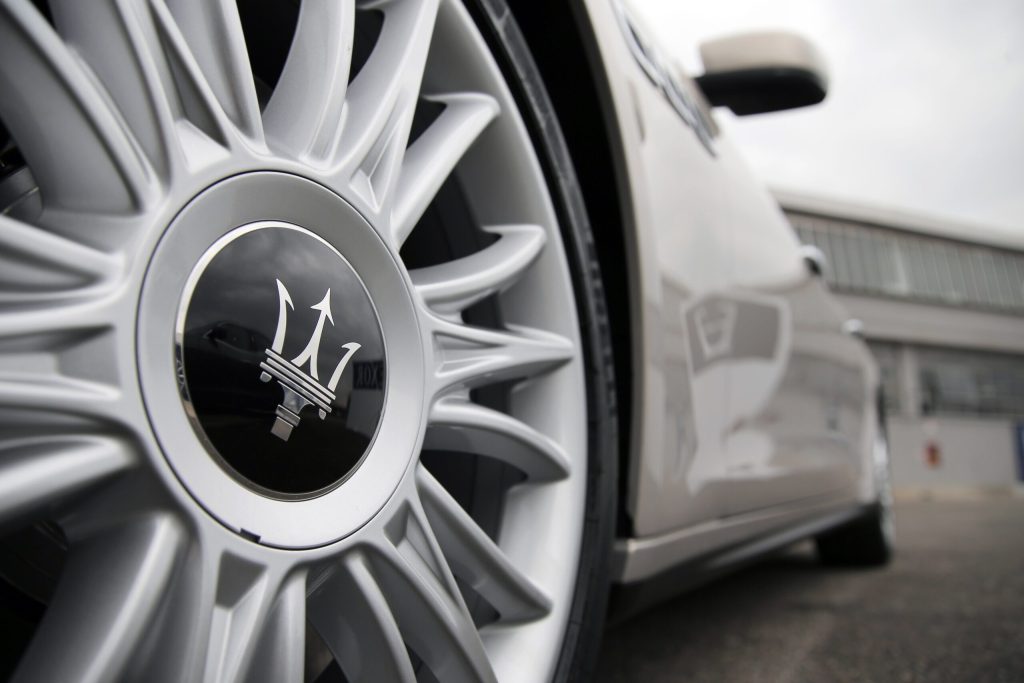 If it's bought and turned into some clothing or food factory, I'd rather not see it. I choose to remember these soon-to-be-empty walls for what they are: a monument to one man's vision in an unrepeatable era of Italian motoring history.

__

Matteo Licata received his degree in Transportation Design from Turin's IED (Istituto Europeo di Design) in 2006. He worked as an automobile designer for about a decade, including a stint in the then-Fiat Group's Turin design studio, during which his proposal for the interior of the 2010–20 Alfa Romeo Giulietta was selected for production. He next joined Changan's European design studio in Turin and then EDAG in Barcelona, Spain. Licata currently teaches automobile design history to the Transportation Design bachelor students of IAAD (Istituto di Arte Applicata e Design) in Turin.