Welcome to Freeze Frame, our look back at moments from this week in automotive history.
4 January 1996 – General Motors EV1 debuts in California
Electric power stumbled and fell a few times before hitting the mainstream car market.
How much is your car to insure? Find out in four easy steps.
Get a quote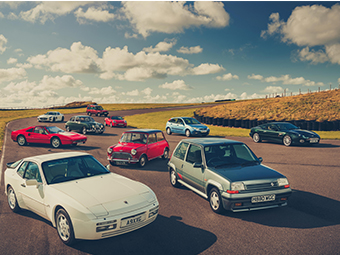 There was the early period, when few could decide what to name these novel horseless carriages, let alone what should power them. Petrol, steam, various alcohols, electric power; inventors tried the lot, and electricity actually had headway for a while before widespread availability of gasoline and then Ford's mass production process both brought down the cost of combustion vehicles.
And, ironically, the electric motor itself led to the electric car's early downfall. When paired with a gasoline engine, as a starter motor, it removed the need for recalcitrant, difficult and occasionally dangerous crank starting (if you've ever wondered where the phrase "cranky" originated, take one guess).
Cadillac's 1912 Touring Edition introduced an electric starter, opening up a whole new market to those who'd never fancied taking their chances wrestling with a crank handle, and the rest, as they say, is history. EVs made a brief return post fuel-crisis in the 1970s, but most were little more than experimental microcars or converted production models, and few gained any traction.
But it was General Motors that took the first major step, with the EV1 launched in Los Angeles on January 4, 1996.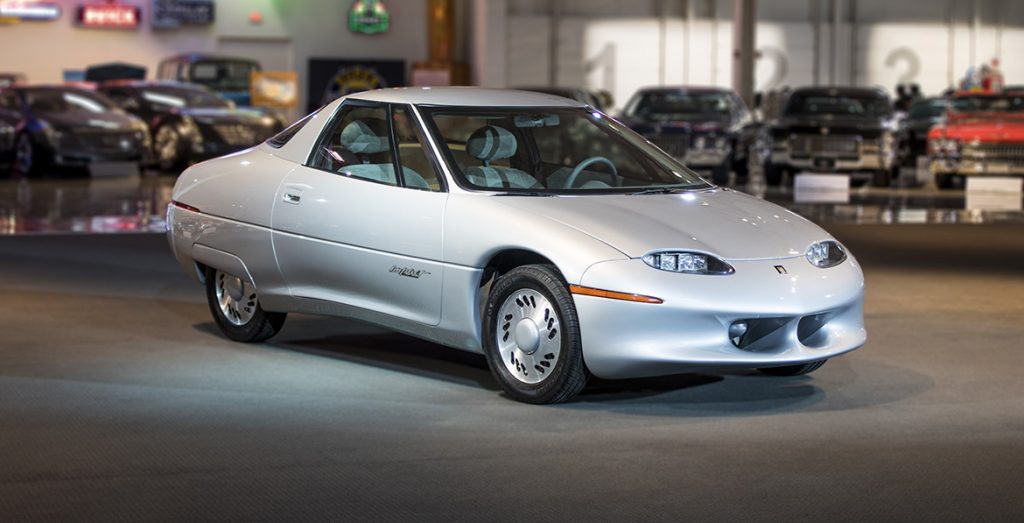 The EV1 had started life as the Impact concept car, developed in conjunction with aerospace firm AeroVironment, and presented at the 1990 Los Angeles auto show. Impact had… well, an impact, the California Air Resources Board, one of the strongest drivers in the United States of clean air legislation, developed a mandate that by 2001, two per cent of vehicles sold by the country's seven largest carmakers would need to be zero-emission vehicles.
GM handbuilt a run of Impact vehicles in 1994 for real-world testing, and became flooded with calls when the vehicles were made available to volunteers – convincing it to undertake the difficult process of building a version in full production form.
That car was the EV1. Powered initially by more than half a tonne of lead-acid batteries and equipped with a 137bhp electric motor driving the front wheels, the EV1 leant heavily on its low drag coefficient (just 0.19, lower than the new Mercedes EQS) to reach a modest 60 miles of range.
Things improved significantly in 1999 as an update to lithium batteries – and a pack now just shy of 600kg – boosted range to 100 miles, while a further update with nickel metal hydride cells reduced the car's weight and provided a further bump in range to 160 miles, a figure that would have been more than competitive when production electric vehicles really took off in the early 2010s.
That gap in between the EV1 disappearing in 1999 and cars like the Nissan Leaf arriving in 2011 is the subject of much consternation from electric vehicle advocates.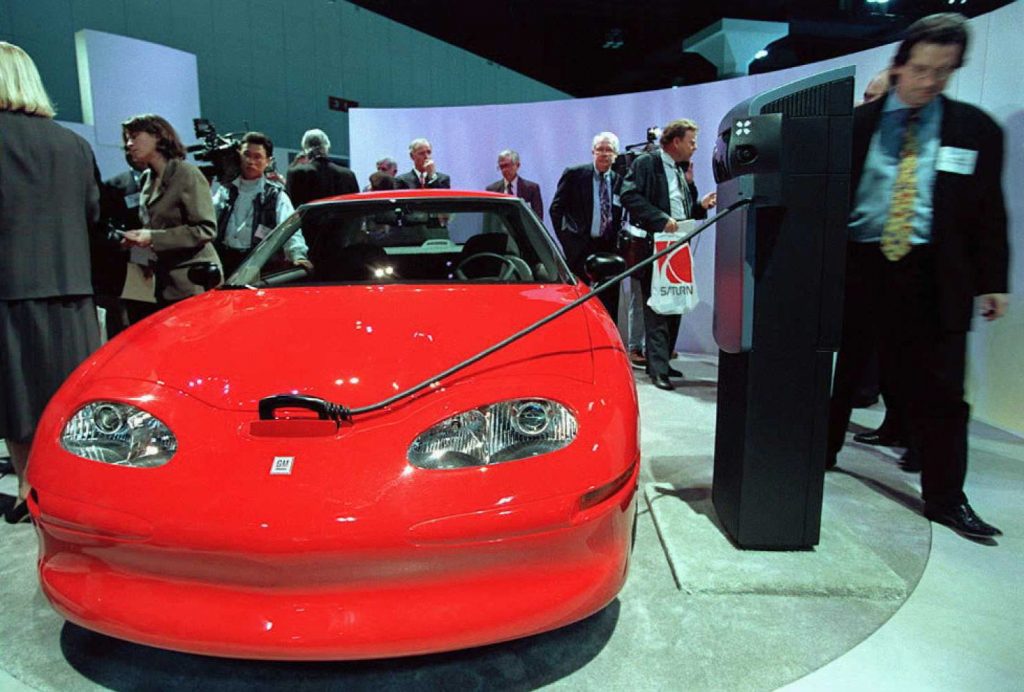 While customers loved their EV1s, praising its acceleration, high-speed refinement (thanks to the slick aero and lack of engine noise) and unique appearance. Autocar, testing the EV1 in 1996, called its silence "disconcerting" but revelled in the brisk 9-second 0-60mph time. Car and Driver was similarly positive, actually beating GM's claimed acceleration time and rating its precise steering, but did spend most of its week with this early car waiting alongside chargers.
GM though struggled to see a business proposition for the cars, and was unwilling to maintain its existing EV1s indefinitely. It cancelled leases, reclaimed its cars, and – the sorest point of all for EV fans – crushed all but a handful of the cars.
Those that remained were donated to museums and educational institutes. A forgotten car is unearthed on social media every couple of years, but while a few have been brought back to life – against GM's terms that the cars should be deactivated – the Smithsonian Institution owns the only official, fully-working model remaining.
The EV1's ignominious end shouldn't be seen as a failure, though it was hardly a success either; simply another well-developed car that never achieved the market success it deserved. The handful that remain though can consider themselves among the first, and most significant, electric classics.
Read more
Don't drag me down: 10 cars that mastered aerodynamics
Classic EV conversion? No thanks – make my classic an e-bike style hybrid
Cars That Time Forgot: Vector W8