A few years ago, how many of us would have imagined that Dacia, the cheap and cheerful Renault subsidiary, would become one of the fastest-growing car brands in the UK? Yet that's exactly what's happened, and one of the original cars to lead Dacia's way to the UK was the 1982 Denem.
The Denem story starts 13 years earlier, just three years after S.C. Automobile Dacia was founded. The Romanian government realised that it was totally dependent on imports when it came to car sales. By producing its own cars, Romania could keep much-needed currency within the country, so a new car maker was set up, which took its name from the region of Romania in which it was based.
How much is your car to insure? Find out in four easy steps.
Get a quote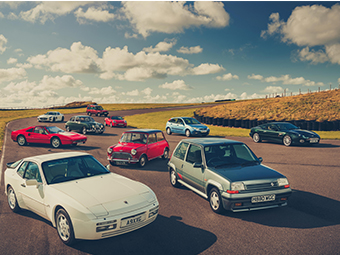 The new car would have to be big enough for a family, but simply engineered and cheap to produce, buy and run. Dacia couldn't design or engineer its own car because it didn't have the resources; from the outset the intention was always to license another company's design. Potential suitors included Alfa Romeo, BMC, Peugeot and Fiat, but ultimately it was Renault that was selected.
With a deal to collaborate signed in 1966, Dacia's first car was based on the contemporary Renault R8, which was sold as the Dacia 1100. But by 1969 Renault had introduced the 12, which was licensed to Dacia to sell as the 1300. By 1973 an estate had joined the range (the 1300 Break), and this was joined by the 1302 pick-up in 1975. Sales started out well and they stayed that way for a few years, but by the mid-seventies the Romanian economy was struggling and car sales suffered.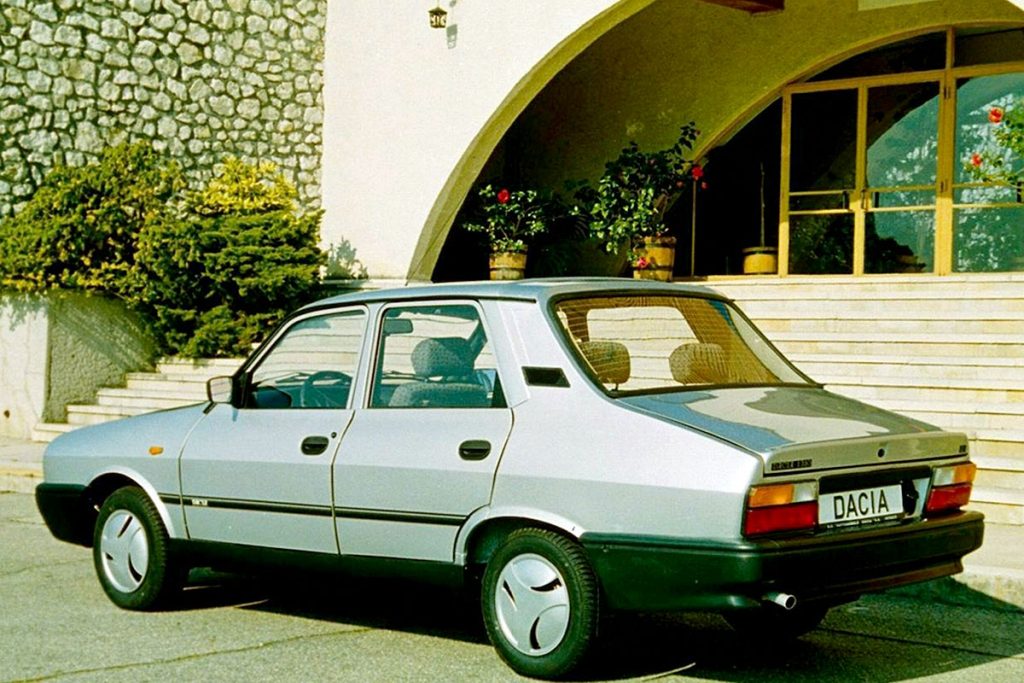 What was needed was something entirely new for Dacia dealers to sell, so when Renault introduced the 18 in 1978, the initial plan was for Dacia to offer its own version. But instead the two companies parted and production of the 12 continued, which it would do for a lot longer. In 1979, instead of a Dacia-badged R18 being launched, buyers got a facelifted 1300, a whole decade after the car had been introduced. That facelift amounted to nothing more than a new grille mind, so there wasn't too much to get excited about.
A name change to Dacia 1310 in 1982, coincided with the brand being launched in the UK, as 'The very acceptable Dacia Denem'. You could be forgiven for thinking this was a good attempt at managing expectations, but in reality it was a classic case of over-promising and under-delivering, thanks to build quality so shockingly poor that it made contemporary FSOs seem worthy of a three-pointed star on the bonnet.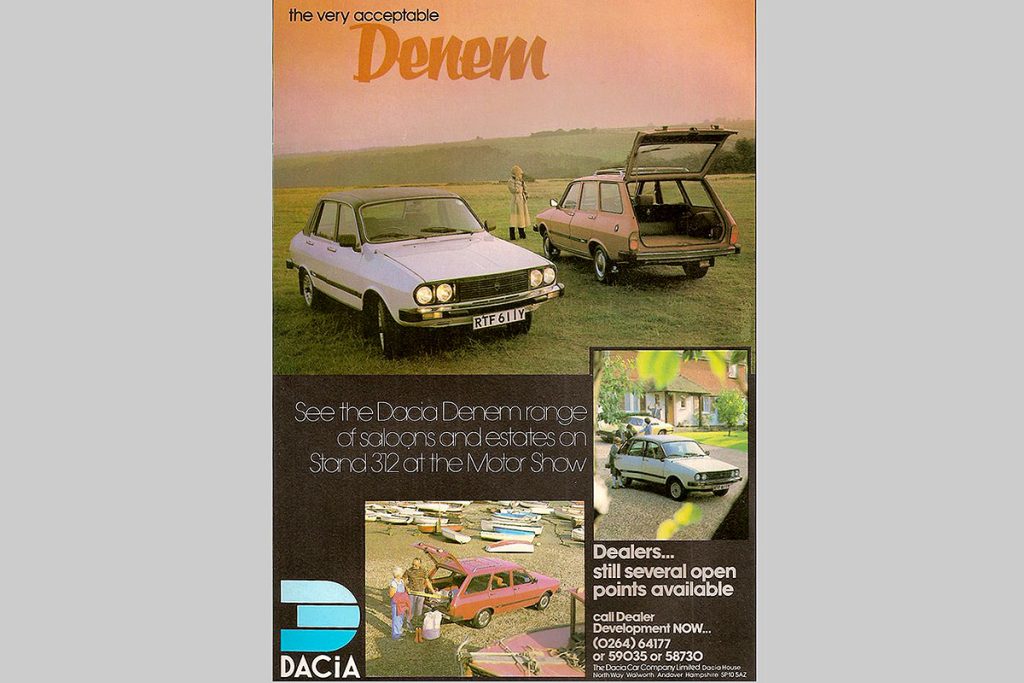 The first Dacia Denems landed in the UK in early 1983, imported by Hampshire-based IVI (Commercials) Ltd, which planned to sell 2000 Denems per year at first, and grow this to 10,000 per year by 1986, by which point the dealer network would grow from 35 to 200. Four trim levels were available (base, L, GL, GLX), there was a choice of saloon and estate (the latter in L and GL forms only), and the range started at £3190 for the entry-level saloon and rose to £4295 for the GLX saloon and the GL estate; all were powered by a 1298cc four-cylinder petrol engine.
That top-spec GLX was pretty well equipped, with electric front windows, alloy wheels, a five-speed gearbox and a radio-cassette player all standard, and for that genuine seventies vibe Dacia even threw in a vinyl roof. The problem was that while the Denem was cheap compared with more mainstream (and far more accomplished) rivals such as the Ford Sierra which was launched at the same time, the Dacia was costly compared with other Eastern European alternatives that were already established in the UK. These included the Lada 1200 (£2499), FSO 1300 (£2549), Skoda Estelle 120L (£2449) and Yugo 511 (£2814), so Dacia had its work cut out trying to hit those sales targets.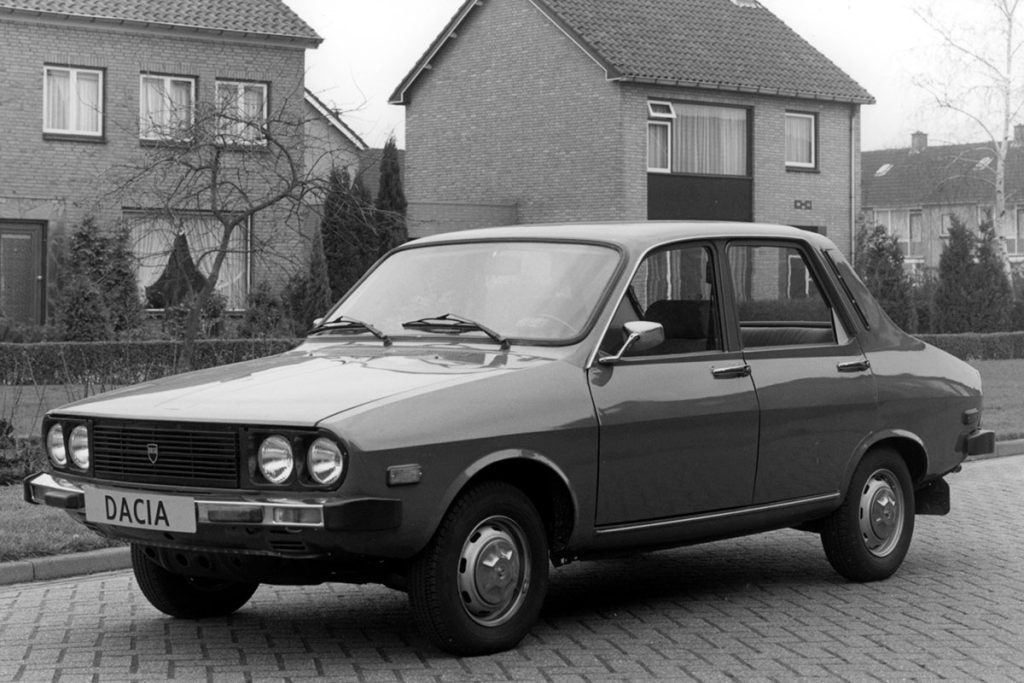 In period the major magazines reported on Dacia's arrival in the UK, but none of them seem to have test driven the cars. That's no surprise as they didn't get much time to do so; it's hard to pin down when the Denem disappeared from the UK, but it seems that within just a few months it was no longer available. Despite this, several hundred are thought to have been sold here, no doubt at discounted prices.
The Denem's lack of success in the UK meant that we were denied a raft of variations on the theme, including a coupé (the 1410 Sport), a cosmetically updated car launched in 1989, a hatchback (the 1320) and a van (the 1310, launched in 1990). A final facelift in 1998 brought fuel injection, which allowed the Dacia to pass Euro 2 exhaust emissions regulations. In 2004 the final saloon and estates were built, with the pick-up limping on for two more years. By this point the Dacia 1300 had gone through six different updates or facelifts over a 35-year production span, by the end of which it was anything but acceptable.
Unfortunately, according the HowManyLeft website, it seems that there are no Denems left on the road in the UK at all, although it's reckoned there is one lurking somewhere on SORN. Hopefully it does still exist and can return to the road; imagine the excitement of coming across it at Hagerty's Festival of the Unexceptional.
Check out the Hagerty Media homepage for daily news, features, interviews and buying guides, or better still, bookmark it.