Ah, remember coupés? Don't they seem so long ago now? If you don't want a high-end sports car or something with four doors you're basically out of luck these days, but coupés were once as integral to the motoring landscape as four-door saloons.
Companies really used to put in the effort too. Take the Volkswagen Scirocco, as depicted by this 1975 advertisement from the US. The Scirocco was, famously, the car Volkswagen chose to put into production instead of the rear-wheel drive 924 that it was having Porsche develop.
How much is your car to insure? Find out in four easy steps.
Get a quote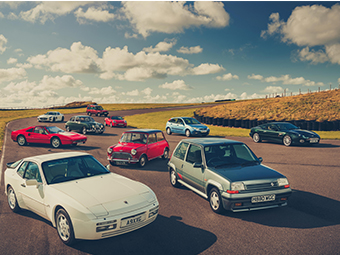 The Scirocco would be cheaper, based on the nominal Beetle replacement, the Golf, yet it launched ever so slightly earlier, giving VW a chance to iron out any niggles before the all-important hatchback arrived. Yet this wasn't simply a showroom-filler – VW still went to Italdesign, and Giorgetto Giugiaro, to pen the shape, just as it did with the Golf.
Confirming that it really was a sleeker version of the Golf but little different underneath, VW installed a similar range of four-cylinder, water-cooled, overhead-cam engines in the new coupé, with variances depending on the market – that US car got a 1.5-litre as the minimum, but European buyers could opt for a tiny 1.1 all the way to a 1.6, the same engine used later in the Golf GTI.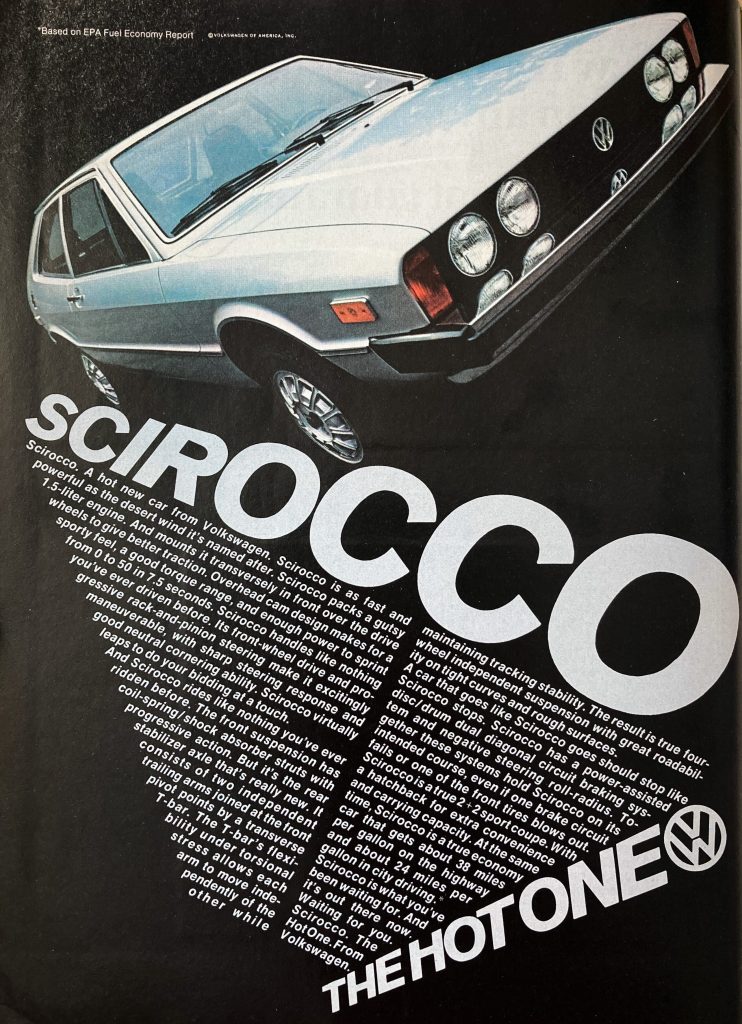 If the ad copy seems a little breathless for a car that made all of 68bhp in 1.5 form, then remember what Volkswagen was selling in the early 1970s: a range of rear-engined, flat four aircooled cars with their roots in a model designed in the 1930s. Squarebacks and Karmann-Ghias might have been more sophisticated than the Beetle, but only just.
So that 0-50mph time of 7.5 seconds – that's nought to fifty, presumably beacause the US government had only just implemented a national 55mph limit as a result of 1973's oil crisis – was still an improvement over the plodding aircooled cars, and the promise of "good neutral cornering ability" carrying some pretty heavy subtext for drivers used to wayward rear-engined machines.
The whole ad is quite tech-heavy as well as subtext-heavy too, and not in the modern sense. You get to find out which wheels are being powered, what method is used for steering, what suspension you get at both ends, how it brakes… the striking styling is barely even mentioned, other than in referring to its useful hatchback layout.
And while the close, wide-angle shot of the car isn't its best angle (it looks dramatic enough, but it does feel like Volkswagen of America snapped the car in a parking lot behind HQ to save time), that sleek, liftback styling has aged incredibly well. In fact, we've included a few more images in the gallery below so you can appreciate it fully. Hot one? Definitely.
Check out the Hagerty Media homepage for daily news, features, interviews and buying guides, or better still, bookmark it. Or sign up for stories straight to your inbox, and subscribe to our newsletter.