Sometimes there's a bit of a story behind our Ad Break articles. You know the kind of thing: perhaps a car has been photographed in a beautiful location, or the ad copy makes reference to an interesting period tidbit.
This time though, it's pretty much just a photograph of some wheels, and probably akin to what you'd see if you flipped open the top of TV presenter Paul Cowland's head and peered inside.
How much is your car to insure? Find out in four easy steps.
Get a quote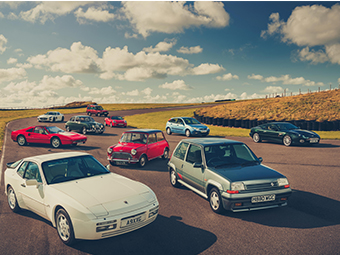 There is one detail that jumps out of the brief copy at the bottom, where you can send off for a full colour catalogue for the princely sum of one solitary British pound. This being the early 1980s, you could also send off a quid and get a 33-inch tall "full colour girlie poster". Different times, and all that.
Today we're rather more interested in the wheels than the poster. Compomotive is best known for its aftermarket wheels, though did make some fine OEM rims over the years, such as the fabulous cross-spokes found inside each arch of a Lotus Esprit Essex Turbo. You could find them on certain Lancia Delta Integrales, too.
In this advert though it's all about what your car could wear, rather than what it's already wearing. It's easy to imagine any of them adorning say, a Mk1 Volkswagen Golf or Scirocco, or perhaps an E30 BMW 3-series. Maybe even something a bit more classic even for the era, like a Lancia Fulvia.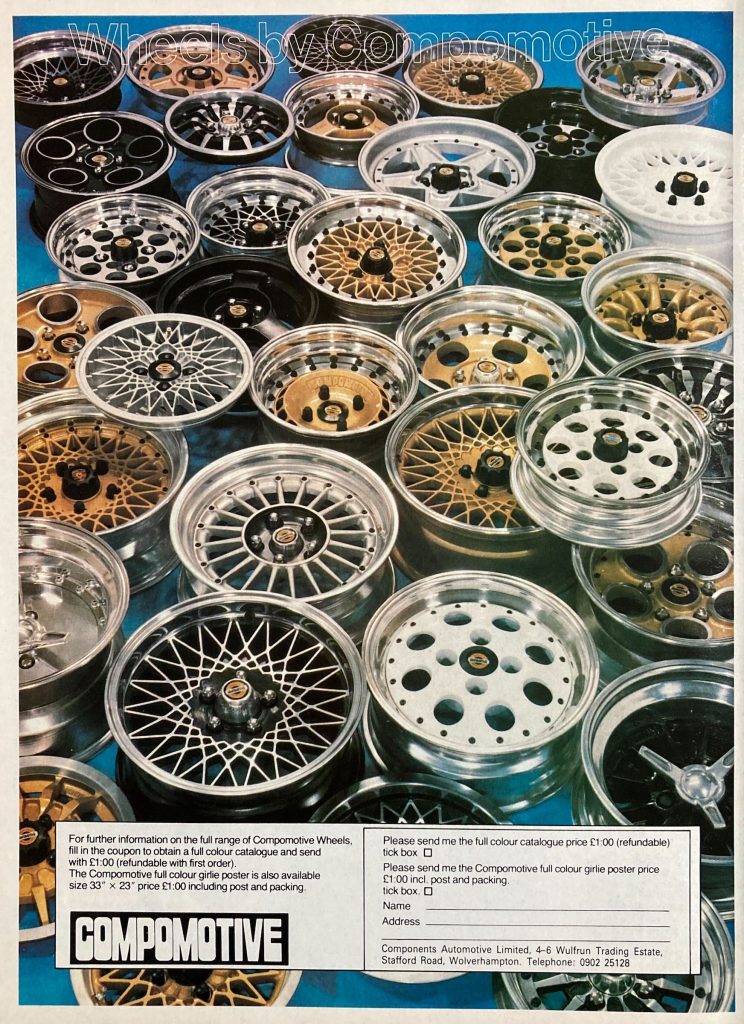 Several designs look to be inspired by sports and racing cars of the era – check out those Lamborghini-style wheels in black, towards the top right – while split rims are clearly the trend of the day. This wasn't just to the benefit of style; split rims also allowed for various different barrel sizes, meaning a wide range of fitments for a given design.
The mesh-spoke designs were part of the Compomotive CX range – a vast lineup that included multi-piece wheels and single-piece designs in all manner of sizes, while the chunky, F40-style five-spokes in the centre towards the back were part of the FH range.
The gold five-hole design near the centre of the image was the SM range, and to the left of those, also in gold with a polished lip is a TH wheel. On the other side of the SMs – and once again painted gold (this was the 1980s, it comes with the territory) you'll find one of the ML range, and the black wheel to the bottom right of the image, complete with a fake knock-off centre, was the HB series.
Some would no doubt be worth a fortune today, particularly in rare and unusual sizes, but with interest growing in cars from this period, there's a burgeoning market for era-correct accessories too. Nothing quite changes the look of a car like a new set of wheels – so perhaps there's some inspiration here.
Just remember, it's too late to send a quid to Compomotive for that poster.
Read more
Ad Break: The Lancia Delta HF Turbo offered 121mph in your favourite chair
Well spoken: a brief history of BBS wheels
Chasing the ghost of Jim Clark in my Lotus Esprit