Stubbornly independent Yorkshire car manufacturer Jowett went out with a bang in 1954, when the last Jupiter sports car left the (soon to be) Idle factory.
In 50 years, Jowett accomplished an astonishing transformation from a two-cylinder 816cc workhorse ("The Little Engine With The Big Pull") and a number of practical 1930s family cars –
with names like Weasel, Kestrel, Plover and Peregrine – to the sophisticated 1947 Javelin aero saloon and the world-class Jupiter sports car in 1950.
How much is your car to insure? Find out in four easy steps.
Get a quote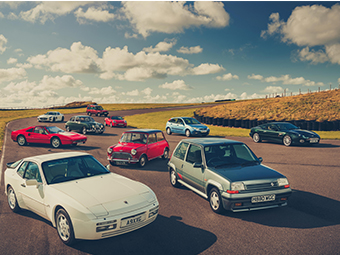 At the end of WW2, the founding Jowett brothers sold the firm to millionaire businessman Charles Clore, who resold it to Lazard Brothers merchant bank. Suddenly, money was no problem and the new Briggs-bodied Javelin saloon was launched in 1949. It offered 80 mph, around 25 mpg, room for six and a high-quality finish, with leather and rear picnic tables.
When a Javelin sedan won its class in the 1949 Monte Carlo Rally, Robert Eberan von Eberhorst was already developing the Jupiter roadster. Eberhorst had designed the pre-war Auto Union D Grand Prix racers and would go on to create the Aston Martin DB3S.
His Jupiter combined a semi space frame with an aluminum body and Jowett's own water-cooled, flat-four cylinder engine. Steering was by rack-and-pinion and suspension by torsion bars. The gearbox was a relatively smooth column shift and though a floor shift was advertised, none were built. The nose section hinged upwards – including the front wings – to provide engine access unequalled until the 1959 Triumph Herald.
The Jupiter was stubby looking with the hood up, but the windshield was removable and its racing profile was much sleeker, with a very low center of gravity. A Jupiter won its class in the 1950 Le Mans 24-hours – on its first outing. It won the 1951 Lisbon Rally outright and again won its class at Le Mans in 1951. The sports racing Jupiter R-1 repeated the win in 1952.
The Jupiter, available in both left- and right-hand drive, was pitched at the U.S. market with the slogan "British engineering brains have built a record breaker" and "Can you really handle a European race-bred car?" Road and Track magazine reported 0-60 mph in 15 seconds, a top speed of 90 mph and 24-28 mpg. The Jupiter turned out to be very competitive in 1500cc racing and its wind-up windows and well-fitted hood made it popular for daily use as well as rallying.
At the end of production in 1954, 899 Jupiters had been built, including 281 shipped to the U.S.. 75 had been custom-bodied as coupes and convertibles by such firms as Ghia, Farina and Abbots of Farnham. About 500 Jupiters survive today, with cars in Europe, Australia, New Zealand and America.
The MK 1A of 1952 added an opening boot (previously, access was from behind the seat, like a Mk 1 Austin-Healey Sprite). Three lightweight sports racers called the R-1 were built in 1951-52 and one of these won its first outing at Watkins Glen, N.Y., in 1951.
Jowett ran into difficulty getting Javelin bodies from Briggs in 1953 and the company was eventually sold to International Harvester, which used the plant to make tractors until about 1980. The last effort to save Jowett came in 1954 when a fiberglass-bodied Jupiter R-4 was offered with overdrive and a top speed of 100 mph. Only three were built.
Jowetts, and especially Jupiters, have a dedicated following with clubs around the world. Edmund Nankivell is the foremost Jowett expert and the English Jupiter club can be reached at http://www.jowettjupiter.co.uk/.
Jowett Jupiter Details
Years built: 1950-54
Numbers built: 899
Engine: 1,485cc water-cooled, flat-4, twin Zenith carburettors
Horsepower: 60-62 hp at 4,500 rpm
Top speed: 85-90 mph
Original list price: £1,017 in 1950 ($2,548 in U.S)
HCTM Valuation: £13,000-£25,000 ($20K-$40K)
Investment Grade: B
Club: Jowett Jupiter Sports Car Club, Ghislaine Nankivell, 6 Kymer Gardens, Hassocks, West Sussex BN6 8QZ, UK. Email ghis@jowettjupiter.co.uk
More: www.jowettjupiter.co.uk