Renée Brinkerhoff races a Porsche 356 worldwide to raise money and awareness for human exploitation charities.
When in her mid-fifties, Renée Brinkerhoff decided to take up rallying a 1956 Porsche 356 Outlaw and travelled to Mexico to compete in the dangerous and prestigious La Carrera Panamericana. It didn't take long for her to catch the media's attention. Four years later, with a podium finish for each entry, and having made history as the only woman-driven team to finish the race each year partaken, she has become somewhat of a motoring icon.
How much is your car to insure? Find out in four easy steps.
Get a quote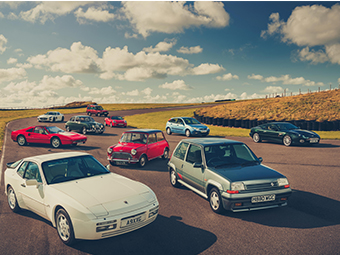 I spoke to Renée about her recent exploits in the 2019 East African Safari Rally, the penultimate race of her current world record attempt to complete a rally in each of the seven continents. Fresh off the plane from Nairobi, she spoke to me animatedly from her home in Denver despite jet lag and an early start. Regaling me with anecdotes of risky dirt tracks and a close encounter with a lioness, her enthusiasm is infectious.
'When I started racing, ahead of my first time at the Carrera [Panamericana] in Mexico, I had to find a navigator. I sent out an email to someone I'd met who was doing it that year to see if they could help me. I said I was looking for a young, good-looking, Mexican man… but it wasn't as it sounds,' Renee laughs. In fact, every component was well thought-out.
There was the obvious need for a native Mexican to guide her through notoriously dangerous regions, many of which are run and controlled by Mexican cartels; someone who knew the language and their culture. What she understood as Mexico's machismo culture meant she favoured a male companion. A younger man would be more likely to be open-minded at having a female driver in control for the 2000 miles ahead of them. And good-looking? She concluded that as she herself was middle-aged, if they were to attract any press attention, this might help the photos. Whilst her subsequent successes speak for themselves, Renée's humorous, candid way of speaking about her challenges is another aspect that impresses me.
Her interest in press coverage holds a deeper meaning. Renée tells me how she believes that her privileged position is a reason to be a force for change, and how a series of happenstance events directed this desire to utilise her platform within the world stage of endurance racing as a channel to support charitable efforts to address the problem of human trafficking.
A chance conversation with a member of the FBI whose job it was to work undercover, posing as a buyer of child pornography, first gave Renée an insight into a vast, shady world that most people are unaware of.
'He shared with me what was going on, and I had the realisation that there was [this problem] in our country that I was unaware of. I think a lot of people still don't understand that human and child trafficking is still a major problem in the world, and how many people are affected by it. I felt I had to do something, and started learning more about the problem. At the same time we were thinking we need to do something more with this car; we have this voice. Things came together very naturally'.
What followed was Renée's establishment in 2013 of a philanthropic arm to her racing, 'Valkyrie Gives,' a not-for-profit providing financial support to grassroots organisations working to counter human trafficking and exploitation. Harnessing her newfound press attention, Renee's mission has been to use drive her classic 356 Porsche on all seven continents, using her racing as a global platform through which to foster awareness of the child trafficking and raise funds for its prevention.
Ahead of each visit to a continent, her team carry out an extensive vetting process of local organisations providing education, rescue and rehabilitation to those vulnerable to exploitation, or affected by trafficking. As she nears the completion of a world record for classic car racing, the attention is mounting.
'We were the anomaly: I was an older woman, driving a 356, and we were winning. People started listening'.
Of course, reactions to Renée's racing have not always been shining. Since embarking on her world rally tour she has found herself up against an additional challenge. From press questions about her women-owned 'Valkyrie 3' race team being directed at her male co-driver rather than her more knowledgeable self, to experiencing assumptions that she knows nothing about her car, all too often she has received the lingering stigmatism of the 'silly girl', becoming well aware of herself as an anomaly within the male-dominated sport.
'It's not so easy for people to accept change. I had a choice; to give up, or to buck up and ignore it; don't be frustrated by it, don't complain about it… it's their problem not mine'.
Actions speak louder than words, and Renée's successes certainly defy stereotypes. Her recent rally at The African Safari rally saw her daughter Juliette joining her as co-driver marked her debut as a female-only driving team, firmly putting any suspicions surrounding her successes to bed. 'I thought, let's let them know it has nothing to do with whether it's a man or a woman in the car, it's about the capabilities of the person, it's not about their sex. It's about how well they get along, how good they are at their job and how they work as a team, and all of these things that you need to be a successful car in a rally'.
Her successes are all the more impressive given that she purposefully tackles novel motorsport challenges. Paving the way for the history of Porsche 356 rallying, she enters races where the car would be unique, or incredibly challenged. Hers was the first ever 356 to participate in the East African race, and she's often the only classic in a field of modern cars. Now just one rally away from her goal of six endurance races in seven continents, the final destination of her near 20,000-mile venture is Antarctica. There her aim is to complete a 356-mile ice drive, a first of that distance in that location for a classic car, and she even hopes to attain a land speed record.
For all her daring feats, charitable acts, and contributions to racing, perhaps most striking is the subtle, but very real legacy Renée is leaving behind. Forging her own path irrespective of age or sex, her achievements continue to challenge the constraints of categorisation –a positive impact that I expect will maintain press attention for a long time yet.
More information on Renée's challenge and fundraising can be found at www.racevalkyrie.com