Pick a professional racing driver at random, and chances are fairly even you'll find one that isn't that interested in driving road cars. After all, if you spend every day in an F1 car, or a top-flight WRC machine, there's not much excitement a road car can give you.
Nico Rosberg clearly isn't one of those drivers. The 2016 Formula One World Champion moved into punditry after his abrupt exit from F1 after taking the title, and has since taken the somewhat unusual step of becoming a YouTube "influencer" – with a strong focus on driving the world's fastest cars, both electric and combustion.
How much is your car to insure? Find out in four easy steps.
Get a quote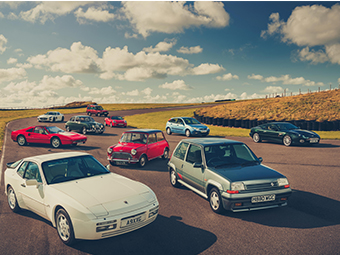 But in his most recent video, Rosberg has finally had an opportunity to drive something truly special: a Ferrari F40. Yet it wouldn't have happened at all unless the F1 champ had been bold enough to leave a couple of Post-it notes on the window of an F40 which was stored in the same underground garage where he parks. On the notes he asked whether he could have a drive – leaving his phone number for the owner.
Sure enough, if you don't ask, you don't get. And it turns out that even F1 champions become the metaphorical kid in a candy store when given the keys to one of history's most iconic supercars.
At 36 years old, Rosberg would've been only a toddler when the F40 debuted in 1987 – and went head to head with the Porsche 959 – and by the time he made it into a full-time F1 seat with Williams in 2006, even the Ferrari Enzo had recently left production. No great surprise then that even a top-flight driver like Rosberg never had a chance to pilot an F40. But after driving past one in his shared parking garage year after year, Rosberg recently left the note on the F40's window.
"High-risk" is Rosberg's summary of the F40's vivid acceleration and punishing ride quality, though he managed to hand the car back to its owner as clean as he'd acquired it – despite accidentally jumping a red light and facing oncoming traffic in a one-way street.
Given most of us will never get such an opportunity, snapshots like this are probably the best impression we're likely to get of driving Ferrari's monstrous supercar.
Read more
2021 was the year of the F40
Feeling Blu? Famous F40 sets online auction record
Watch the legendary Ferrari F40 drift in the dirt