If I'm shopping in my local town centre and have a few minutes to spare, I often seek solace in the calm of a traditional second-hand bookshop. It's a great place: a maze of shelves and rickety wooden staircases, with hand-written labels describing each genre. On the first floor is a large area dedicated to motoring books, and it is to this automotive oasis that I am inevitably drawn.
I am rarely disappointed. Last week, I found a copy of Bill Boddy's 1961 Sports Car Pocketbook, published by Batsford and sold for the sum of 9s 6d. I paid just £5 which is a bargain, considering the cover price would be worth £10.37 today, accounting for inflation. With its period photographs and descriptions of such rare beasts as the Diatto Type 30, the Hispano Suiza Boulogne and the Moretti 750 Competition, the book is a great source of information. Also, Boddy's humour shines through: in the introduction, he quotes Cecil Clutton's description of the sports car as one 'through which it is impossible to walk in a top hat'.
How much is your car to insure? Find out in four easy steps.
Get a quote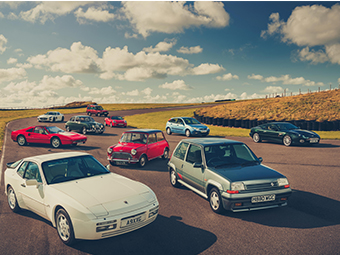 I love these personal glimpses into our automotive past. I often read old Motor Sport articles and the wonderful authors' descriptions, like the ones I used in our recent Jabbeke Speed Trials article, breathe life into events otherwise lost to time.
I must also admit to having a slight addiction to buying old sales brochures and advertising literature to see how manufacturers marketed their cars in the past. On particular favourite, purchased as part of a job lot on eBay, is a 1980 Alfa Romeo quiz offering such exotic prizes as a Ronson electronic lighter and a Toshiba mini travel alarm. Asking 'Are you up to an Alfa?' the questions include the following: 'If the Alfasud Ti S has a 1.5 litre engine developing 84bhp at 5800 RPM with its twin choke carburettor, would you estimate its acceleration from 0-60mph at: 9.6 secs, 10.9 secs or 11.3 secs? (10 points)'. Let's just say that the lighter and alarm clock would have been safe had I entered the competition.
Will our modern obsession with online content mean that future generations miss out on much of today's motoring writing? Quite possibly. Despite the valiant efforts of specialist motoring publishers like Veloce and Porter Press, and our friends in the magazine publishing world, it is inevitable that a lot of today's digital content will be lost.
So, what can Hagerty do about it? We publish written and visual classic motoring content that is commissioned and created solely for our channels, and we've sought to encourage new writers, photographers and videographers. This has required a major investment in time and money over the last few years, but it's one we're proud of and value highly. We're currently developing a new online hub that will allow much easier access to our content, and we're looking at the options of publishing a printed magazine. We'd be grateful for your thoughts on what you'd like to see.
In the meantime, I have a few minutes to spare, so I may pop into town and see what gems the bookshop has to offer today. If you have a spare moment, try the Alfa quiz, and let us know how you get on!