Last year, Hagerty wrote a story about the best British machines of all time. Given that we're a classic car company, we found an unlikely winner- the Supermarine Spitfire.
Put ten classic car enthusiasts in a room, and there will be some debate over which is the best historic vehicle on the road. But ask them to name the finest fighter plane ever to grace the skies, and there will be no question of the winner: the Spitfire.
How much is your car to insure? Find out in four easy steps.
Get a quote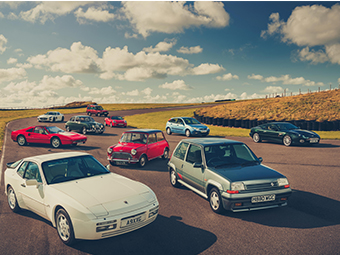 From that gorgeous sweep of the elliptical wings to the thunderous roar of the 27-litre, V-12 Rolls-Royce Merlin, the Spitfire is second to none. Oh, and when the sovereignty of Great Britain depended on it, this machine was front and centre of Blighty's defence.
So we've decided to give one lucky person the opportunity of a lifetime- to fly in an original World War Two Spitfire from Goodwood Aerodrome, taking to the skies over the South Downs and English Channel, where the Battle of Britain was fought some 76 years ago.
The flight will be conducted by the Boultbee Flight Academy, the world's first civilian Spitfire training school. This week, I visited Boultbee to look behind the scenes of this exceptional organisation.
Boultbee is housed in a modern-looking glass cube building in the centre of Goodwood motor circuit. But step through the doors, and you find yourself in a really unexpected environment. From the leather Chesterfield sofas in the crew room to the hand-painted signs on every door, this place just oozes old-fashioned style. The decoration is an homage to the Spitfire: stunning photographs adorn the walls, and an original Rolls-Royce Merlin takes pride of place in the foyer. On one wall are pictures of famous visitors: here royalty and film stars are interspersed with photographs of older gentlemen and ladies. These are the veterans- Spitfire pilots from the RAF and ATA who flew the aircraft back in World War Two.
And this is what makes Boultbee different. As much as it is a flying school, the organisation is also there to celebrate and share the aircraft as widely as possible. Forging relationships with those who flew the Spitfire in action is central to their ethos, as is supporting today's veterans- two wounded former members of the Armed Forces are shortly to qualify solo as Spitfire pilots, the product of a scholarship between the company and Prince Harry's Endeavour Fund.
Boultbee also allows members of the public to experience the Spitfire first hand. When Steve Brooks and Matt Jones first suggested offering Spitfire flights to the public, many doubted it was possible. But after a great deal of effort, they achieved CAA approval and in 2015 flew their first complete summer, successfully completing over 600 flights.
Today anyone aged over 18 with the money, as long as they book long enough in advance and meet the medical requirements, can take a passenger flight in a Spitfire. And although it is not cheap- the flight we are offering retails at £2,750- the passengers aren't the bunch of rich city boys you might expect. On the day I visited there was a panel-beater from St Albans who was bought the flight by his wife, a man from Kent who had harboured a desire to fly the Spitfire for so long that he had started to train towards his pilot's licence, and a gentleman who had never flown in a small aircraft before. According to Boultbee, the vast majority of their passengers are people like this: normal individuals who share the love of this superb machine, people who have been bought flights by families who have clubbed together to cover the cost.
And when you speak to the engineers, that cost suddenly seems very reasonable. Everyone who maintains a classic car knows how much they cost to keep on the road. Imagine maintaining a fleet of aircraft, most of which are over 70 years old, which fly up to five sorties per day and need a total engine rebuild every 500 hours and an airframe strip-down every year. Oh, and remember that this is an aircraft that, when new, had an expected life of only 15 hours.
Now you too could win a flight in a Spitfire. All you have to do is hold a Hagerty UK annual classic car insurance policy on 31st December 2016. All of our policyholders will be entered into the draw- and there are some other amazing prizes too! To find out more, just visit our Spitfire page, where you will find more details after the launch date of 29th July 2016.