At Hagerty, we all love the journeys we have with our classics and where they take us. That's why we've decided to offer the chance to win an ultimate classic journey: a flight in a Spitfire. Everyone who holds an annual UK Hagerty classic insurance policy on 31st December 2016 will be entered into a prize draw for this, and two other fantastic prizes.
First Prize: Spitfire Flight
How much is your car to insure? Find out in four easy steps.
Get a quote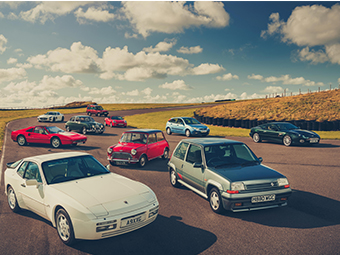 One lucky Hagerty policyholder will win the trip of a lifetime: a 30-minute flight in an original 1944 Supermarine Spitfire. You'll be given a crew briefing and kitted out in your flying suit at the Boultbee Flight Academy at Goodwood Aerodrome, near Chichester, West Sussex. Then you'll be strapped into the Spitfire before taking to the skies from the airstrip where Douglas Bader once flew. After an unforgettable flight over the South Downs and English Channel, you'll return one of the few people who can say that they have flown in this wonderful old aircraft.
Second Prize: Bovington Tank Museum Private Tour
Bovington's collection of 300 tanks is considered to be the best in the world. Our winner, plus a friend, will be given a private tour of the museum's six huge halls, coming face-to-face with some of the most powerful machines ever created.
Third Prize: Private Valuation
Our third place winner will be given a full private valuation of their classic. The vehicle will be inspected, photographed, and the results displayed in a detailed report which would grace any history file.
So, if you don't already hold a Hagerty policy, act quickly: get a quote today, and take your first step toward the opportunity of a lifetime! Terms and conditions apply. Click here to read them.