We look at the story behind some of the cars we celebrate at Hagerty's Festival of the Unexceptional.
When you look at pictures from last year's Festival of the Unexceptional, one thing stands out. Except for a few isolated cases, most of the cars are either two- or four-door saloons: the very cars that filled Britain's roads in their heyday. So how did the ubiquitous family saloon become a rarity?
How much is your car to insure? Find out in four easy steps.
Get a quote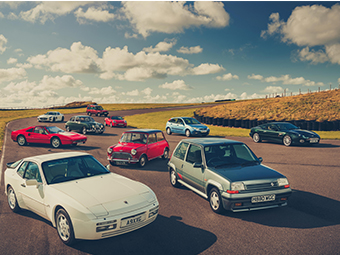 One major aspect was the build quality of new cars. I spoke to Stewart Whyte, who led various rental and contract hire companies – mostly for large franchised dealer groups with extensive Chrysler and British Leyland presence – throughout the 1970s and early 80s. He was at the sharp-end, dealing on a daily basis with thousands of cars (and vans) operated by numerous company fleets. "Until about 1974, the fleet industry norm was to predict a car's life at 40,000 miles or two years," he told me. "When the effects of the oil crisis set in, companies extended the life of their cars out of economic necessity to three years or 60,000 miles (and sometimes even longer). They lasted, but often with significant repair bills."
To expect a car only to last 40,000 miles today seems like an absurd situation, but budget restrictions, industrial unrest and management problems all combined to make quality control seem like an alien concept. "I had one Hillman Hunter arrive for a pre-delivery inspection in the early Seventies," Whyte told me. "It made an awful noise, and when we put it up on the ramps, we found it hadn't been fitted with any front brake discs."
Whether that was simply an oversight or an intentional act is not clear. At other times, industrial unrest certainly created problems with build quality- there are even anecdotal stories of disgruntled workforces intentionally sabotaging cars. When Chrysler's Linwood plant in Renfrewshire was closed in 1981, there are reports of cars leaving the factory with scratches, missing wheel nuts, and even bolts dropped into combustion chambers.
But poor build quality isn't the only factor that explains why so few of these cars survive today. Another major issue was that very few cars received any serious rust protection at the factory and so corrosion started almost immediately. Whyte told me that cars sometimes rusted before they reached the dealers. "New cars were parked in storage yards," he told me. "Some were already starting to bubble, and had to be taken off for bodywork repairs even before they were registered. We even had to employ people to spray the weeds growing around the 'new' vehicles." Stories abound of dealers adding vinyl roofs to cars, ostensibly as 'special editions' but actually to hide rust spots.
The last major factor is whether the car had the 'X' factor. If you owned a Ferrari, Maserati or Rolls Royce, you would probably bear the large bills once things started to go wrong. If you owned a Marina, a Princess or a Cortina, it was much cheaper and far easier just to sell it on and buy a newer version. This situation was exacerbated by generous tax laws which meant the majority of big saloons were bought new as company cars, which drivers would regularly trade-up for a new one. The re-sale market was flooded and residual values plummeted as a result. The net result is that there are now fewer Hillman Hunters on the road (of all types) than there are Lamborghini Diablos.
That any survive is testament to the passion some people feel for cars that others consider unexceptional. These cars may have been bought new by a parent and kept for many years, or a first car that wasn't worth selling at the end of its useful life. Later, with the benefit of time (and money) a little nostalgia creeps in, and some of the cars that survive have been restored back to as-new condition- maybe in a few cases, better than new.
Here at Hagerty we have a passion for all classics, and so the Festival of the Unexceptional was born to celebrate those cars that once were everywhere but are now so scarce. So, whether a Maxi once ferried you to school, or you drove a bright orange Sierra (as I did) we hope you will join us in our salute to the normal, the everyday, the endangered.
Hagerty's Festival of the Unexceptional is being held on Saturday 25th July 2015 at Whittlebury Park, Northants, NN12 8WP. More details can be found here.
Stewart Whyte today runs a vehicle fleet consultancy company, www.fleet-audits.com