It's tricky to pinpoint the moment at which estate cars turned from utilitarian versions of more elegant saloons into lifestyle accessories. On the face of things it's a curious turnaround; estates are inherently pragmatic things, basically vans for those who don't wish to give up the comfort and dynamics of proper cars.
The turning point probably came somewhere between the Audi RS2 (handsome, Porsche know-how, warbling five-cylinder soundtrack) and the Volvo 850R (boxy, BTCC, err… warbling five-cylinder soundtrack). Practical estate bodies were one thing, but making them fast was a genius marketing move, because then people could buy them with the heart as much as the head.
How much is your car to insure? Find out in four easy steps.
Get a quote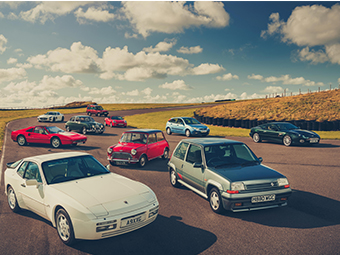 Heart-over-head has never been a difficult decision for Alfa Romeo buyers, and perhaps that's why the 1988 Alfa Romeo 33 Sportwagon coming up for sale with RM Sotheby's is appealing even though it is neither particularly fast, nor sleek, and nor, as with the RS2 and 850R, does it have five cylinders.
Not that it has some dull inline-four under the bonnet, because as you'll surely know 33s were all (diesel aside) powered by flat-fours, derived from those used in the perky Alfasud. The auction example is a mid-range 1.5, flanked at the time by an entry-level 1.3 and a sportier 1.7, and in this instance the car also drives all four wheels. If that seems unusual for the time, then bear in mind Italy has its fair share of mountainous regions where all-wheel drive is rather useful – not for no reason does Fiat still make 4×4 Pandas.
The other thing that springs up in conversations about wintry conditions and Alfa Romeos, and particularly when the two are combined, is rust. But it's a credit to its previous owners – the first until 2000, the next until 2019, and the current seller – that after 33 years (how apt) and just over 28,000 miles this 33 is as tidy as it seems.
There has been a respray under the previous owner, while a new exhaust and a green light at the most recent technical inspection both count in its favour, and the four-wheel drive system apparently works well too.
Given it's located in Italy you'll need to find some way of getting it back to the UK if you're interested in bidding, but there are few finer excuses for a road trip directly through the Alps once lockdown finally ends. And, if you hadn't heard, estates are rather cool these days.
The 33 is part of RM Sotheby's online-only Open Roads auction running from February 19-28.