We've all heard of SU (Skinners Union), AMAL and Zenith carburettors, but did you know that all of these products are now made and maintained by Salisbury-based Burlen? The origins of company go back to 1971 when a partnership between John Burnett and Mike Cullen was formed called Burlen Services. To this day, there are two unbreakable bonds at Burlen that go before all else: a love for all types of classic vehicles and the love of family.
When John Burnett retired, his three sons (Mark, Andy and Jamie) took over the business having all spent their childhood holidays working with Dad before heading off to forge their own career paths. It was a love of Burlen that brought them back to the family business along with a shared passion for cars, bikes, tanks, vans, planes in fact ANY classic vehicle, and it was their enthusiasm that guaranteed the business would thrive for many years to come.
How much is your car to insure? Find out in four easy steps.
Get a quote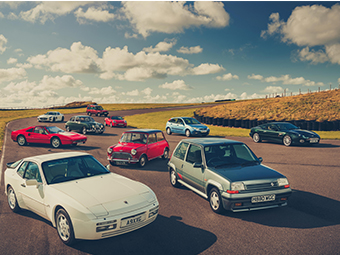 Trends change, and there was a time when carburettors (and the associated skills needed to set them up) were commonplace, but soon enough fuel injection took hold, followed by a demand for diesel and alternative fuel vehicles. Despite this, to owners of classic cars, racing cars, aircraft and motorcycles the carb remains king, offering a blend of period-correct looks with a great noise and high performance.
Hagerty met with the Burlen brothers who explained that, no matter what happens with Brexit, or legislation or the attempted expulsion of classics from major cities, Burlen will continue to design, manufacture, restore and develop fuel systems for classic vehicles for decades to come. It's an attitude that saw SU step in and help with fuelling issues of the Merlin engine in the
Spitfire during WW2 and the can-do approach that has seen Burlen break motorcycle speed records, win races and become OE equipment for many manufacturers.
Managing Director Mark told us 'There is no doubt that classic vehicles bring people together, it has no boundaries, no barriers and no matter what life throws at you, once you drive, ride or race your classic you can't help but smile'. Who are we to argue with that outlook? Long may the global love of classic cars, and those who help to keep them alive, continue. Watch the Burlen video above to learn more about the Barnett brothers and their company.