The most recent Hagerty Price Guide (HPG) update has just been published, showing that the UK classic car market has rebounded strongly in Q4 2016, with the Hagerty Classic Index showing an increase of 7.3% against a Q3 increase of just 1.3%
Analysis of the figures has also shown that top condition cars have performed best across the full price guide, with Hagerty's condition 1 ('concours') cars achieving an average price increase of 1.8% in Q4 and condition 4 ('fair') cars achieving an average increase of only 0.7%.
How much is your car to insure? Find out in four easy steps.
Get a quote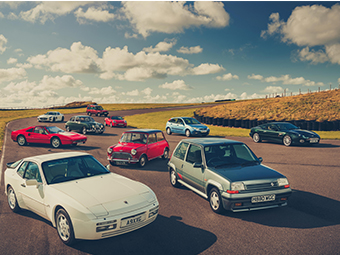 Which Cars Moved?
Hagerty's Classic Index (the top fifty popular classic cars) showed a number of cars that rose, fell, and remained static in value. These were:
Fallers
1967-72 Alfa Romeo 1750 GTV: Fall of 0.1% (avg value £21,775). A tiny correction for the otherwise popular Alfa Romeo 1750 GTV is assessed as being the result of a rapid rise of these cars in the last 18 months or so. The market now looks to have moved onto more affordable variants, such as the GT 1600 Junior, leaving 1750 values temporarily stagnant. Values are expected to rise again.
DeLorean DMC-12: Fall of 3.5% (avg value £36,575). The DMC-12 rose in value very quickly in 2015. This correction could be the result of less-good examples being drawn out onto the market. The DMC-12 has a strong following, but appeals to a particular taste- we expect values to remain relatively static in the short to medium term.
Jaguar Mk II 3.8: Fall of 2.9% (avg value £26,750). Many classic Jaguars are performing strongly in terms of values, but other than performance models (such as a Coombs) the Mk II has slipped back. Significant restoration costs (both for bodywork and engine) may be a factor, as is the general drop in appreciation for classic saloons.
Static
Triumph Stag (avg value £13,525). The Stag is another car that rose in value quite significantly in recent years, but prices have now stabilised. Like the Midget (below) the Stag is a popular car, with a number on the market at any one time. We feel that the market for the Stag has found its level for now.
MG Midget Mk III (avg value £6,875). Similar to the Stag, the Midget is a popular car that has found its level. We expect values to increase steadily, roughly in line with inflation, in the short term.
Austin-Healey 3000 Mk III (avg value £50,625). Big Healeys have also risen quite significantly in value in the last few years, and values have now stabilised. Good examples are still in demand, especially cars with racing history, but the more active market now seems to be for newer classics.
Risers
Aston Martin DBS Vantage: Rise of 9.4% (avg value £96,650). Values of Aston Martin DBS and V8s have been climbing steadily in the last 18 months or so, as buyers realised the value and style that these cars offered. As ever with Astons, Vantage specification cars are the most desirable, and buyers have been hunting down good examples of early DBS Vantages, with values climbing as a result. We expect this trajectory to continue.
Peugeot 205 GTI: Rise of 28.5% (avg value £11,275). Over the summer of 2016, Peugeot 205 GTIs rocketed in value, with exceptional examples achieving over £30,000. That trajectory has continued- although (as with many 1980s/'90s cars) the difference in value between fair and concours examples is huge. This percentage rise reflects the market's desire for top condition cars.
Porsche 928 GTS: Rise of 13% (avg value £33,850). Front engine Porsches have been rising rapidly across the board for the last 18 months. The 928 is just starting to be considered for the superb sports car that it is- a huge commitment by Porsche to their support and restoration has helped this. As with the Peugeot, top examples command a huge premium, and fair examples are still cheap to buy, mainly because neglected cars can cost a great deal to rectify. We fully expect the Porsche 928 to continue its value rise.
Quotes about Q4 2016
Angus Forsyth, MD of Hagerty said: "We've seen confidence return to the classic car market in the last few months of 2016 after a summer of uncertainty. Whether people still feel classics make good investments, or they just want to put their money into something fun, they are still definitely buying, and the values of the best classics are still on the rise."
"The trend for later classics- from the 1980s and 1990s- is also still continuing strongly. These cars are becoming the mainstays of the classic car market, and are attracting new owners. We are changing our policies to suit these cars and to make sure our policies suit the clients' requirements."
"We have had a huge increase in the number of people enquiring about the value of their car by telephoning Hagerty and using our Quick Quote online. This is good news- it means that owners are taking an active interest in making sure their cars are fully covered."
ABOUT THE UK HAGERTY PRICE GUIDE
The Hagerty Price Guide is an online classic car valuation resource which is free to use. It covers 1,785 models of classic car and gives four values- from 'fair' to 'concours'. The UK Hagerty Price Guide is compiled through analysis of British and major worldwide auctions, insured values, dealer prices, discussions with owners' clubs and advertised prices. It is updated quarterly by a UK team in conjunction with Hagerty colleagues in the US and Europe.
The Hagerty Classic Index is an index that tracks the average values of fifty of the most popular UK classic cars.
Quick Quote is Hagerty's online quotation system- it provides very quick quotes for classic car and motorcycle insurance, with only nine questions to complete.