Vintage scooters offer a fun way into a cheap and cheerful collectible – and the possibility of endless frustration, if you actually try to use them
In the world of coast-to-coast Maxi Scooters in America, like the 650cc 4-stroke Suzuki Bergman, and the new BMW 650cc Uber-scooters in Europe, the Old Days are long past. The reliable new generation includes disc brakes, automatic transmissions, trustworthy electronics — including electric starting — no tell-tale cloud of blue 2-stroke smoke as you take off, sounding like a washing machine on spin cycle. The new generation is reliable — now you can actually depend on arriving.
How much is your car to insure? Find out in four easy steps.
Get a quote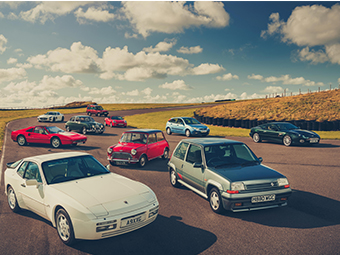 All that's missing is the fun; bizarre shapes of curvaceous tin in bright colors with exotic Italian names, like Lambretta, Parilla, Piaggio Vespa, Piatti; a kick start and a handshift in which the clutch lever also turns to change gears, practically dislocating your wrist. Mixing 2-stroke oil was touchy, the bike had to run well without looking like a mosquito fogger, or being so lean that it seized up.
But the 1950s and 1960s scooters from the Golden Age are still out there, and with a few exceptions, they're still an affordable way to enjoy an economical collectible. Just don't plan any long trips, and always carry extra spark plugs, some spanners and a mobile phone that works. The Illustrated Motorscooter Buyer's Guide by Michael and Eric Dregni has been around for 20 years, but it's updated periodically and it remains a great starting point.
The latest issue addresses almost 220 scooters worldwide, in alphabetical order and with star ratings. The authors point out that American and European tastes and availability vary, and that European collectors wouldn't have much interest in a Mustangs, Rock-Olas or Salsburys, thinking them horrendously clunky, mechanically crude and powered by lawn mower engines, frequently without suspension. However they also point out that the dozens of obscure European scooters wouldn't be much use in the U.S. the first time something broke.
The answer would seem to be mainstream marques from the 1950s and 1960s that were exported worldwide, like Lambretta and Vespa. The Piaggio Vespa (or Wasp) really set the pattern in 1946, with a pressed steel monocoque, suspension based on aircraft landing gear and a fan-cooled 2-stroke engine of 98cc. Over the next 60-odd years it would grow as big as 300cc, eventually become water-cooled and a four-stroke, but the most collectible are from the late 1950s and 1960s, the bigger 150/160/180 GS models, capable of 65-70 mph and beloved of the Mods in the UK. Vespas were also built under licence all over the world — in Germany by Messerschmitt, and even in Russia as the Vjatka.
The other big seller in the same period was the Innocenti Lambretta, finally made in India in the early 1980s, when the tooling wore out. The Lambretta of 1948 utilized a spine steel frame and the bodywork (which was soon added) was not structural. The 125 LD of 1951 was the first big seller, followed by a 150cc version in 1954. These were handsomely streamlined into the 125/150 Li series in 1957, at the same time that the first high-performance TV 175 appeared. The TV 175 Series 2 was considered a sports car by the 1960s Mods, and tune-up equipment — including fuel injection — pushed it well past 70 mph. The GT 200 was even quicker and is highly sought after today.
Both Vespa and Lambretta are a good bet these days with sufficiently large sales to ensure spares and reasonably well-sorted designs. By the late 1950s it seemed everybody offered a scooter, even hard-bitten motorcycle makers like BSA, Ducati, Gilera, Parilla, Motobi, MV Agusta, NSU, Puch, Raleigh and Triumph. In America, Indian and Harley-Davidson joined in.
Of course the best parts of this book are the histories of scooters you've never seen. The American market is downright bizarre, seemingly evolving little from its agricultural origins in the mid-'30s. The 1936 Moto-Scoot looked like a child's scooter with a seat, tiny wheels and no springs, while the Rockola appeared to be a fugitive from a carnival ride.
Huge clunky Salsbury scooters appeared to be based on mum's washtub, though the front suspension preceded McPherson struts, with two different rate coil springs. The Mustang (which endured for 40 years) was nearly a motorcycle, with a powerful engine but a lack of meaningful suspension or brakes. The effect, with its 12-inch wheels, was of a beefy man with very short legs. One remarkable photograph shows Mustang racer Walt Fulton bravely stretched out, Rollie Free-Vincent style, at 100 mph on a California dry lake. Cushman paralleled Mustang, but their bikes got as big and bulky as Harley-Davidsons, only with little wheels and small motors. They did get a big break during WWII, however, as the U.S. government decided the scooters' economy meant they could still be built as civilian rigs.
Overall, manufacturers found out that it was hard to build a good scooter. Even if you did, people were very cautious about risking money on an unproven product. However, an astute researcher can find some real gems and this book helps to identify them. For example, NSU built the 125cc Lambretta LD under licence until 1954, and then replaced them with their own, far superior Prima. The 150cc Parilla Levriere (Greyhound) was fast and reliable, but never common, and it led to the 200cc Zundapp Bella, one of the best scooters ever built.
There was also a very sound Heinkel, whose 174cc engine was good enough to power a four-seat bubble car, and the twin-cylinder Rumi Formichello, which many scooterists think might be the best scooter ever built. One entered the 2006 Motogiro d'Italia in which I rode a Ducati 125 Sport, and proved easily able to keep up, though the tiny petrol tank required an extra Jerry can.
Then there are the almost-rans. Triumph built two handsome Edward Turner-designed twin scooters, the Sunbeam and Triumph Tigresse. Both had option of a 175cc 2-stroke twin (which overheated) or a 250cc 4-stroke twin (which was too much for the brakes and suspension). But they arrived too late in 1959, and by 1964 the boom was over.
At the other end of the scale, the bizarre Piatti looked like it wouldn't work, and it didn't (I had one). It looked like a cigar on wheels, was designed by an Italian, built in the UK and in Belgium, and broke down everywhere, with a distressing habit of stripping second gear. Naturally it is very rare and expensive, nowadays. The Triumph Tina had a belt-driven transmission and, though able to carry two people, the transmission was prone to seizure at speed, ejecting the passenger.
At the other end of the scale the 1954-58 Maicomobile 200 looked like a U-Boat, fully enclosed with a motorcycle frame underneath its huge body. It was known as "The Dustbin." If you like that style, check out the 1951-55 Kroboth Truxa which looks like a 2-wheeled Panzer tank.
Honda entered the scooter world in 1954 with its Juno, battling the Fuji Rabbit and Mitsubishi Pigeon, but these are seldom seen outside Japan. As a nod to availability, the brief 1980s Honda boom is addressed, though the plastic bodywork is way past its sell-by date by now. Still, you might find a 1986 250cc Helix Ner-a-Car in the back of a garage somewhere, and it looks just as odd now as it did then.
Illustrated Motor Scooters Buyers Guide, by Michael and Eric Dregni, $16.95, 160 pages, profusely illustrated, published by Motorbooks International, PO Box 1, Osceola, Wisconsin, 54020, 1-800-826-6600.