Cars I should never have bought, part 2
1953 Triumph Mayflower
About 20 years ago, I had a similar experience to Ernest Hemingway, when he discovered the leopard in the snow on top of Mt. Kilimanjaro. I was competing in the Alcan 5000-mile rally, which runs from Seattle to Tuktoyaktuk in the Northwest Territories, then back to Anchorage. In 1991, the rally stopped in Skagway, from which gold rush miners hiked into the Klondike.
How much is your car to insure? Find out in four easy steps.
Get a quote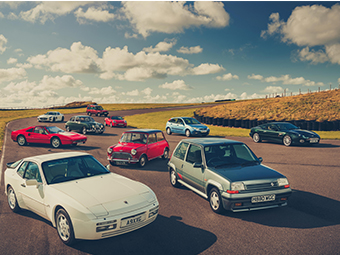 I was staying in a hotel whose owners had decided to add a floor. Rather than add to the top, they merely jacked up the whole edifice 12 feet and there wasn't a right angle in the building. Floors sloped and every door or window stuck. Gazing towards the harbor I saw the outline of a 1949-54 Triumph Mayflower sedan in a backyard. The smallest example of British "razor-edge" styling was pitifully underpowered. So how did it get to Alaska? Mine wouldn't go more than seven miles without overheating.
In need of a car in 1968, as a reporter on the Kingston Borough News, I repaired to my trusty Sunbury Wrecking Yard. I was in luck, a very straight Triumph Mayflower had just come in, good tires, nice paint, leather interior, mine for £15. I drove it home, polished it and wrote License Applied For on the tax disc.
Covering my beat required careful planning, and gallon jugs of water in the trunk. Caustic cleaner brought tears to my eyes, but did not fix the radiator. I resurfaced the aluminum head, but to no avail. My brother was unsympathetic. "Why do you think it was in the wrecking yard?" Then in falsetto, "There's been a mistake, I'm not meant to be here …"
Then I heard about a wrecking yard famous for its radiators, on the way to Somerset, where my uncle lived. I'd just fix the car on the way. I had 153 miles to go, and the first 21 miles took three stops. When I inquired about a Mayflower radiator, the yard clerk waved his cigar at a mountain of radiators in the setting sun. "Help yourself," he said. Amazingly, I found one; even stranger, it was OK.
The rest of the trip was a shock to me — and the car. It ran at smoothly 60 mph, but blew a rear axle seal. So I sold it in Somerset, and bought an old police car — from a wrecking yard, of course. A year later, police in London contacted me when my Triumph was discovered in the River Thames. It had been stolen from its waitress owners by their restaurant dishwasher and "taken for a test drive." Still, it made it back to London, which was a surprise.
1955 Packard Clipper Super
A lifetime Packard fan, I drove an utterly worn-out 1937 Packard sedan to Eastern Washington from Oklahoma City in 1972, for a newspaper job. The effort was too much for the car, and the back axle expired on arrival.
While I was waiting for a replacement from a wrecking yard in Colorado, I spotted a two-tone green 1955 Packard Clipper at a gas station in Sunnyside. It was very straight, a bit faded, with a lovely brocade interior and a dashboard by Wurlitzer. It showed 61,000 miles and the surly garage owner said a little old lady wanted $125 for it.
Even I could afford that, and my wife drove me back on Saturday. Buzzing along, I became aware of a tick-tick-tick noise, amplifying to thump-thump-thump. I pulled over and the oil light came on at idle. I walked back to my wife's car and said, "Well, they got me, it's too good to be true," at which point the knocking stopped.
It desperately needed an overhaul but the Clipper could run four miles before the valve gear started sticking. I was two miles from the newspaper, so I used it carefully for about a year, then tore it apart and rebuilt it. The 320ci V-8 was huge, and practically pulled the engine hoist over. A month later it was running like a clock and one day I drove it about 75 miles at highway speed, to pull into a gas station and hear that familiar ticking.
An old Packard collector said: "Did you replace the oil pump with a 1956 model?" I didn't. "Ah", he said. "The '55 model was 25 lbs, '56 was 45lbs. Why do you think Packard went out of business?" A firm believer in not doing the same job twice, I sold the car. About 20 years later, I saw a classified for a '55 Packard in Hermiston, Oregon. It turned out to be a used car lot and I got the lot boy. "Very clean car," he said, "37,000 original miles." When I learned it was two-tone green I asked him "Is the top of the backseat vinyl instead of cloth?" "Why yes, it is," he said. "That's my old car," I told him. " And that's not 37,000 miles; I sold it at 79,000 miles 20 years ago." And I bet it was rebuilt again.
1948 Ford Anglia
In 1978, I saw an advertisement in the Lewiston (Idaho) Tribune for a 1948 Ford Anglia "street-legal" dragster. I had owned original "sit-up-and-beg" Anglias in England, and they were wretched beyond belief — a 1938 design made until 1959, complete with transverse leaf springs, torque tube rear axle, mechanical brakes, one wiper, no heater and a big speedo, which included a gas gauge. This sounded more interesting. I offered to come over, and if I liked it, I'd drive it 90 miles back to my home in the Tri-Cities. There was a pause. "Tell you whut, I'll trailer it over for you." What a deal, and for $2,500, too.
Saturday morning the car arrived, sporting bright gold metal flake paint that belonged on a ski boat. On the door was written Olde English in gothic script, C/G 271. It was a "C" gasser dragster. Under the hood was a 4-bolt main solid-lifter Corvette 327 with three deuces: "I took off the Hillburn injection, it was kinda like pouring a bucket of gas into the engine — all or nothing," said the seller.
Power was delivered through a B&M ratchet-shift Turbo-350 to a narrowed Ford rear end, with a beer keg gas tank in the back. The body was steel, the one-piece nose was fiberglass. All the windows were green Perspex, as was the roof, where the soft top had been. The driver's seat was almost in the back. Both front seats had four point belts. There were no front brakes, and the rear tires said "rotate this way". But it was licensed and had lights. We fired it up, and neighbors came out to see where the plane was going to crash. "She'll do flat 11s in the quarter, at 121," said the seller. I wondered what that meant.
The Highway Patrol inspector wasn't very interested when he signed my paperwork, and I knew enough not to be chatty. Right away, I discovered that back wheel-only brakes required a lot of pressure to have much effect. Later I learned that if the road was wet, rear slicks meant I had no brakes at all. But the first thing I found out was that green windows cancel out colors. All traffic lights were white. Who knew?
Sports cars fall into three categories, which can be measured by passenger reactions. The first is: "This is lovely, it sounds great, what a color!" The second is: "Wheeee, this is FAST! (laughter)." The third is: Total silence, followed by an agreement that it would be OK to go home now. Olde English certainly delivered. Stomping on the gas catapulted it forward with little chirping of tires and a roar inside the car like a jet-dragster. Very soon, you're going Too Damn Fast. A short wheelbase coupled with pathetic steering and a flimsy original frame meant that the steering box could flex alarmingly, and keeping in a straight line was a challenge. My stock car-racing friend Mike Kelly boxed the front frame rails to try and stiffen up the steering. "Do you want to try it?" I asked after he finished. "Are you kidding?" said the man who had survived head-on crashes into track walls at 90 mph. "No thanks!"
My 3-year-old son loved the car, but his mother was less happy with him riding in it. I decided to sell Olde English when I was getting divorced. It seemed the equivalent of keeping a loaded .45 on the bed table: It's Going To End Badly. The buyer was convinced that he could build a tube frame and solve all his problems. He took the car apart, and last I heard, the body was a garden shed in Pasco. At $2,700, I think I broke even, and on a race car that's really something. Oh, I learned one other thing: If you warn your passenger to mind the hot side-pipe when she steps out, and she still burns her leg? Just apologize, OK? Trust me on that.