How many classic cars are cherished, loved, polished and cared for, yet really don't see the use they need and deserve? Not the concours or museum pieces, but the lovely cars owned by most of us. So many of these lovely vehicles only see tarmac on the occasional high day or holiday. Why is this?
Tours in particular offer an enjoyable way of using your car. There are no competitions, timed sections or anything to stress about as with rallies. It's just you, your car, passengers (if you wish), and the open road. Life just seems so perfect 'pootling' along the back roads, past stunning scenery, through pretty villages, and taking time to stop and enjoy the sights. It's just the perfect way to travel — your own wheels at your own pace.
How much is your car to insure? Find out in four easy steps.
Get a quote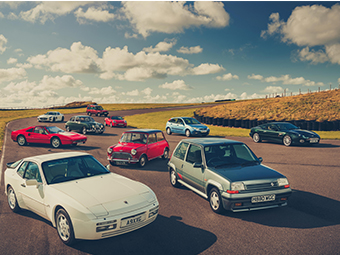 I have been fortunate to meet so many different people, and see and do so many wonderful things, thanks to my classic car — things that just would not have happened with my modern tin top. I have travelled to places all over Europe (and further afield) driving my little car and exploring on and off the beaten track.
I started out camping and following my nose to find new routes, but my accommodation has now upgraded to inns and hotels, although the routes are just as lovely. And for those who don't have the time or inclination to find the roads or the nice places to stay (with suitable parking), or to plan what there is to do, see and visit on the route, then there are specialist driving tour companies that can help.
Not wanting the hassle or guesswork of planning my own tour, I have been on organised tours, both by joining a group and by having a tour created for a group of my like-minded friends. All the hotel and ferry bookings were made, and we were each given a comprehensive tour book, which included detailed route instructions and maps, hotel information, and everything to see each day, as well as some history and background on the area we were exploring. In fact we gained so much more from the trip than I ever thought possible, and far more than we would have discovered ourselves. There is still a lot of freedom and independence within the tour framework, and no convoy driving on the tours I have done. And the sense of camaraderie with fellow tour participants was the icing on the cake.
I cannot recommend it enough and I'm looking forward to the 2012 adventures with my cars.
Elizabeth Honeyborne is the owner of three classic/sports cars, and a veteran of a number of tours with Classic Travelling Ltd .