Sam Skelton considers the company car park of unexceptional motoring.
So picture the scene. You're a sales rep – or maybe an account manager. It's the early 1980s, and you've been given a company car in which to ply your trade up and down the M1. Key accessories will include a coat hook, a flask, and some samples in the commodious boot. But what has the firm given you? The choice of unexceptional tat is actually quite exceptional. Here are ten of our favourites.
How much is your car to insure? Find out in four easy steps.
Get a quote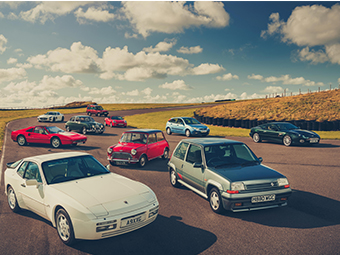 Ford Cortina 80
You can't compare classic fleet cars without mentioning the Ford Cortina. And the 80 is arguably most mundane of the lot. A facelift of the MK4 (Which in turn was derived from the MK3), the Cortina 80 had a flattened roofline, different trim, and a nip and tuck at both ends. With engines ranging from 1.3 to 2.3 litres and specs from base to Ghia, there was a Cortina for everyone and Ford sold them in droves. They're a cheap and sensible classic today too – and you'll make lots of new friends reminiscing at filling stations!
Morris Ital
On the face of it, the Ital couldn't really compete. Based on the Marina 3, itself a twice-facelifted example of a car intended as a stopgap product in the early 1970s, it was more than a little out of date. Especially as the underpinnings were part Triumph Dolomite, part Morris Minor. But while it wasn't as swish as the MKII Cavalier or the earliest Sierras, the Ital was good at what it did – honest, simple, back to basics motoring, It might not have earned you cred in the car park but who said fashion was king?
Vauxhall Cavalier MKII
Arguably the best of our bunch, the MKII Cavalier was a genuinely good, genuinely class-leading car. While people fawn over the Sierra, they forget that the real action was here; front wheel drive, powerful yet compact engines, and a chassis that made the Cavalier fun to drive. It looked good too, in a squared off, Germanic sort of way. Which given that it was a badge engineered Opel Ascona was appropriate. And for real company car cool, track down a rare Cavalier convertible. Who said the company car was all about the brand name?
Talbot Solara
Remember those cars you drew as a child? One box for the engine, one for the people and one for the boot? You too could drive it, had you been given a Talbot Solara in the early 1980s. And yet to point and laugh is to do the Solara down. Despite the tappetty engines, they were actually rather pleasant to drive – and in range topping Rapier trim boasted nice alloys and very plush trim. Not remotely common these days, but the odd one-owner car can still surface.
Austin Montego
A slightly longer Maestro, topped and tailed with new panels. This was Austin Rover's great hope for the company car market; to replace Ital and Ambassador in one move. Was it a successful move? Yes, though there was no way you could call it cool. Later examples – the diesels and the Countryman – were actually rather desirable cars. But those early Austins (especially 1.3 and 1.6 models with a poor gearchange) made you something of a pariah in a world dominated by the Cavalier and the Sierra.
FIAT Croma
Perky FIAT Twin cams mated to styling from the class above – what wasn't to like about the FIAT Croma? Very little – most were 1.6, which was really too small an engine for the bodyshell, and values plummeted like stones as soon as they were driven out of the showroom. But the things which put buyers off when new have contributed to its rarity today. Here we have a sensible family classic with sharp styling and good engines.
VW Passat
Based on the Audi 80, the B2 Volkswagen Passat was one of the first cars to popularise German marques in the company car arena. Available as a hatch and estate, with Santana saloon also available, the engine range comprised 1.3 to 2.2 litre four and five cylinder petrols, and a smattering of diesels. The most interesting model was the five cylinder Passat Syncro, using a four wheel drive system shared with the Audi 80 Quattro. But all are worthy, reliable, and guaranteed to turn heads today.
Peugeot 505
It's a shame people forget the Peugeot 505 existed. Because it was one of the most capable cars in its class not only at launch, but right through to the end of production. From worthy diesel engine estate cars that went on forever, through to the bahnstorming 505GTi, this range of forgotten Frenchies isn't so much rep hack as budget exec. The GTi is the pick for us – a 2.2 litre 130bhp sports saloon with razor-sharp styling and a chassis that could rival contemporary BMWs. Unexceptional? Forgotten, but worth remembering.
Renault 11
A conventional French hatchback, the Renault 11 (and its Renault 9 saloon sister) almost defines the expression Unexceptional. Ald yet it has two claims to fame. It's one of few European hatches to make a mark in the US market – thanks to an alliance with AMC which saw the car sold as the Encore – and it also starred in a Bond film. A Renault 11 seen in A View to a Kill was turned into a convertible by a barrier, before a second accident saw it split in the middle. Artistic licence was used in terms of build quality, we promise!
Nissan Bluebird
Was this the best British company car of the 1980s? Yes – before Japan reinvented the British sportscar it reinvented the British company car. Bluebirds were built at Nissan's Washington plant, and with a range of cars including the plus Executive and the quick Turbo, they were more than a match for the Sierra, Cavalier and Montego. Except they lasted longer – with several still in daily use. The best British repmobile we all forgot? We think so.
We love unexceptional company cars here – they make excellent affordable and usable classic buys. We're looking forward to seeing several at the Festival of the Unexceptional on Saturday 25th July; both as entrants and guests. Got an unexceptional company classic? Bring it along!
You can read more about Hagerty's Festival of the Unexceptional here: http://www.hagertyinsurance.co.uk/Articles-and-Resources/Events/Festival-of-the-Unexceptional