'Millenial' is an increasingly popular term for the generation born between 1980 and 1995. With the generation now in their young adult years, Hagerty looks at the best ways for Millenials to enter the world of classic cars.
Morris Minor 1948 – 1971
For young owners hoping to drive a classic day-to-day, there can be few better choices than a Morris Minor. With small engines and cutesy styling, the little Morris provides charming, if unhurried, transportation. Today, it's easy to find everything from concours winners to restoration projects: there's a Minor for every budget. Rust can be a serious problem, although reliability is generally good and affordable replacement parts – both new and reconditioned – are readily available. Insurance rates are low and, due to their age, all Minors are exempt from Vehicle Excise Duty. There's a strong sense of community too: the Morris Minor Owners Club boasts a membership of over 12,000 and a dedicated register for young members.
How much is your car to insure? Find out in four easy steps.
Get a quote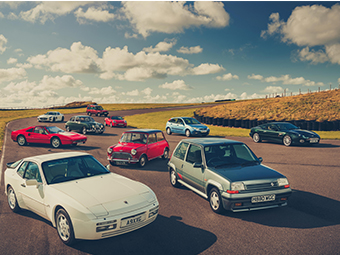 BMW E36 3 series 1990 – 2000
'Scandal!' the tweed jackets may cry, 'A car from the 1990s can hardly count as a classic.' Au contraire! Some Millenials were not even a sparkle in the glint of an eye when the BMW E36 3 series was introduced. The beauty of the model is that it excels in several areas – a standard example provides a usable daily driver, with used parts widely available from several breakers. If you're looking to explore performance driving, the 328i has become popular for track days and drifting, while the BMW Compact Cup provides an opportunity to race the 318ti. These friendly communities provide plenty of advice on upgrading your car to suit your ambitions.
Citroen 2CV 1948 – 1990
Few cars are more charming than the 'Tin Snail'. The Citroen 2CV makes a virtue of its simplicity and offers a very accessible route to classic motoring. Plenty of specialists offer replacement parts, while the engine and transmission are hard-wearing and easy to maintain. The floor pans and chassis are particularly susceptible to corrosion but affordable galvanised replacements are available. With a spring-loaded, tube-mounted gearshift and exceedingly soft, swing-arm suspension, the 2CV offers a unique driving experience that is surprisingly well-suited to modern driving. No other car tackles speedbumps and potholes with the same aplomb!
Land Rover Series IIA and III 1961 – 1985
Classic motoring needn't stop when the tarmac runs out. The Land Rover Series IIA and III are simple, durable classics that excel when the going gets tough. Noisy, slow and harsh, the Land Rovers may not make the best daily driver. Head for green lanes or off-road centres, however, and their combination of low range gearing, all-wheel drive and torquey, dependable engines makes them unstoppable. Parts are widely and cheaply available, while both models have a reputation for being easy to work on. Petrol and diesel units both tend to leak but are easy to maintain, with plenty of information available online.
Porsche 924 and 944 1976 – 1991
One of the joys of classic ownership is affordable access to prestigious brands. The appeal of a Porsche is obvious and the front-engined cars of the 1970s and 1980s have emerged as desirable modern classics. Transaxle construction promises balanced handling, while a range of large four-cylinder engines provide a reasonable turn of speed. Interior issues are common, electrical components can fail and seats can tear, but mechanical reliability is generally good and second hand replacement parts still cheaply available on sites such as eBay. Many cars go 150,000 miles before requiring an engine rebuild, and galvanised bodywork was standard, though minor rust manifests itself over time – bubbling sills can prove to be an expensive problem to rectify.
Austin Seven 1922 – 1939
Vintage fashion has established a strong market in recent years; could vintage cars follow? The Austin Seven was one of the first affordable cars and remains an accessible route to pre-war motoring. Remanufactured and replacement parts are widely available, and the simplicity of the Seven makes it easy to work on. Sevens also open up a world of different driving experiences, from 750MC circuit racing to mud-plugging trials. Potential pitfalls abound: cars need a V5 or buff log book to retain a period registration and modified Specials often require an IVA test to be used on the public road. Any potential owner should consider joining one of the many owners' clubs for help and advice.
Toyota MR2 W10 1984 – 1989
Crisp styling, pop-up headlights and a rear-mid-mounted, twin cam engine: the first generation Toyota MR2 offers plenty to get excited about. Many cars were also fitted with a fully-removable sunroof or targa panels, providing an easy route to open-air motoring. The 4A-GE four-cylinder engine, shared with the AE86 Corolla, revs hard but retains good reliability. Should the engine suffer a serious failure, however, replacement engines can be sourced from Japan at a price. Corrosion is a major issue for both the exterior and underlying structure, though many surviving cars have been comprehensively treated with rust-proofing. Model-specific knowledge is widely available online and specialist breakers can provide replacement parts.
Volkswagen Beetle 1938 – 2003
Love them or hate them, with a rear-mounted, air-cooled engine and constantly curving coachwork, the Volkswagen Beetle is distinctive. Period popularity translates into great availability today, with a range of projects, usable daily drivers and restored cars available within a reasonable budget. Rust can be a serious issue and engines require regular maintenance. Fortunately, Beetles are reasonably straightforward to work on, and both parts and advice are widely available. Owners' clubs abound and VW shows are some of the largest and best-attended out there. Few classics offer a larger or more enthusiastic community!
Volvo 240 1983 – 1993
Not everyone wants a small car. Some people need seats and space but still want to stand out. For such a driver, a big Volvo is the perfect modern classic. Nobody could call it sporty but the 240 offers a distinctive and relaxed driving experience. The big Volvo has acquired a reputation for superlative reliability: many cars are approaching 200,000 miles and are still in daily use. Engines – all petrol units of between 2.0 and 2.3-litres – return over 30mpg and create few issues if serviced every 10,000 miles, while later cars also feature fully galvanised bodywork.
Triumph Spitfire 1962 –1980
Look at that two-seater: long bonnet, laced in chrome. No young enthusiast could afford that! Not necessarily… Later examples of the Triumph Spitfire, especially the 1296cc Mark IV and 1493cc 1500, provide one of the cheapest routes into classic roadster ownership. Striking Michelotti styling is underpinned by Triumph saloon parts and under-bonnet accessibility is excellent. It's not all smooth sailing: bodywork can be expensive to replace, so it's vital to check for poor repairs and filler. Handling can be tricky and first-time owners are best advised to take things easy with their new purchase.
We'd love to hear what you think makes a great starter classic, or what we've missed. How about the Triumph Herald, or Series 3 Alfa Romeo Spider? The cars must be stylish, relatively cheap, with excellent parts availability, club support and not too difficult to maintain.