Light vans and pick-ups are so often regarded as a virtual part of the landscape that their presence is taken for granted. Here are ten examples from a vanished world of mobile shops and brown-coated delivery drivers.
Commer Express Delivery Van
The chap on the left of the frame is apparently doffing his hat to the Commer Express Delivery Van and no wonder. After all, this is the Rootes Group Light Commercial with four-speed transmission, flashing direction indicators, a 12-volt electrical system and that stylish 'Opticurve' windshield. Power was from the Hillman Minx's 1,390cc engine, pulling 100 cu ft. of load space and a payload of nearly half a ton. Sadly, despite the Express being a ubiquitous sight in the 1950s and 1960s – just look at the street scenes of any Rank comedy film of that period – the Commer's monocoque construction was highly corrosion prone.
How much is your car to insure? Find out in four easy steps.
Get a quote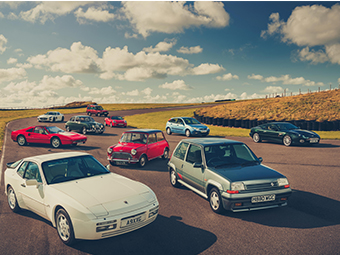 Ford Thames 300E
Or, the light commercial version of the 100E Anglia, with the same 1,172cc side-valve engine and well-proportioned van coachwork that was shorter than the saloon. And, whether you chose the 5-cwt version or the de luxe 7 cwt, your 300E promised, in the words of Ford's PR film, to be 'sparkling with good ideas'. This eight-minute epic was narrated by Eamonn Andrews and even a commentator of his skill had some difficult in making 'a powerful vacuum-operated windscreen wiper' and 'provision has been made for the easy fitting of a second wiper' into major sales features.
Standard Atlas
When the Atlas was launched in 1958 it was entering a highly competitive sector of the light commercial market, one dominated by Austin, Bedford, Ford, Morris and Rootes. The Standard boasted a tight turning circle that was the equal of a London taxi and the front suspension, transmission and motor could be removed as one unit for ease of servicing but its main challenge lay in its engine. With power from the Standard's 948cc Ten saloon, the top speed was 52 mph, a situation that would not be remedied until 1961 with the introduction of a 1,670cc option.
Moskvitch 434
In the realm of the light commercial, styling usually matters for less than practicality and durability. The fact that by the 1970s the Moskvitch's styling looked about as contemporary as a 1950s coffee bar mattered less than its level of equipment – a laminated windscreen, two-speed wipers, a radiator blind and a reversing lamp were all included – and its durability. 45 years ago, quite a few traders did place an order with Satra Motors of Byfleet for the van that gave 'so much extra for your money', many specifying the van in a vibrant shade of orange.
Renault 4 Fourgonette
One of the greatest vans of its day, from the precise dashboard-mounted gear change to the ''giraffon' hatch above the rear door. The Fourgonette was made until as recently as 1993 and in the 1960s and 1970s, it was often the first-ever foreign commercial bought by shops who needed more space, more style and, simply, more savoir faire for their delivery fleet. The payload was 6 cwt and the 'high cube' body offered, as the brochure noted, 86 square feet of space 'for advertising'. And the all-independent suspension provided levels of comfort that many British rivals could not hope to emulate.
Mini Van
The 4's great rival in terms of FWD commercials and a version of the Mini that remained in production for 22 years, retaining its sliding windows long after the saloons started to use decadent wind-down panes. From 1960 to 1982, the Mini Van was as much a part of everyday life in the UK as a visit to MacFisheries supermarket in the high street, many of them serving with the police and the Post Office. They were also frequently seen delivering bread, and groceries or, in AA and RAC guise, coming to the rescue of stricken motorists. BMC/BLMC made some 521,494 vans– but where have they all now vanished to?
Morris Marina/Ital
It is a sad truism of classic motoring that there is often even less of a chance of spotting an unexceptional van of previous generations than of their saloon and estate-bodied counterparts. This certainly applies to the Marina and its Ital successor, a state of affairs exacerbated by the tough life endured by most commercial vehicles and the model's propensity to rust. Yet, over 8,000 Itals were employed by British Telecom in the early 1980s while in the 1970s the Marina Van was as regularly seen as 40-something males unwisely attempting an Engelbert Humperdinck hairstyle. But today they are mainly glimpsed in re-runs of The Professionals.
Austin and Morris Half Ton Van
Introduced in 1956 as an Austin, gaining a modified nose (and a Morris counterpart) in 1962 and a 1,622cc engine in 1963, the Half Ton was a BMC staple until it was replaced by the Marina van in 1973. Built well into the 1980, the Austin and Morris could be seen working for market gardeners, transporting boxes around ports and warehouses and generally conveying an air of solid dependability. In the 1960s the British Motor Corporation did consider replacing the Half Ton with an 1800 'Landcrab' van but the 1950s design was still too viable at home and abroad for them to make such a move.
Metro Van
The successor to the Mini Van with the same payload but, in the 1980s at least, a vaguely 'yuppie' image. Austin-Rover made the Metro commercial for eight years and many of them seemed to find work with florists and confectioners unless my memories of that decade are entirely faulty. Production ceased in 1990 with the launch of the Rover Metro with its more 'upmarket' image but there were a handful of MG versions made to special order. It is also often forgotten that the Metro van was badged as a Morris until from 1982 to 1985, marking the swansong of the great marque.
BMC J2
A van that was made with a variety of names – Morris and Austin J2, Austin 152, Morris and Austin 250 JU, BMC 250 JU and Austin-Morris 250 JU, reflecting its 18-year production run and the marketing chaos of the British Motor Corporation and subsequently British Leyland. When production commenced in 1956 it marked BMC's first forward control unitary-bodied commercial and was quite a bargain at £554. However, despite the introduction of a diesel engine option in 1961 and various facelifts, the J2 was arguably too underdeveloped during its run; by 1974 it looked archaic in comparison with the Ford Transit.