The adverts sell a dream of empty highways and twisting country roads, yet more of us live in urban areas than ever before. Hagerty shows how you can still have classic motoring in the metropolis.
Honda Insight 1999 – 2003
How much is your car to insure? Find out in four easy steps.
Get a quote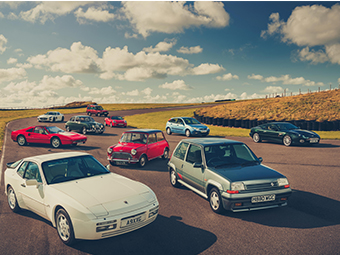 It's hard to call any car from the current millennium a classic, yet the first-generation Insight puts forward a compelling case. The body design and digital dash still speak of a stylised near future, while an aluminium monocoque and body panels pares kerbweight down to 838kg. Aluminium also appears in the wheels and suspension components, keeping unsprung weight low. A lean-burn 1.0-litre engine and battery-powered hybrid system lead to combined economy of 83.1mpg and VED exemption for cars registered after March 2001. Unfortunately, changes to the congestion charge mean the Insight is no longer eligible for a 100% congestion charge discount.
Fiat 500 1957 – 1975
Drive a Cinquecento through a busy city centre and everybody stops to stare. Lamborghinis might be gauche, and Astons passé, but the little mouse always raise a smile. Pedestrians stop to chat, drivers let you out at junctions, children point and stare. They all love the Fiat's cartoonish smile and you'll love the way it drives. The two-cylinder engine barks behind you, sun streams through the open roof and an unsynchronised first gear gives you a chance to practice double-declutching. Sure, the 500 makes rush hour tiring but it's never been more fun!
Austin FX4 Taxi Cab 1958 – 1997
Here's a car that can go anywhere, even south of the river. The Austin FX4 entered production in the late 1950s, with Carbodies and LTI taking over construction in the 1980s. Good economy is a given, thanks to large capacity diesel engines from Austin, Land Rover or Nissan, while a 7.6 metre turning circle and great visibility ensure a relaxing drive. Most remaining FX4s have six-figure mileages but, with spare parts and donor cars widely available, they should keep running for a long time yet.
Austin Metro 1980 – 1990
'Metro.' It's right there in the name: the Austin Metro is a perfect classic for metropolitan driving. The Mini successor has been much maligned over the years but, with growing interest in modern classics, the square-edged supermini has finally come of age. At less than 3.5 metres long, the Metro's compact size is matched only by equally tiny asking prices. Mini-derived A Series engines combine enthusiasm with economy, while the 93bhp and red seatbelts of the Turbo model provide a taste of eighties hot-hatch hooliganism.
Morgan V-Twin Three-Wheeler 1911 – 1939
Sitting inches from the floor, huge steering wheel jutting at your chest, exhaust skimming past your right elbow, you could be at a Brooklands Members' Meeting. Three, two, one… revs rise from the thrumming V-twin motorcycle engine, mounted ahead of the front axle, and you shimmy away; until you reach the next red light and get ready to repeat the process all over again. The lack of luggage space and weather protection makes an early Morgan a less than practical choice, yet few cars can make rush hour such a rush.
Glas Goggomobil 1954 – 1969
'Goggomobil! Goggomobil!' chimes the chirpy narrator, as high-contrast hijinks unfold on the screen. Any 1950s TV advert makes a product seem exciting but the Dutch microcar retains a very real appeal today. Squeaking in at barely three metres long and 1.3 metres wide, there's no gap or potential parking space a Goggomobil can't conquer. Prices remain robust, especially in the models' native Netherlands, but VED exemption, 50mpg and upcoming ULEZ exemption mean low running costs. Motorway speeds are a distant dream but does that matter when you're having this much fun?
Isotta-Fraschini Tipo 8 1919 – 1924
If you're going to sit in traffic, you may as well do it in style. Long, tall and dripping with Art Deco detailing, the Isotta-Fraschini encapsulates the 'monstrous length' of Gatsby's roadster. What better way to take a high-class jaunt to the city centre? The Tipo 8 was a technical marvel too, offering the first four-wheel braking system in a production car and the first ever straight-eight engine. With famous Tipo 8 owners including kings, queens and Pope Pius XI, buy an Isotta and you'll be in an exalted class.
Isetta 1953 – 1962
Charming fifties styling and a puttering motorcycle engine make any Isetta a motorised smile, sure to brighten up even the dreariest commute. What's more, the front-opening door ensures easy access in even the tightest parking spot. Isettas were available in left and right-hand drive, with the door hinging on the driver's side, and with three or four wheels. Three-wheeled Isettas are slightly too large to qualify for the current motorised tricycle exemption in the London congestion zone but, due to their age, will be exempt from the replacement ULEZ charge from 2020 onwards.
Buick Grand Riviera 'Boattail' 1971 – 1973
Sometimes it's fun to use the wrong tool for the job. Weighing almost two tons, stretching over five and a half metres long and measuring over two metres wide, the third-generation couldn't be much worse suited to small and serpentine British roads. Despite its size, you'll also struggle to fit more than two people inside. Open the bonnet and you'll see a 7.5 litre V8, pretty imperfect for crawling in traffic, while the 'boat tail' rear styling heavily reduces rear visibility. With all that said, who couldn't use a little 'personal luxury' while looking for a parking space? Oh, and the big Buick will be exempt from ULEZ in 2020.
Sinclair C5 1985
Are trends electric? If you look at the ever-increasing number of hybrid and battery-powered new cars, the answer would seem to be yes. If you'd rather a vehicle that set the trends than one that follows them, the Sinclair C5 could be the choice for you. As the C5 is technically an electric-assisted pedal cycle and not a car, it shouldn't require insurance, number plates or an MoT and can be ridden on cycle paths. It is also exempt from the London congestion charge. Maximum range is up to 20 miles, though you'll need to work those pedals to maintain speed or climb hills. As a go anywhere, park anywhere vehicle, the C5 still makes sense in increasingly crowded cities. Three decades after its introduction, it could be time for an urban transport revolution.