For many a motoring enthusiast, Christmas is a double-edged sword. On the one hand the festivities beckon, but on the other you have the awful predictability of automotive accessory presents to overcome. Things, as we are so often saying here at Hagerty, were surely better in the past. To prove this, we've selected our top ten car accessories from the classic era.
Many of us will recall parents making visits to the nearest branch of Unipart to purchase that vital touch of enviously for the Morris Marina or Austin Allegro but every generation has its after-market automotive accessories of choice. It could be an ill-advised moon roof conversion or a refrigerator that plugged into the cigarette lighter socket and drained the battery in a mere ten minutes. It might even be a low-budget cassette player that was prone to eating Now That's What I Call Music! 2 or a kit to convert your Austin A30's trafficators to those new-fangled flashing indicators. And so, this is my own personal Top Ten:
How much is your car to insure? Find out in four easy steps.
Get a quote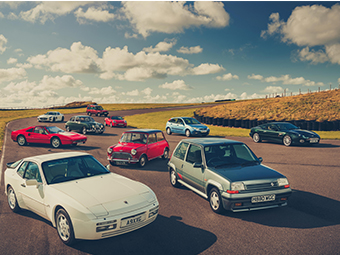 10) Fog and Spot Lamps
These represented one of the most sensible ways of modifying your car, especially during an era when six-volt electrical systems and dynamos were still the norms. If you needed lighting capable of dealing with your average London fog, and wished to add a certain modicum of glamour to your Ford Consul or Vauxhall Velox, an array of Lucas fittings was £8 10s well spent. They even had the additional bonus of giving you the illusion/delusion of being the next Erik Carlsson.
9) Adhesive Heated Rear Window
In the days before electric heated rear windows were found as standard on an average family saloon – and as recently as the late 1970s they might still be found on the extras' list – an anti-mist panel was a very welcome Christmas present. They are still much sought after by many classic car owners and could be applied in the same manner as a transfer. Our illustration shows how well one such complements the Rover 2000 although the inference that it would transform a motorist into the James Bond of Acacia Avenue stands as a prime example of 1960s delusion.
8) Roof Rack
The young couple in the picture look quite thrilled at the prospect of driving Hillman Imp fitted with an official Rootes aloof rack – it is important what constituted 'excitement' back in 1965 could often be quite limited. But the humble-looking roof rack was more than an additional form of carrying luggage, it was an early sign that the motorist had now entered ranks of 'sensible' car owners. Pipe-smoking and the writing letters to the local paper complaining about the wildness of Freddie and The Dreamers would shortly follow.
7) Citizens' Band Radio
CB radio was not legalised in the UK until November 1981 but in the previous few years, its profile had been growing, with novelty records and articles in the press about how it interred with television broadcasts. 35 years ago, fitting a set to your Ford Escort Popular meant the fulfilment of a dream of emulating Burt Reynolds in Smokey & The Bandit, or at least Kris Kristofferson in Convoy. Alas, the reality was often chaps with the charisma of a disused bus shelter using the airwaves to utter drivel to each other.
6) In-Car Entertainment
These days, when even the humblest of small hatchbacks comes complete with an elaborate sound system, it is all too easy to forget how, in the not so distant past, a long journey in a Hillman Avenger or Vauxhall Viva HC sans in car entertainment could be almost as depressing as a typical episode of EastEnders. The fitting of a MW/LW radio might involve inexpertly cutting a hole in the dashboard but at least Pete Murray's House Party would drown out the regular cries of 'are we nearly there yet?' and 'who ate all the travel sweets?'
5) Spray-On and Adhesive Tinted Windows
In the 1970s, a car with tinted glass was almost incontrovertible proof that its owner had 'made it' in smart circles, so why not buy a kit from your local spares shop? There were two reasons, the first being that a personalised 'Derek and Tracy' band that was prone to falling off the windscreen rarely increased the re-sale value of your Triumph Toledo. And the second was that a weekend spent creating black windows on your Mini often led to poor visibility and being gonged by the police on the A27.
4) A Heater
Sometimes it is the most seemingly minor of details that illustrate how the past really is another country, including the fact that well into the 1960s a heating system was an extra on the cheapest popular models of car. Copies of Motor or Autocar would regularly carry advertisements for the likes of the 'Tudor Mk. III' which was not especially cheap at £6 10s but would make the prospect of driving to work in mid-winter less of a dismal prospect.
3) Alloy Wheels
'Tony got where he is because he knew what he wanted' – and not just a pair of really terrible trousers but a Ford Capri Mk. I that is now equipped with wide alloy wheels. N.B. The 'action-packed look' may work on the 3000 GT but it functions on a Capri 1300L only if you are the sort of medallion man who possesses the overwhelming desire to have your neighbours laugh at you as you are overtaken by a Reliant Rebel yet again.
2) Spoilers and Body Kits
The principle of alloy wheels is also applicable to various forms of car body kit. 40 years ago, many a car owner learned the hard lesson that while spoilers looked highly appropriate on a Ford Escort RS2000 or Mexico, fitting one to your four-door Popular Plus would not automatically make you the next Jackie Stewart. A decade later, the result spending your hard-earned savings on magically transforming a 5-door 1.4 L into your own interpretation of 'Yuppie' transport looked even more tragic.
1) Go-Faster Stripes
Or the definitive accessory fitting for many years. This splendid illustration from the Renault Boutique catalogue shows how a humble family saloon – a 14 in this case – may be magically transformed into a humble family saloon that looks mildly more rapid. The purpose of such decorations was to a) bestow confidence on the owner b) lend him (it usually was a 'him') a measure of charisma and c) to impress the local Rotary Club. At least the copy here is honest enough to enough to say that the stripes may not make your car go any faster they 'will certainly attract many admiring glances' – and who can say fairer than that?