Jensen, one of the most evocative names in British motoring's chequered past, went into liquidation in 1976. Like a favourite grandparent passing away, it's something car enthusiasts never quite got over, despite the fact it happened almost 40 years ago. And the torment has been made worse by a string of failed revivals. But… we still have the cars themselves, and what a great bunch they remain. Here are the peaches:
541
Beaten only by the Chevrolet Corvette as a pioneer in glass fibre body construction, the 541 rode on a solid tubular chassis with a triple-carb Austin 4-litre straight-six, similar to that in a Sheerline, with overdrive on the four-speed gearbox, and rack and pinion steering. Good handling was helped by a low centre of gravity, which called for similarly low-set seating and a prominent transmission tunnel creating a snug cockpit. The styling was trendy, with Mercedes SL-alike blistered wheel arches and a wraparound back window. The super finish, trim and upholstery helped make this an interesting, attractive new British GT from nowhere for anyone who couldn't quite stretch to a Bristol or an Aston.
How much is your car to insure? Find out in four easy steps.
Get a quote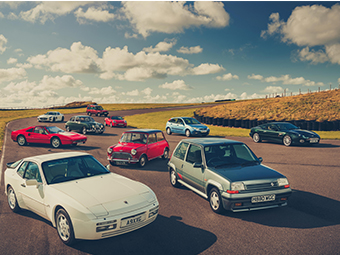 CV-8
In 1963, the real Jensen excitement started when the sleepy West Bromwich folks jolted themselves into life with some brute force from Detroit. Power now came from a 5.9-litre Chrysler V-8, with the favoured transmission a three-speed Chrysler Torqueflite automatic, and this gave the plastic-bodied car surging acceleration and a 136mph top speed. A new chassis was well up to all this new-found vigour, but the body design was a bit of a shambles, front and rear ends seemingly mismatched, and quadruple headlamps arranged in slanting pairs. Nonetheless, it was a car like no other, with a super interior, and owners quickly became devotees.
Interceptor
The boardroom just about tore the company in half, but the final decision to have a new Jensen styled in Italy brought spectacular results, as Touring came up with its winning design, complete with that huge domed glass hatchback and truly beautiful GT lines. The steel-bodied Interceptor, unveiled in 1966, simply doesn't have a bad angle to it. The Chrysler V-8 5.9-litreengine blistered tires with 335 horsepower, and later the engine was upped to 6.3- and later even 7.2-litre, and the late-life Convertible and hardtop Coupé enhanced the appeal even more. A lovely drive, although thirsty for fuel and expensive to maintain — the cabin is a master-class in creating a luxurious yet purposeful travelling environment.
FF
Interceptor-based but with a frontal section lengthened to accommodate all the ground-breaking technology, FF stands for Ferguson Formula – the four-wheel drive system licensed for this super-safe supercar. The FF debuted alongside the Interceptor and set the performance car world on a new course that mixed huge engine output with grippy road-holding from four powered wheels. It then added the world-first feature of anti-lock brakes, courtesy of Dunlop. The car would always be expensive, and had a few teething problems, so Jensen was forced to drop the FF after a few hundred had been built, only for Audi to nick the concept for its Quattro 10 years later.
Healey
It's not a bad car but certainly a flawed one; Jensen almost hit the big time with its Donald Healey-supervised, Lotus-powered two-seater roadster. It was designed to give the Jensen business some clout, but in the quest to mass-produce sports cars it had to buy in all kinds of parts for the Healey, including sometimes troublesome engines. To make it legal in all critical markets, the pretty original design was modified to meet regulations, and there wasn't enough focus on keeping the up-close detail attractive. Still, over 10,000 were sold until the 1970s fuel crisis dealt the company its fatal blow.