History is not always kind. We venerate some cars and overlook others, which results in some mediocre machines being totally familiar while others, with many good points, get lost down the cracks in the road surface. Here are five we reckon deserve a reappraisal.
Fiat Nuova 1100
How much is your car to insure? Find out in four easy steps.
Get a quote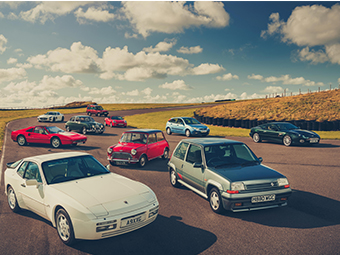 While its small family car equivalents in Britain clung on to ancient mechanical ironmongery for dear life, this compact four-door Fiat of 1953 was a sparkling drive. It had independent coil-spring front suspension with well located leaf springs behind, plus hydraulic shocks and anti-roll bars at both ends. Meanwhile, the engine seemed positively eager for revs, being a 1.1-litre overhead-valve with an alloy head, and there was a four-speed gearbox. Okay, it looked plain but then so did a Ford Prefect; here was a standard-setter that Coventry, Dagenham and Luton chose to ignore.
Volvo 164
Volvo's 3-litre straight-six found its only home in this elongated and gentrified version of the already bullet-proof 140 saloon. It was the Swedes' first, tentative step into the luxury car world in 1968, and originally came with 130bhp and twin carburetors. In 1973 Bosch's D-Jetronic fuel injection arrived, along with a hop-up to 160bhp, and top speed leapt from 110mph to a smooth and surging 120. Not only did the 164 look handsome, with its prominent front grille, but it was well finished and, surprisingly, quite thrifty despite its heft. At the time, though, few people really seemed to notice it.
Peugeot 604
This elegant saloon is frequently pilloried for its alleged dullness, although when you look into contemporary reviews you tend to find it was well praised for its comfort, ride and road manners, and it never suffered quality issues. Introduced in 1975, its Pininfarina styling was from the same portfolio as the Fiat 130 Coupe and Rolls Camargue, and was elegant in a restrained kind of way. No BMW-like sports saloon, that's for sure, but a well-sorted, powerful and relaxed executive barge with its 2.7-litre V6, and also one of the very first cars offered with a turbodiesel option.
Alfa Romeo Giulietta
The middle section was pretty much Alfetta, as was the drivetrain, but Alfa should have got more praise for creating an interesting, wedge-shaped junior sports saloon from its parts bin. For its day, 1977, it cut quite a dash among the boxy clones on offer elsewhere, with its perky tail spoiler designed as part of the metalwork of the boot lid. The Nuova Giulietta came with Alfa twin-cams ranging from 1.3- to 2.0-litre, and was the marque's first diesel-engined model. Reliability and build quality awful, of course.
Fiat 128 3P
The Fiat 128 Coupe of 1971 had been a surprisingly attractive, albeit almost totally overlooked little number, with its undulating wing line and fastback, together with all the eager zip of the front-wheel drive, transverse-engined 128 saloon. In 1975, Fiat rung the changes with a neat makeover that also provided a third tailgate door that kept it looking hip but made it so much more practical. It was an engaging machine, just able to kiss 100mph and with safe and enjoyable handling, but rust snatched them all away from us long before we twigged it had classic potential.