The automotive world has spawned some memorable lines in business, racing, film and music. Here are some of the all-time greatest:
"If God had meant for us to walk, why did he give us feet that fit car pedals?" — Sir Stirling Moss.
How much is your car to insure? Find out in four easy steps.
Get a quote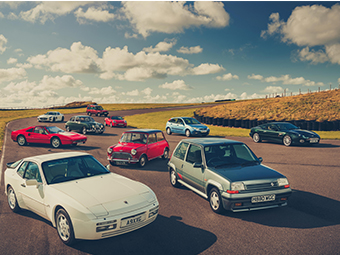 "I spent a lot of money on booze, [women] and fast cars. The rest I just squandered." — English football star George Best, whose lifestyle in the 1960s and 1970s was compared to that of Keith Moon of The Who.
"It doesn't cost any more to make something pretty." — Jaguar Cars founder Sir William Lyons on the design philosophy of his firm.
"The quality is remembered long after the price is forgotten." — Sir Henry Royce on the value proposition of the Rolls-Royce automobile.
"I make my cars to go, not to stop." — Ettore Bugatti, in response to a customer's complaint about the antiquated cable-operated brakes on the Bugatti Type 35 sports car.
"Aerodynamics are for people who can't build engines." — Enzo Ferrari's response to the dawn of the aerodynamics era in racing that was ushered in by companies like Jaguar and Porsche.
"Second place is just the first-place loser." — Dale Earnhardt. No explanation needed here.
"A gentleman does not motor about after dark." — Joseph Lucas, founder of Lucas Industries.
"Ayrton has this problem — he thinks he can't kill himself." F1 World Champion Ayrton Senna's greatest rival, fellow world champion Alain Prost.
"Ferrari's a&$ is mine." — The late Carroll Shelby colorfully vowing to take the world sports car constructor's championship from Ferrari.