How's this for a barmy Bond Bug? Powered by a one-litre, 150bhp motor from a Yamaha YZF-R1 superbike, this Seventies' Bug is claimed to hit 62 mph in just 3.5 seconds and go on to over 120 mph – if you're brave enough.
It's a far cry from the original Bond Bug which mustered just 30bhp from a 700cc Reliant engine, and struggled to exceed the 70mph national speed limit when it was launched in 1970. The classic three-wheeler was designed by Tom Karen of Ogle design, using the Reliant Rogue as a basis, and was pitched as being a budget sports car. Although, clearly with only three-wheels, it wasn't actually a car at all. In fact one of the key selling points of three-wheelers in the 1970s was that you didn't need a full car driving licence to pilot one.
So, resplendent in bright orange paintwork, with snazzy graphics, removable doors and a forward-hinged canopy, the Bond Bug did have a certain appeal. The biggest problem was how much it cost. When it went on sale in 1970, the Bug was £629 and you could buy a Mini for less, which had the benefit of two more seats and, well, one more wheel.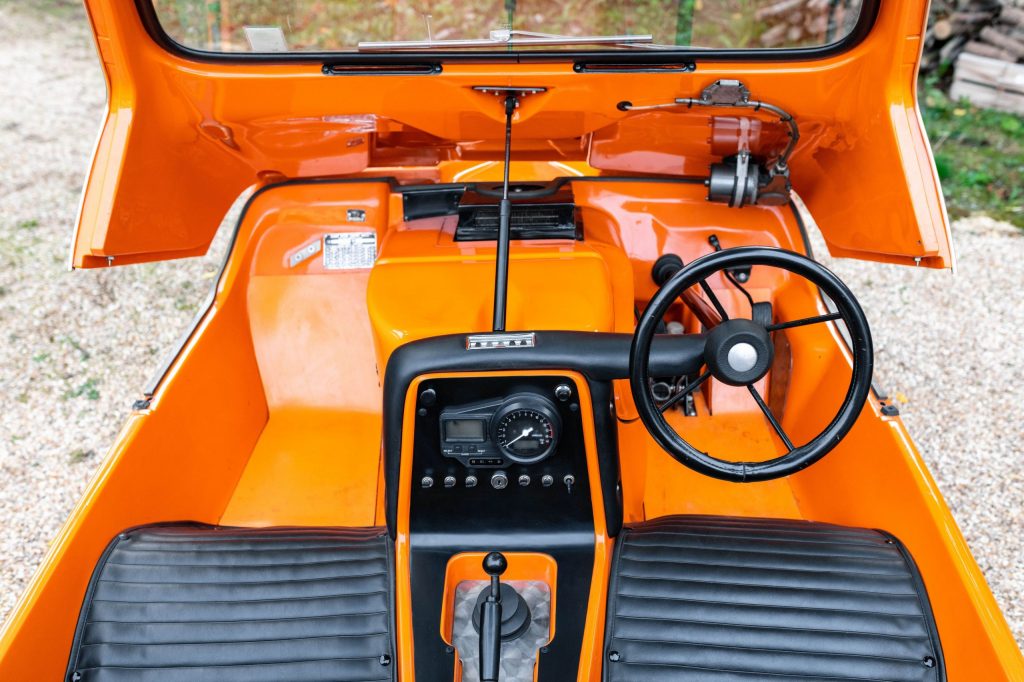 In all just 2,270 Bugs were made when production was stopped in 1974 but there is a small cult following for the few that remain. One such Franco-English fan decided to create the most bonkers Bug in the world by fitting it with the engine and six-speed sequential gearbox from a Yamaha YZFR-R1 sports bike.
You can see from the photos that it looks to be a well executed, if ill-conceived, conversion, with the bike's instruments neatly fitted to the dashboard and a pair of prominent stainless steel exhausts jutting out of the rear.
Anyone brave enough to take the wheel will find that the Bug is up for auction, with no reserve, by Paris-based Artcurial on 1 November, where it is estimated to fetch up to €30,000 (£27,000).
Via Hagerty US.