So you have designed a car, and it doesn't have a roof. What do you call it? Spider? Cabriolet? How about Landaulet? John Mayhead helps you separate your Fiacres from your Siluros in this handy guide to top-down motors.
Cabriolet
How much is your car to insure? Find out in four easy steps.
Get a quote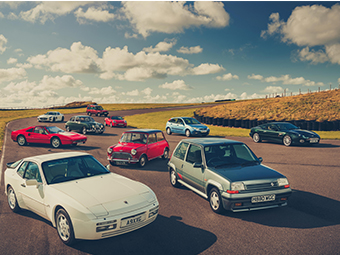 OK, let's start with the easy ones. Cabriolet comes from the French verb cabrioler (to leap) and was used to describe small, two seater, two-wheel carriages with a folding roof. Now it is a general term to describe a car with two or four seats and a folding roof that sits on the rear body or is housed in a special compartment.
Drop-Head Coupe
The term Drop-Head Coupe (DHC) is most seen when describing British cars. Generally it describes a four- seat car with a soft-top which ends in a sloping rear end. Typically another version of the same car will be offered with a roof (the Fixed-Head Coupe or FHC).
Spider (or Spyder)
This is another term borrowed from 19th Century carriage makers. The original Spyder was so-called by Dublin coachbuilder Archibald Holmes, who saw the arachnid-features of his small two-seat carriage which had four large wheels at each corner. Borrowed by (typically Italian) car makers early in the 20th Century, in 1924 the Coachbuilders Federation of Milan decreed that the term would be spelt 'Spider' and never 'Spyder'. It now describes a small, generally two-seat sports car with a soft-top.
Torpedo
This pre-war design consists of an open body with a folding hood stowed behind the removable rear seats. With four or more seats and three or four doors, the Torpedo tends to be a large and streamlined car.
Quattro Baquets (Quatres Baquets)
Another pre-war design, this is an open sports car with four bucket seats, no doors and cycle wings. Sometimes this design has a windscreen and hood, other times it does not.
Due Baquets (Deux Baquets)
An open, very basic sports car, the Due Baquets often has no roof. The main features are two bucket seats and a spare wheel often mounted on the back deck.
Targa
The 'Targa' term was first used by Porsche in their 1966 Porsche 911, and it remains a registered trademark of the company. It describes a car that has a removable section of roof, usually retaining the rear screen (which may fold down). Derived from the Targa Florio race, the design was intended to comply with US safety regulations which threatened open-topped cars.
Siluro
This is an open two-seat racing car, typically a very streamlined shape with no mudguards or doors.
Coupe de Ville (Sedanca de Ville)
The Coupe de Ville is a luxury four-door car with the front seats for the driver exposed to the elements and the rear passenger compartment enclosed in a hard-top. Think Downton Abbey.
Landaulet
Very similar to the Coupe de Ville in terms of luxurious trim, the Landaulet had the opposite layout- the front seats were enclosed under a hard-top, and the rear seats exposed with a folding soft roof.
Speedster
The Speedster is an open-topped car, generally with a small or very steeply-raked windscreen to create a low-drag look. Typically an American term, the most famous Speedster is arguably the Porsche 356.
Fiacre
Another pre-war special, the Fiacre describes a body most used for taxis. It has an exposed front seat (often with a canopy overhead) and a rear passenger compartment typically with a folding roof.
Double Phaeton
This elegant and generally large car tends to have four seats, with a second windscreen to protect the rear occupants who are housed in seats clearly separated from those in the front.
Roadster
Typically an American term used to describe a two-seater sports car with no weather protection, the term is now used to describe two-seater convertible cars.
Have we missed any? Let us know!