A MAN walks toward his car, presses the sapphire crystal of his Jaeger-LeCoultre AMVOX2, and the door pops open. This man is not James Bond. He is Aston Martin Director of Design Marek Reichman, and his mechanical watch contains a door-opening transponder. Reichman worked with Jaeger-LeCoultre on the cooperative watch line christened AMVOX (AM = Aston Martin) to produce a timepiece inspired by Bond's favoured car.
The James Bond film franchise celebrated 50 years in 2012, and Bond's love affair with timepieces began with 1962's Dr. No. In it, Sean Connery wore a Q-modified Rolex Submariner, although author Ian Fleming — and the literary Bond — wore the Rolex Explorer.
How much is your car to insure? Find out in four easy steps.
Get a quote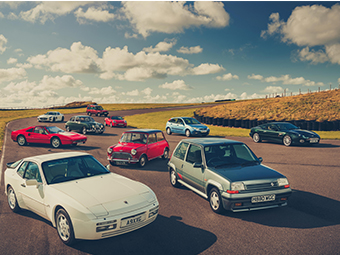 Connery continued to wear the popular Submariner through 1965's Thunderball, and in his 1971 return with Diamonds are Forever, a practice continued by Roger Moore in Live and Let Die (1973) and The Man with the Golden Gun (1974), and by George Lazenby in On Her Majesty's Secret Service (1969).
Although the quartz revolution of the 1970s and the birth of product placement prompted Roger Moore to film four movies with a Seiko, Timothy Dalton returned to the iconic brand in The Living Daylights (1987) and License to Kill (1989).
Moore's Seiko models, which ranged from the Duo-Time in 1981's For Your Eyes Only to the Sports 100 in Octopussy (1983) and a chronograph in 1985's A View to a Kill, were highly indicative of the technical quartz era that reached its heyday in the 1980s.
Pierce Brosnan's elegant Bond was accompanied by extreme product placement, including Omega's mechanical timepieces: An Omega Seamaster was outfitted with a laser-toting bezel and laser beam cutter in GoldenEye; a removable explosive detonator in Tomorrow Never Dies; and wire, a grappling hook and an electric torch in The World is Not Enough. In 2002's Die Another Day, Brosnan wore the beefier Omega Seamaster Planet Ocean, which Q also modified.
Current Bond Daniel Craig also wears the brand on and off screen. In the 2006 Casino Royale remake, he touted a Seamaster, prompting Vesper Lynd to ask Bond: "Rolex?" To which he replied, "Omega." In 2008's Quantum of Solace and the latest release, Skyfall, Bond sported the larger Seamaster Planet Ocean.
Original-era examples of Bond's various watches are still available on the secondary market. For specifics and a meticulous listing of models, reference numbers and estimated pricing, look for an electronic copy of Dell Deaton's James Bond Watches Price Guide on amazon.com.