Austin Allegro Equipe
The interior is spacious, it rides very well, and it is extremely well-appointed. Alas, the compliments cease at this point as the Allegro Equipe was meant to be BL's answer to the Alfasud Ti and the VW Golf GTi, a role that was made slightly more challenging by its appearance. The Equipe looked as though it was planned by various teams of designers who were a) not on speaking terms and b) working in dark rooms. Little else could explain the combination of a matt black spoiler, with metallic silver paint decorated with orange and red strips, and seats upholstered in tasteful dogtooth check to contrast with the noir-shaded headlining. Rumours that the Equipe glowed in the dark are plausible but sadly false.
How much is your car to insure? Find out in four easy steps.
Get a quote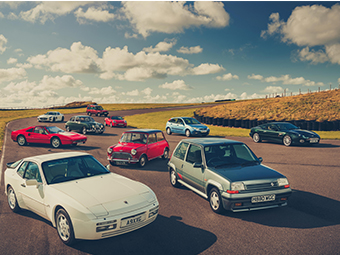 Ford Fiesta Sandpiper
The association between the shorebird or the 1965 Elizabeth Taylor/Richard Burton film and a Fiesta 1.1L with a Roman Bronze over Cordoba Beige paint finish confused many drivers back in 1979. The equipment list was pleasant – a centre console containing a quartz clock, a three-band push-button radio and a vanity mirror on the driver's sun visor that was ideal for male owners of a certain age to practice their best Lewis Collins smirk – but the main selling point had to be the interior decor. At last motorists who were only able to afford a low-spec Ford Fiesta could now enjoy Ghia-style distinction with seats trimmed in the finest 'Tan and 'Bitter Chocolate' fabric. To see a rare surviving Sandpiper is to witness a car that looks like a mobile living room from an episode of George & Mildred.
Ford Fiesta Festival
If the Sandpiper were not thrilled enough, Dagenham unveiled the Fiesta Festival in 1980. And what a celebration it was, with all of the thrills of the 950cc or 1100cc base model combined with luxuries that were intended to make any owner stand out in the local VG stores' car park. This was the special edition that had it all – namely, a passenger door mirror, reclining front seats, extra brightwork, a rear windscreen wiper and even electric washers for the front windshield. Naturally the body was decorated with tasteful decals, and only a complete cheapskate would not pay an extra £71.33 to have a rear parcel shelf and an MW/LW sound system to listen to Pete Murray's House Party when on the move. Plus a choice of three very happening paint finishes – 'Strato Silver', 'Solar Gold or, best of all, 'Aztec Bronze'.
Ford Capri Cameo
For the motorist who found the Ford Capri L Mk III just too luxurious, the strip-spec Cameo launched in July 1981 was the ideal solution. The cost was indeed reasonable, about half the price of a 2.8 Injection, and Ford proclaimed that 'If you're looking for a stylish, sporty, coupe that's got everything but the frills that go with an expensive price tag, the Capri Cameo is for you.' This lack of frills extended to the Cameo being devoid of even the L's body side mouldings and inside, there was a welcome lack of a decadent centre console, radio or tachometer. Not that the proud owner would really need the last-named as it was wise not to expect too much 'sporty' performance from the 1.3 or 1.6 litre engines. But at least, there were 'go-faster' stripes' as standard.
Hillman Hunter Topaz
By the mid-1970s the Hillman Hunter was looking somewhat dated – its launch was in 1966, the same year when Ford unveiled the Cortina Mk.2, but now its one-time rival was well into its third incarnation. The Topaz was one marketing solution, with all of the style of the Super version, combined with £230 worth of extras. There was 'Copperbeech Metallic' coachwork with a vinyl roof for that additional touch of distinction, overdrive, a radio set (still a rare fitting in a British family car of the era) and nylon trim. But it is three fittings in particular that make the comparatively recent past seem so remote – in 1975 Chrysler UK still regarded inertia reel seat belts, servo-assisted brakes and 'side repeater flashers' as special features.
Hillman Imp Caledonian
A prime example of a special edition devised to clear stocks of a model soon to cease production, the Caledonian was positively laden with accessories that would otherwise cost £166 so as to lure potential customers into their local Chrysler dealer. A Hillman Imp De Luxe with a push button radio, reversing lamps. 'sports wheel trims', door mirrors and adjustable front seat backrests was an attractive package in 1975, and the Caledonian might have been even more appealing with a less exuberant decor. The 'Cherry Red' paint scheme was rather smart, but the tartan cloth upholstery was about as subtle as singing Donald Where's Your Trousers? through a megaphone in the middle of Sauchiehall Street.
Triumph Dolomite 1500SE
The cheaper models in the Triumph Dolomite range had an image that was wholly different to that of Sprint. The latter was a BMW 3-Series rival whereas the 1300 and 1500 were cars often driven by the headmistress of the local primary school or retired majors. You could almost hear the theme to The Archers when encountering one outside of the village post office, so the debut of the 1500SE in the summer of 1979 was a considerable surprise. The single headlamps of the lesser Dolomites were retained, but there was now decidedly glamorous black paintwork with silver stripes, velour trim, a front spoiler and sporting wheel trims. The overall effect was akin to those episodes of Terry & June in which the protagonists 'go punk' but it certainly did not lack charm.
Vauxhall Viva Brabham
Opinions of a car's appearance are always subjective, but the HB series Vauxhall Viva has to be one of the most attractive small British cars of its era, with 'Coke Bottle' styling that was smartly contemporary without being over the top. So when Luton announced a 'Brabham ' version in 1967, all Old Spice wearing would-be F1 drivers of suburbia were immediately enthused. Unfortunately, although the new Vauxhall did offer agreeable extra performance from the extra modifications, which included an aluminium inlet manifold, twin Stromberg CD150 carburettors, a higher compression ratio, and a free flow exhaust system, the Brabham Viva was primarily a dealer fitting kit. For £49 10s a Vauxhall franchisee would convert a De Luxe or SL90 into not quite a Cooper S rival but would certainly make an owner feel like the Graham Hill of the Elm Lodge Housing Estate.
Vauxhall Chevette/Cavalier 'Command Performance.'
In themselves, the 'Command Performance' versions of the 1980 Vauxhall Chevette E and Cavalier LS were utterly and entirely unexceptional examples of the Great British Limited Edition. The 'Hazel Brown' or 'Silver Beige' paintwork was reassuringly sensible and the additional equipment – a radio and second rear fog lamp for the Chevette, tinted glass and remote control driver's door mirror for the Cavalier – thrillingly mediocre. Where these two Vauxhalls do stand out is regarding their marketing, for they were sold via a series of cabarets, held at local dealerships and presided over by Ted Rogers. Provincial life of the era could be very bleak; this was a time when an evening at a car showroom with 'The Command Performance Dancers' hosted by the MC of 3-2-1 was the highlight of the month…
Vauxhall Nova Antibes
For many Britons, especially those who lived in Southampton, the Nova in its later life was associated with ambitious chavs who liked to fit three exhaust pipes to their second-hand Merit. Rarely was the first Griffin-badged supermini ever considered when dreaming of holidays in the South of France but thirty years ago the Antibes tempted pseudo-yuppies with 'a whole new style of motoring'. Here was no ordinary 1.2 Litre Nova but 'sheer enjoyment' with a five-speed transmission, tinted windows, GL wheel trims and the SR's rear spoiler. There was also a radio-cassette player and a glass sunroof, a combination ideal for blasting your Wham! tapes throughout the neighbourhood. Welcome to the Club Tropicana.
Hagerty is proud to celebrate such classics at our annual Festival of the Unexceptional.