Ok, so the rules are simple: You have an unlimited budget, and a three-car garage. You can choose three classic motors to fill it; vehicles you are never allowed to sell.
We asked a few of the Hagerty staff members for their nominations and their reasons. Here's what they said, and we've linked those cars in the Hagerty Price Guide too!
How much is your car to insure? Find out in four easy steps.
Get a quote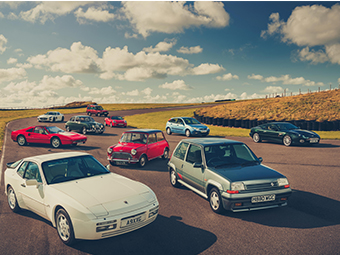 Chris Frost
Sauber-Mercedes C9. "The king of Group C… sheer brute power and immense speed, with serious '80s twin turbo pops and bangs and overruns."
Ferrari F40 LM/Competizione. "Whilst it didn't really set the racing world alight it is difficult not to love a high horsepower, lightweight race version of an already fairly uncivilised lightweight high horsepower road car."
Lancia Beta Montecarlo Turbo. "What's not to love? It's a Lancia in Martini colours built to Group 5 specs with just under 500hp from a 1.4 inline 4 in a car weighing under 800kgs."
Tim Sawyer
MG K3. "As I have a hankering for some pre-war motoring in 2019!"
Porsche 911 SWB 2 Litre on steel wheels. "Nice plain and clean looking car, no fuss."
Ford Escort Mexico Mk 1. "Well, my garage wouldn't be complete without one!"
Angus Forsyth
Austin Seven Ulster 'Little George'. "Quite simply of all the cars that I have owned or driven it is by far the most fun to drive and draws attention from old and young alike generally with the initial comment being 'What an earth is that?!' It had not turned a wheel for over 50 years and we then drove it 2,500 miles on the London to Lisbon Rally, which earned it immense kudos in the pre-war car world."
Abarth 205A. "I was very kindly lent it to do the Mille Miglia several years ago and from an aesthetic point of view, it was quite simply stunning. Wherever we went on the MM you could see people in the distance shouting 'Abarth, Abarth!' McKeel [Hagerty] and I did it together that year and there was one particularly funny moment going up a hill so steep he had to get out of the car and walk because we just did not have the power. On arriving huffing and puffing at the top he opened the door to get in the car and the wind blew the route card out of the car and back down the hill…..off he went again to retrieve it!"
Jensen FF. "Last but not least, the FF because it was the first model toy car I was ever given and any car that can drive unassisted up a Swiss ski slope gets my vote!"
Phil Dunne
1970 Hemi Plymouth Superbird "Just an absolute icon then and today."
1970 Ferrari 512 S Long Tail Le Mans. "From real to film it is just stunning even stood still."
1970 Toyota 2000GT. "Has to be Japans answer to the E-Type and Japan's best-looking car?"
Ste Applegate
Citroen DS Decapotable. "For long drives along the French Riviera, maybe stopping in a vineyards to collect a crate or three."
Shelby Mustang GT500 'Eleanor'. "Because just look at it! Driving a piece of petrolhead movie history!"
Harley FX Dyna Low Rider with Screaming Eagle Stage 1 tune. "4 wheels move the body, but 2 wheels move the soul. A Harley for when you want to kick back and cruise with your mates."
Sue Dagley
VW Type 2 Splitscreen Camper. "For the pure fun factor, freedom to roam and a smile for every mile."
Alfa Romeo Duetto Spider. "For balmy summer days driving to the coast in this chic iconic car."
Mercedes-Benz 300SL Roadster. "For sheer design, quality and beauty."
Heather Frost
Nissan Figaro. ""Made the year I was born, I haven't grown out of it yet."
Fiat 500 Jolly. "Because I need to live at the beach!"
Chevrolet Bel Air Coupe. "What a throwback to '50s America, this car screams Marilyn Monroe, Playboy and Disneyland all at once."
Charlie Patterson
Jaguar XJ-S. "My 1st 100 mph passenger ride which left a lasting impression on an 8-year-old lad. '70s cool pandering to my inner Gambit/Templar."
Aston Martin DBR1. "The 1958 Le Mans winner, stunningly beautiful and curvaceous, I would take it out to buy a paper and pint of milk every Sunday morning!"
Lamborghini Espada. "Just look at it: V12, 6 carbs, 4 seats… 'E' is for Extravagant, Excessive, Exotic… Espada!"
What would be in your three-car garage? Tell us below!