The car design community took its time to ingest and compute the importance of the original, 1959 Mini. It would be well over a decade before the first of the 'superminis' took their hesitant bow. The crucial breakthrough for these second-generation pioneers, with the Renault 5 leading the Fiat 127, VW Polo and Honda Civic, was to marry comfort and convenience with the safety and surefootedness of the Mini's front-wheel drive/transverse engine package. That meant the addition of a hatchback and folding rear seats, and a vastly more comfortable driving position.
The supermini became a motoring phenomenon of the 1970s. Yet only in the 1980s did these utilitarian little runabouts began to exude genuinely sophistication, scintillation, even desirability.
How much is your car to insure? Find out in four easy steps.
Get a quote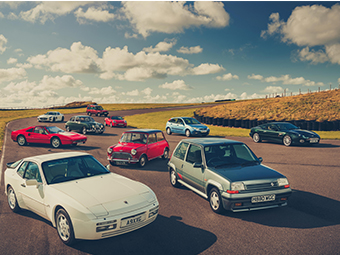 As the decade dawned, Ford led the charge with its Fiesta, a peerless combination of nimble driving fun, easy versatility and rock-bottom running costs. Snapping at its heels from early 1981 came the Austin miniMetro, buoyed by patriotic sentiment alongside its undoubted usefulness.
But way back in 1976, Renault's peppy 5 Alpine unlocked the sporting potential of the genre. Front-wheel drive and a wheel at each corner provided the cornering stability, with even a lightly tuned engine adding plentiful extra verve. By 1982, Ford and British Leyland had readied their own small 'warm hatchbacks' and the Fiesta XR2 and MG Metro went head-to-head, hampered only slightly by their four-speed gearboxes but looking natty nonetheless.
The following year, though, saw the arrival of two Europeans that defined the 1980s small car: the Fiat Uno and the Peugeot 205.
The Uno was Giorgetto Giugiaro's design masterpiece. It was taller than similar supeminis, with an airy, spacious cabin and commanding seating positions in both the three- and five-door models. It sparked a trend for such shapes that reversed years of cars getting lower and sleeker but, ultimately, less comfortable to access and exit.
Unos routinely offered lively performance and very good fuel economy. The 0.9-litre overhead-valve and 1.1/1.3 overhead-camshaft engines were carried over from the 127, but in 1985 Fiat's all-new 1.0-litre FIRE engine replaced the smallest unit. It was lighter, simpler, more responsive and easier on petrol.
Peugeot's 205, meanwhile, owed its delightful looks to rival Italian design house Pininfarina. It was the overall right-ness of the car that impressed – the superbly roomy cabin thanks to compact torsion bar suspension, the supple ride, the lightness that meant even the smallest engine felt punchy. Perhaps most of all, it was the high-torque XUD7 diesel motor available in the car, a motor so refined and powerful it single-handedly turned sentiment in favour of small diesels.
Basic Unos and 205s were exemplary motor cars. Given a sporting makeover, they were positively brilliant – light, nimble and responsive go-karts with chunky, purposeful looks. The 1.3-litre Uno Turbo offered just 105bhp but its excellent aerodynamics meant it could touch an incredible 130mph top speed. Like all Unos, it handled superbly thanks to brilliant independent suspension, MacPherson struts upfront and a twist-beam rear axle located with telescopic dampers and coil springs.
Yet the 205 GTI was even more accomplished. With its lowered suspension and widened wheelarches, this car snatched the hot hatchback baton from the altogether heftier Volkswagen Gold GTi and sprinted away with it.
The initial 1.6-litre edition with 115bhp on tap had enthusiasts foaming at the mouth. Here was a convincing successor to the Mini Cooper, a yardstick for driver satisfaction, acceleration and handling. The only downside was its rather unforgiving ride. And then in 1986 the 1.9 litre model added an extra 15bhp and lots of torque for overtaking, taking the GTi to thrilling new levels.
Its legacy lingers because modern hot hatchbacks are still sometimes measured against it for that elusive 'fun factor'. Here's Motor magazines 1984 verdict: 'Grippy and responsive chassis sets new standards of handling and roadholding. Fast and fun, the 205 GTi lives up to its promise of affordable excitement, and runs circles around similarly priced hotshots'.
All 205s were robust – witness the fact you still see a few trundling around, unlike all the others cars recalled here – but the GTI was built to be driven hard, so pristine survivors, even merely straight ones, are few and far between. Uno Turbos, and examples of the rather more unruly Renault 5 MkII Turbo, are almost never encountered. But if there are any affordable classics from the 1980s that should be stored away in cotton wool for future generations then it's this trio.
The 1980s played host to many other significant supermini debuts. The 1981 VW Polo MkII, 1983 Nissan Micra and Vauxhall Nova, 1985 Seat Ibiza and 1987 Citroen AX were all enormously successful, if rather less accomplished. And all the time Ford's Fiesta, ageing gracefully, continued as the sales chart topper.
The genre would also morph into some truly high-performance competition classics.
To compete in the fast and furious Group B rallying class, the neat shopping car profiles of the Renault 5, Peugeot 205 and MG Metro were retained but underneath the transformation was radical. The French duo had turbocharged powerplants mounted behind the driver, while the Metro's non-turbo V6 was mated to a four-wheel drive system. Gold-plated investments today (if you can find one that hasn't been wrecked), these fearsome rally cars electrified the 1980s motor sport world, turning superminis into true supercars.
Giles Chapman is the author of Cars we Loved In The 1980s, a celebration of cars from the era. More information on the book is here: http://www.thehistorypress.co.uk/index.php/transport-industry/roads-and-motor-vehicles-books/cars-we-loved-in-the-1980s-pb.html