The 911SC arrived in 1978 and was significant as it streamlined the previous somewhat confusing range of 911s into one single model. If you wanted to buy a normally aspirated 911 in the late 1970s or early 1980s it had to be an SC. To create this one new model, Porsche took the bare bones of the previously range-topping Carrera 3.0, rejigged the 2994cc engine with reduced power (180bhp) and a cheaper aluminium rather than magnesium crankcase, while the impact-bumper bodyshell and interior remained largely unchanged.
There was, though, a new badge. Some have said that SC stands for 'Super Carrera', 'Sports Carrera' or even 'Special Carrera', while others have argued that it signified the S version of the C-programme of 911 development.
How much is your car to insure? Find out in four easy steps.
Get a quote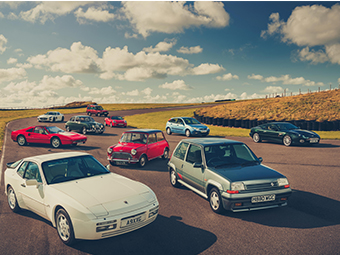 The engine was a peach even in its original 180bhp guise, as it produced more power and torque at lower revs than the rather peaky Carrera 3.0's unit, while remaining remarkably free-revving and eager. Power on non-US cars was increased to 188bhp in 1980, then, the following year, the output was raised to 204bhp by hiking the compression ratio further, which demanded 98 octane petrol. US-market cars, incidentally, were stuck with 180bhp throughout the SC's life.
Whatever the power, the 911SC is fun to drive. Its low-end torque makes the car a relaxed and easy cruiser but drop it down a gear or two and the engine comes alive as it eagerly revs to the red line. Porsche quoted a 0-60mph time of 5.7 seconds together with a top speed of 148mph and, even today, that seems quite achievable.
The SC retains that lightness of feel which is a classic 911 trademark. The non-assisted steering is heavy at parking speeds but once on the move, you can pilot the SC with your fingertips. The rack is quick and the feedback through the wheel is remarkable. Yet it's also forgiving, thanks in part to the relatively supple torsion bar suspension, so long as you don't try anything silly, in which case that rear-engined bias can bite back.
It is also surprising refined and it makes a superb touring car. Those high-profile tyres are forgiving and don't transmit much road noise, while the seats are comfortable and the interior remains solid and rattle-free. It's so much better than most 1970s sports cars.
It has a good engine too, and a well maintained example can cover as many as 200,000 miles without any major work needed. The five-speed 915 gearbox needs to be treated gently (especially when cold) but start off with a good one and it's a real joy to use and part of the appeal of an older 911.
The big killer with SCs is rust and it's rare to find an unrestored 911SC that doesn't suffer from at least some rust. And once you find some rot, there's a fair chance that there will be more lurking under the surface, ready to hit you with expensive bills when it's uncovered. The 911 has a complex bodyshell and proper repairs aren't cheap.
Get a good one, though, and an SC is an appreciating asset. We've seen prices rocket recently- it's one of the biggest movers the June 2015 update of the Hagerty Price Guide- but it still offers great value for money compared with other air-cooled 911 models.
Although over 60,000 were built during its production run, which isn't much less than the Carrera 3.2 that followed, the 911SC is today the rarer car. That's because, during the many years it was unloved, many were neglected and ended up being scrapped, crashed or modified in some way- which means that good, original 911SCs are now few and far between. That rarity, combined with people's realisation that the 911SC is a great car, and the fact that all air-cooled 911s are still going up in price, means that they're in great demand.
Phil Raby owns Philp Raby Porsche. www.philipraby.co.uk, www.facebook.com/PhilipRabyPorsche, @rabyporsche