Who says there's no demand for pre-war cars? Not our man.
Whisper it, but all that blather in the Twig and Consul's saloon bar that there's no demand for pre-war cars is just that little bit incorrect. No, make that totally incorrect.
How much is your car to insure? Find out in four easy steps.
Get a quote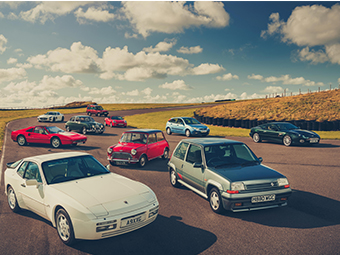 Despite what the 'experts' might be pontificating while supping their keg bitter and crunching on dry-roasteds, demand for pre-war cars is strong, whether it's a humble Austin 7 saloon or a grandiose 'Cricklewood' or 'Derby' Bentley saloon.
And on reflection even the nay-sayers will have to admit that, if anything, pre-war cars should be enjoying a stronger appeal. Many are eminently affordable, while some are extremely fast, others very practical – but in many instances they are often way more usable than the 'half-empty' types would have you believe.
There are many clubs for pre-war cars in the UK, but towering above all others is the Vintage Sports Car Club (VSCC), whose practical approach encourages enthusiasts to use their cars and get involved in various forms of historic motor sport.
For those are aren't in any way accustomed to the pre-war sector, the first thing to realise is that it need not be dear. In fact, far from it. A late 1930s Austin 7 saloon might not be eligible for VSCC events by dint of its age, but a good one will be somewhere around the £10,000-mark, and, backed by numerous clubs across the UK, there's great camaraderie and the excuse to get out for a run every now and then.
Earlier Austin 7s have seen values firm up: Demand for VSCC-eligible cars puts a premium on values and for anyone wanting something that's competitive, usable and backed not only by clubs but first-class spares support, it's potentially the way to go.
Anglia Car Auctions kicked the year off with a typically large sale, among which were several pre-war cars. A 1932 Chevrolet Confederate Special sedan in family-friendly four-door guise was very smart and clearly usable, and it cost the buyer £16,430. Just scraping into this sector was a British-assembled 1939 Chrysler Wimbledon limousine that had one been owned by Keith Moon, the sticksman from The Who. A tidy-enough car, it offered same-era rolls-Royce sophistication but for less outlay: £20,140 in fact.
But it was a 1935 Morris Isis Coupe that garnered most attention, due in so small part to its simply stunning condition. Bodywork, paint, interior and engine bay were as new, and to date it remains one of the best-presented pre-war cars offered this year. It was bought for £24,910.
H&H's first outing at Donington this year included numerous pre-war cars and it was one lot from this period that brought the North West-based auctioneer plenty of headlines, and not only in the classic press.
Bringing home the highest price of the sale was a 1936 Bentley 4 ½-litre that still carried its original Vanden Plas coachwork. One of six continuation cars built by Bentley's service department from new and re-conditioned parts, it had two owners from new, (the second, a World War Two pilot, since 1952) and it remained a matching-numbers car.
This being Bentley's Centenary Year interest in this project car was clearly going to be strong, so it wasn't entirely surprising it cost its new owner £444,375.
Brightwells continues to be a big player when it comes to auctioning pre-war cars and its last sale included a pair on Austin 7s, a 1927 Chummy that made £16,500 and a 1933 four-seater tourer fresh from a tour of Jersey at £10,175.
For the pre-war project seeker Brightwells' 1932 Morris Minor tourer was especially interesting, Its original owner took the car on a tour of Italy and Austria in 1932, which involved the Stelvio Pass. While needing plenty of work, it was said to be 'largely complete' and while not installed, the engine and gearbox were supplied. Highly deserving and with an interesting pass, it was sold for £1100.
Size-wise, a 1931 Rolls-Royce 20/25 shooting brake sold at Bonhams' Goodwood Members' Meeting offered plenty of pace and even more character. Its story – originally a Barker landaulet delivered to the American ambassador in London before being re-bodied for use on an estate in Hampshire – was a charming story, while the car, despite needing re-commissioning after three years' inactivity, was first-class offering, and made £50,600.
The same sale also offered a 1922 Austin 20hp tourer that, like the Royce, had an interesting history. Originally a landaulet it was used as a taxi in Cornwall, converted to a lorry in 1938 and stored from the start of the war until 1969, before being rebuilt as a tourer in 2011. Smart and usable, it wasn't dear at £11,500.
So, with most of these cars falling into both the usable and affordable categories, and all scoring high points on the style scale, what's to stop a foray into the pre-war motoring world?
What's your favourite pre-War car or motorcycle? Let us know below.