This story begins in 1962, in Shepperton, Middlesex, 15 miles west of London.
Two 14-year-olds are staring at bicycle, chained to an oak tree on the Thames riverbank, next to a dilapidated blue and white wooden houseboat. The bicycle is a battered two-tone blue F.H. Carpenter track bike, a single-speed "fixie" with only a front brake, built for velodrome use and short time trials, with pointed Italian frame lugs. Its tires are "tubs" — tubular tires stitched together in the inside circumference, then glued to the alloy rims. The saddle is a Brooks cutaway, which looks like a broom handle.
How much is your car to insure? Find out in four easy steps.
Get a quote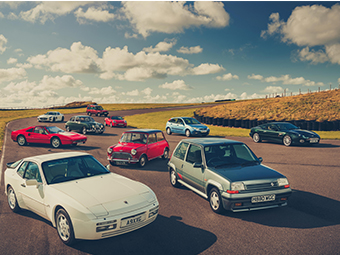 "I'm going to buy that from the bloke on the boat in a couple of weeks, when I come back from my holiday in Spain," said the larger of the two boys. "What if it isn't here then?" asked the other. And it wasn't. Not my proudest moment, I must admit, but we patched it up eventually. In the meantime, I sold my Italian Frejus road-racer, stripped and painted the Carpenter, and started to rebuild it.
I took the bus to Frank Carpenter's shop at 52 Surbiton Road, Kingston, to buy some correct transfers for the down tube and seat tube. He built about 100 bicycles a year, from 1945-68, when he fell ill and retired. "How do I know it's one of mine?" Frank asked gruffly. "It has your badge on it," I said. "I'll have to see it," he said, so I went home and brought it back. Once his wife had identified it in the records, he gave me a full set of transfers, free.
The Carpenter came with seven ancient tubular tires, and I became an expert at repairing flats on a daily basis. It was easiest to spot punctures when it rained, because you could see bubbles, but the frame lacked clearance for mudguards, so a rainy day was a very wet experience. Luckily, the Thames Valley is pretty flat, so the Carpenter was correctly geared (50 X 17). I did a couple of time trials on it and used it daily.
Riding down to Somerset was more of a challenge, even with new Clement tires. There were a lot of hills on the 154-mile route to my Uncle Stewart's in Milverton, outside Taunton, and I found that going downhill was as much work as going uphill — there's no relaxing on a "fixie." I also blew the bulb in my headlight, which made the latter part of the journey quite exciting and very dark, as I staggered in at 10 p.m. after 14 hours on the road. Two weeks wasn't quite enough time to recover for the soaking wet return journey, and I called home for rescue, about 25 miles from home at 11 p.m. Dad agreed to come and get me but discovered his car had a flat tire. He found his torch, which had a note on the lens. "Dad, I borrowed the bulb." Amazingly, he came anyway.
Fast forward to November 2011, and the Bonhams catalog for their Harrogate, North Yorkshire sale. Before the classic cars crossed the block, motobilia, models and bicycles were offered, including "Lot 207. A handmade bicycle by F.H. Carpenter, 23-inch frame, overpainted 'light gold' ornate lug joints, with drop handlebars and replacement Brooks saddle. Estimate £100-150."
It was the first F.H. Carpenter bike I'd run across in 50 years. The online photograph showed a track bike with the fluted signature seat stays but much fancier lugs than the Nervex Professionals I was used to — more like a Holdsworth Monsoon, but with a central spear. I wondered how one might bid on something so far away, and asked Bob Ames, a friend who happens to be a director of Bonhams. "Send Ben Walker an e-mail. Here's his address," he said.
"What do you want to pay?" Walker asked me. "The estimate seems reasonable, I can go for that," I said. A week later, Walker e-mailed me: "Well, you got it for $285. What do you want to do with it?" "Could you take it back to London?" I asked. "Sure, it'll be in the warehouse," he replied.
Writer Paul Hardiman, my Hagerty colleague in England, was intrigued. "It looks good, but how do you get it home?" he asked. "I can crate it up for you, then we just have to find a shipper." Hardiman was as good as his word and collected the bike from London, got a shipping box from a local bike shop, dismantled the bike ("I rode it first; it's nice") and packed it.
The shipping news was drastic, with estimates as high as $700. At first it looked like I might be able to bring it back when I went to the UK for the Pioneer Run in March, but that trip fell through. Hardiman and I agreed: "Well, at least we got the bike." As spring ticked on, it occurred to me that Bonhams must be shipping some items over for the Quail Lodge sale in Monterey, Calif. "We might be able to fit it in," Ames said, and they did.
I was covering the Monterey week — races, auctions, tours and shows — and was able to collect the bike box, thanks to my friend Ray's 1965 Renault R-16, whose back seat actually swings up to hang from the ceiling, and made room for the five-foot by three-foot by eight-inch box.
Yet another piece of good fortune occurred when Vintage Motorbook dealer Logan Gray, who lives in Portland near me, asked, "How are you going to get it home? If I have a good week at Monterey I might have room in my van." And he did. As my Dad always said, it's better to be lucky than rich.
My second F.H. Carpenter bicycle is beside my desk in the basement as I write this, 8,000 miles from where it started, and awaiting restoration. John Gill, a Carpenter bicycle expert in England, is researching details, and agrees it seems like an unusual bike, maybe even built by Bill Hurlow after Frank Carpenter got sick. It's a track bike, with short wheelbase and steep angles, round forks and rear-exit back wheel. But the frame is also set up for mudguards, and the rear wheel is reversible, with 20-tooth fixie and 22-tooth freewheel. It has front and rear brakes, with cable lugs along the top tube, perhaps so the rider could pedal to a competition then switch the rear wheel around.
For a bike built for short races, Carpenter #5123 has already taken a long, strange trip.