If you're heading south through Belgium towards the Channel ports along the E40 motorway, you'll pass a nondescript service station outside of the town of Jabbeke. There's a petrol station, parking area… not much to differentiate this from the hundreds of others dotted all over Europe. In fact, the only difference is a strip of disused carriageway next to the main road, now isolated behind crash barriers. This is all that is left of a road that in the late 1940s and early 1950s was the destination of choice for British speed tests and saw world records set by a variety of wonderful cars.
Following World War II, the Brussels – Ostend highway was the perfect location for speed tests. A flat, straight dual-carriageway with a good road surface, close to shipping routes to and from Britain, the location also benefitted from a close relationship between the Royal Automobile Club of Belgium and the RAC, the former happy to close half of the road and take official timings.
How much is your car to insure? Find out in four easy steps.
Get a quote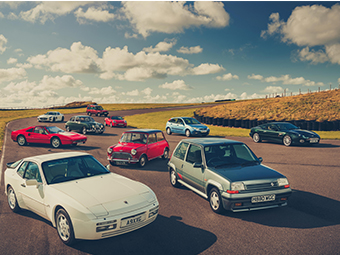 In the first couple of years one man dominated the attempts. Lt Col A.T. Goldie Gardner had been decorated and wounded during the First World War, invalided out of the Army, then decided to change career and become a racing driver. By the mid-1930s he was already breaking records, and despite a hiatus from 1939 to 1945 (for more war service) he managed to amass over 100 land speed prizes all over the world, at one point holding half of all land speed class records.
Goldie Gardner first visited Jabbeke in 1946, just as the road was completed. Driving his 750cc MG EX135, he managed to claim the Class H crown with a speed of 159.15mph. The following year he returned to challenge for the Class I (500cc) prize. Undaunted by the fact that he didn't have a 500cc engine, Goldie Gardner simply removed two pistons and conrods, blanked off the two spare pots, and raced his car as a 4-cylinder, achieving the record at 118mph.
That year Donald Healey joined the party, bringing his Healey Elliot Coupe to Jabbeke, running it up to a measured 110.8mph and establishing it as the world's fastest closed four-seater production car, a record it briefly held.
In September 1948 Goldie Gardner returned, again in the EX135, but this time with a high-compression Jaguar engine, an experimental 4-cylinder version of the XK. The streamlined car reached 175mph, enough to make Sir William Lyons take note, and the following May the new Jaguar XK120 was rolled out on to the Belgian highway.
As Motor Sport delightfully recorded, "A party of motoring journalists and daily paper correspondents was flown out from Heath Row to Ostend in a Sabena Dakota, and taken in a Sabena Iso Bloc coach to witness the record attempts, and a party of Continental journalists joined them at the venue. There, in the sunshine, with smiling gendarme and curious Belgian peasants looking on, the R.A.C. de Belgique officials worked efficiently in their Renault time-keeper's van and patrolled the course in a magnificent modern Alfa-Romeo, while music and announcements were broadcast from a vast van akin in effect to a mobile cinema organ. Col. Barnes represented the R.A.C."
Ron 'Soapy' Sutton took the cream Jaguar XK120, shod in Dunlop Road Speed tyres and fed on standard Shell fuel, up to 132.596mph for the measured mile. Later, he drove the car to the celebratory lunch in Ostend, where it was reported he was "rather neglected'.
By the start of the 1950s, Jabbeke was well-established as a speed test venue for British manufacturers. In 1952 Donald Healey returned to test what was then known as the 'Healey Hundred' prior to its unveiling at the Earl's Court Motor Show. It reached 110mph (hence proving its name), went back to London, and so impressed Austin's Leonard Lord that he did a deal with Healey to mass produce the car: the re-named Austin-Healey 100. Rover also visited in June 1952, testing their gas turbine-engined Rover JET 1 and with driver Charles Spencer 'Spen' King achieving a gas turbine car record of 151.965mph.
In 1953, Jabbeke was a hotbed of British motor testing. In March the Rootes Group brought their new Sunbeam Alpine, driven by Sheila Van Damm and Stirling Moss. The car was anything but stock: a prototype, it had no bumpers, featured a hard tonneau over the passenger seat, a belly plate to improve airflow and the windscreen was removed and a wind-deflecting hump added in its place. The 2,267cc engine, already heavily prepared and with straight-through exhaust and close-ratio gearbox with Laycock de Normanville overdrive was fitted with a special crankshaft and fed by a pair of Solex carburettors. Van Damm set the highest average speed, reaching 120.135mph, and the glamorous pair grabbed the headlines back home.
Triumph were next, with the Triumph TR2. Set up in 'speed trim' (with small windscreen, metal tonneau, fender skirts and belly tray) the car was driven by Ken Richardson up to 124.899mph. Even in 'touring trim' with overdrive, the car reached a respectable 114.9mph.
Next, Jaguar returned, giving the XK120 another run. This was no stock car: aerodynamic improvements on XK120, MDU524 included a Perspex bubble roof covering test driver Norman Dewis's head, and the uprated car reached an astonishing 172.412mph for the flying mile.
Jabbeke didn't just attract the British. German manufacturer Veritas visited, and local racing driver Andre Pilette set a Belgian speed record in the 2-litre class with their Veritas RS at 128mph and Spanish sports car firm Pegaso ran their Z-102 up to 155.34, making it the fastest production car in the world at the time.
Today, a few of the Jabbeke cars remain in their original trim. MG EX135 is displayed at the British Motor Museum at Gaydon, and Jaguar XK120 MDU524 was restored by JD Classics back in 2011, including the recreation of the famous bubble roof. Sunbeam Alpine MWK969 is apparently owned by a member of the Sunbeam Talbot Alpine Register (STAR), and Rover JET1 is currently on display at the London Science Museum. MVC575 Triumph TR2 has recently emerged from a comprehensive restoration; I saw this car at the 2017 Warren Concours and can confirm owner Glen Hewett did a superb job of returning the car to Jabbeke specification.
Finally, the allure of Jabbeke dwindled as the risks to spectators became too great, and it returned to its original use of conveying cars and trucks to their destinations. Over the years it was subsumed into the European motorway system, hence the small strip of original concrete that remains stranded between the crash barriers and a farmer's field. Although close to the northbound Jabbeke service station, I wouldn't recommend anyone tries to access it; there's no footpath, leaving the two alternatives of wading through knee-high weeds or braving thundering lorries equally unpalatable. The roadway itself is also now nothing special, holding none of the automotive glamour that it once had.
That said, there's a lovely rest area a few hundred metres away, at the junction of Kasteeldreef and Halfwerghuisstrraat. On a cobbled layby there are picnic tables and a pedestrianised road bridge that crosses the motorway (search Google Maps for 51.180955, 3.122285) and affords a good view of the original road surface from a position of safety. Jabbeke itself is a nice little town, and there are lots of pretty tree-lined A roads to explore in the vicinity, perfect for a classic tour to mull over this small patch of motoring history.