Hagerty is committed to supporting everything to do with classic cars in the UK. Our manifesto outlines what we would like to see change, and how we would improve the historic vehicle hobby.
And remember, it's only a bit of fun, so even if you vehemently agree with us, please vote for someone else on May 7th!
How much is your car to insure? Find out in four easy steps.
Get a quote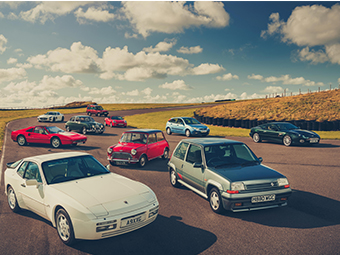 Rolling Vehicle Excise Duty (Tax Disc) Exemptions
At the moment this is agreed every year, and could be stopped at any time. We would simplify things: if your vehicle is over 25 years old, it no longer has to pay vehicle excise duty. We'd enshrine this in law, encouraging the continuation of an industry that contributes over £4bn to the UK economy.
Tax Breaks for Companies with Apprentices
The average age of professionals working with classic cars is still too high- we need to inject new life. By giving corporation tax rebates to businesses who take on apprentices in key areas, we would revitalise areas of the industry that need it.
Revoke the Historic Vehicle MOT Exemption
We think that the decision to drop MOT requirements for pre- 1960 vehicles was a mistake. Far from being unnecessary red-tape, the MOT gives an annual point of reference, especially when buying or selling a car. Safety has to be the priority here: we'll bring it back.
Remove Tolls and Congestion Charge for Classics
Imagine the boost to the UK economy from tourists flocking to see the London streets filled with 4 ½ Litre Bentleys, Jaguar E-Types and Lamborghini Miuras. In Holland and Belgium classics are even allowed in pedestrianised areas. OK, so even if that's a bit fanciful, we think that the tiny amount of congestion charge and tolls recovered from classic vehicles would be better found elsewhere.
VAT refunds for Show Tickets
We think you should be rewarded for driving your classic to a show. That's why we're announcing today that the VAT on your ticket will be refunded if you drive your classic car to an event. How are we going to make sure you've driven a historic vehicle, I hear you ask? Err… we'll get back to you.
Only Classics Days
Finally, we believe there should be days when only vehicles over 25 years old are allowed on the roads. Ok, so we'll make an allowance for commercial vehicles, the emergency services and the Armed Forces, but otherwise it's just vintage, veteran and classic cars bikes and tractors galore! We'll start with Drive it Day…
So that's the Hagerty Manifesto, but please tell us what you'd do if you had the power!