It's nearly Christmas, and if you still haven't bought a present for the person in your life who loves cars, Hagerty's Gift Translator can help. It takes dull, dreary, predictable gifts and turns them into something every petrolhead will cherish!
Gift: Pyjamas. Translation: Overalls
How much is your car to insure? Find out in four easy steps.
Get a quote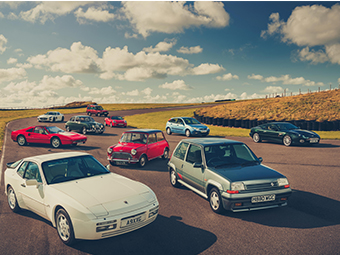 Forget the flannel PJs or the Christmas onesie, the present of a good set of overalls will make your classic car enthusiast beam with pride every time he enters the garage. We found this great set of traditional white overalls by Holden. Made from thick cotton, they have everything you need- twin side, rear, breast and spanner pockets and a generous fit so you can wear them over your normal clothes. On the back is a stylish vintage BP logo superimposed onto the Union Flag, and they even come with a brown card 'MECHANIC' armband, so you can pretend you're in the paddock at Goodwood. And at £39.50, they won't break the bank. www.holden.co.uk for more details.
Gift: Bobble Hat. Translation: Car Cover
A bobble hat may keep your head warm and dry, but classic cars need the same protection. What could be better than a custom car cover, either to keep your pride & joy warm inside the garage or nicely protected outside? We love the lightweight breathable outdoor covers made by Classic Additions. They fit really well, are very durable, and you can create your own custom design if you wish.www.classicadditions.com
Gift: Magazine Subscription. Translation: Classic Auction Catalogue Subscription
At the Hagerty office we're lucky enough to receive many classic auction catalogues. We love them- even if you can't attend the sale or aren't particularly looking to buy a new classic, they show you what's on the market and could offer a temptation that's hard to resist. We love the catalogue from our friends at H&H Classic Auctions. They are well-set out, full of stunning photographs, and packed with interesting cars, bikes and ephemera. You just never know what you'll find- the most recent catalogue included a 1935 BMW R12 German military motorbike and sidecar combination, complete with de-activated MG42 machine gun- just the thing for re-living The Great Escape on Boxing Day!
Gift: Bubble Bath. Translation: Carplan Demon Foam
Bubble bath is great, but what every car nut wants is a shiny motor. Carplan Demon Foam is just what the doctor ordered- it clips onto a standard hose fitting, and with the flick of a switch pumps loads of foam out onto the car. No pressure washer is needed- just the thing for delicate older vehicles. Carplan Demon Foam is available in 2 litre bottles with spray attachment for £12.00 from www.tetrosyl.com and other motor factor retailers.
Gift: Diary. Translation: Classic British Cars Calendar
OK, so many people now manage their diaries on their computer, but there's still a place for a well-presented wall calendar, especially if it contains superb photographs of some of your favourite classic cars. We love the Classic British Cars Calendar from Carousel Calendars. It has a great mix of British classic cars, from the Alvis TE21 Drophead to the 1936 Singer Le Mans, and will brighten up any office or garage. It is available with an RRP of £9.99 from http://www.carouselcalendars.co.uk
Gift: Gardening Books. Translation: Car Books
If the weather outside is frightful, then what better than a good motoring read to curl up with in front of the fire? We've just read Virgil Exner: Visioneer by Peter Grist, and Stirling Moss: My Racing Life by Sir Stirling Moss and Simon Taylor. They are both great books, covering the lives of two very influential, but very different, motoring icons- Exner one of the most influential vehicle designers of the 20th century and Moss a racing legend. A full review of both books will be published shortly in the Hagerty Newsletter. Virgil Exner: Visioneer (£25) is published by www.veloce.co.uk, 01305 260068 and Stirling Moss: My Racing Life (£50) is published by www.evropublishing.com and sold through the Signature Store 01932 344739.
Gift: Toy Car. Translation: Model Car.
OK, so most of the readers of this article probably have the real thing parked on their driveway but who doesn't still like a model car, especially if it's a scale copy of your own classic pride and joy? Whether you keep them in a cabinet, on a shelf in your office, or just play with the when nobody is looking, we love model cars, especially the official licensed classic models made by Oxford Diecast. www.oxforddiecast.co.uk
Gift: Body Moisturiser. Translation: UBS 220 Underbody Protection Wax
There is nothing that says 'I love you' to your classic motor than a good coating of underbody sealant. We've tried all the different types, and we really like the transparent amber UBS 220 wax made by the same company that produces Fertan rust converter. It is permanently flexible, withstands twisting and is water-repellent, plus it can be either sprayed or brush-painted into box sections or on the underside of classic vehicles. UBS 220 is available from www.fertan.co.uk with an RRP of £11.21 for a 1 litre container.
Gift: Silky Underwear. Translation: Hagerty Classic Car Insurance!
OK, so classic car insurance may not be very sexy but Hagerty classic car and bike insurance covers the essentials (geddit?) and much more. Our policies include loads of features that you may have to pay for elsewhere such as admin fees, 90 days European touring cover, breakdown and recovery insurance, and agreed value cover. When insured with Hagerty, you are also insured to drive any other vehicle insured by Hagerty (subject to the owner's permission). Also, we may well be able to save you money on your policy- give us a ring on 0333 323 1138 to find out.
We hope that has given you some festive ideas for presents, and wish you the very best for the festive season!