Despite persistent rumours of its survival, history records that the last Tasmanian Tiger (an oddly striped marsupial wolf) died in a Hobart, Tasmania, zoo in September 1936. In an extinction of slightly lesser magnitude, it seems that South Korea's Hyundai Pony TLS has now entered the automotive fossil record — the last one to turn a legal wheel on a UK road appears to have expired some time in 2012.
Other once ubiquitous cars are now disappearing from UK roads at a shocking rate. Rot, economically unrectifiable MoT failures and just the general disposable nature of many of the cars built in the 1970s-1990s have given rise to the notion of Hagerty's "The Automotive Threatened, Endangered and Extinct List."
How much is your car to insure? Find out in four easy steps.
Get a quote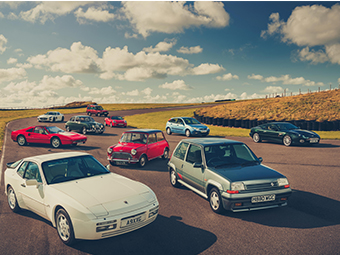 The list works as follows: Cars that were originally sold in large numbers in the UK (greater than 10,000) with 25 or fewer licensed examples extant are officially classed as "Threatened." Those with fewer than 10 licensed examples are "Endangered." Those with no more than one either licensed or on SORN (statutory off-road notification) are officially declared by Hagerty to be "Extinct" (unless or until someone finds a second example for a breeding pair to stave off the inevitable). Here are 10 of our favourites:
1982-84 Austin Ambassador (THREATENED): The Ambassador was what appeared to a mildly face-lifted hatchback version of the Austin Princess. In actuality, it shared little in common with the earlier car with the exception of the wedge-styling that had been popularized within BL by Harris Mann, who styled the earlier Triumph TR7 on, of all things, a cocktail napkin. By the 1980s though, the wedge fad had had its day, and the Ambassador never really caught on, lasting just two years. Exactly 43,427 copies were built, of which less than 30 are still
1968-76 Audi 100 LS (ENDANDERED): The 100 LS was Audi's first stab at an upmarket saloon designed to compete with the bottom of the BMW and Mercedes range. The four-door LS was the most numerous, although there was a pretty coupé and a two-door version of the saloon. The first generation 100 never gained an enviable reputation for reliability, with particularly annoying inboard brakes. The LS saloon sold in reasonable numbers in the UK; however, there are only eight licensed examples extant today.
1975-84 Renault 30TS (EXTINCT): Think of the Renault 30TS as the Gallic version of the Austin Ambassador. With similar five-door hatch styling (minus the wedginess), it was Renault's bid to compete in the executive saloon class, albeit with a car that looked decidedly down market. At least it didn't suffer from the same lack of horsepower that the Ambassador did — it was the first Renault to sport the soon-to-be ubiquitous Renault-Peugeot-Volvo Douvrain V-6. Nary a 30TS remains on UK roads, and while a small population of the 145,000 built remains in its native France, north of Calais, the 30TS is extinct.
1973-83 Austin Allegro (ENDANGERED): Ah the poor Austin Allegro: whipping boy for everything that was wrong with 1970s Britain. Just looking at one may make your retinas want to go on strike in sympathy with BL workers of the day. Not surprisingly, some of the dreariest colours in the BL palette were among the most popular. Think mustard, beige and brown. Hoping to capture some of the quirky timelessness of Citroëns of the day, BL created something undeniably unusual. Even the steering wheel was an odd squarish shape. Because it stubbornly stuck to a booted design instead of the hatchbacks that the market wanted, time has certainly not been kind to the Allegro, both stylistically and in terms of survivorship. Amazingly, just 11 remain licensed out of a total production of more than 640,000.
1971-80 Morris Marina (THREATENED): The Marina was a classic parts bin special, using the tried and true 1.8-litre MGB engine as all as the old BMC A-series 1.3-litre lump, plus numerous other BL bits. Thousands have been broken for said bits that will fit other more interesting British cars of the era. Lotus Esprit owners, for example, can thank the Marina for keeping door handle prices low. Like the Allegro, the Marina defied the growing hatchback trend as part of BL's pig-headed insistence that the Austin Maxi be the only hatch in the range, even though the design could have accommodated one. It soon mattered little; with modern front-drive designs like the Fiat 128 and VW Golf coming to market, the Marina had no hope of competing. Amazingly, it stuck around until 1980. The Marina represents the greatest disappearing act on the list. More than 800,000 were sold in the UK and only 22 remain licensed. Strangely, much of the development team was hired by the South Koreans, and their very similar work on their behalf formed the basis of the next car on the list:
1975-82 Hyundai Pony TLS (EXTINCT): The Hyundai Pony was the first mass-produced South Korean car, and not surprisingly in light of the above, was similar in concept to the Morris Marina. Unlike the Marina, the Pony eventually got a hatch. The Marina connection doesn't stop there, though: It shared a common designer with the Marina's ignominious replacement, the Morris Ital — Giorgetto Giugiaro of Ital Design, evidently working with 97 percent of his prodigious talent on holiday. The Pony was the first South Korean car sold in the UK, and it left a legend to last a lunchtime. Zero are currently licensed.
1972-89 Alfa Romeo Alfasud (ENDANGERED): The infamous Alfasud was the result of the Italian government's desire to bring employment to chronically underemployed Southern Italy. A new plant was built in Naples to build the boxer-engine front-driver, redevelopment work on the site having been carried out from 1943-45 courtesy of the U.S. Army Air Forces, the RAF and ironically, even erstwhile ally the Germans making Naples the most bombed city in all of Italy. Looking like an almost pretty Allegro, the Sud was a much more modern design. Unfortunately, the car turned out to be as fragile as a cannoli shell, and it was said that a person could stand next to one in a car park and listen to it rot. The Alfasud is critically endangered in Britain with just two currently licensed.
1970-76 Hillman Avenger (ENDANGERED): While similar in concept to the Morris Marina, the chaps at the Rootes Group did a much better job in execution. The Avenger wasn't actually horrible to drive. There were even performance versions of the car (one of which reprised the famous "Tiger" name), and they rallied successfully. Like the Marina, the car was also exported to the U.S., where it was known as the Plymouth Cricket and sold by Rootes' parent Chrysler. It was no more successful there than the Marina, and the Cricket seems to have chirped its last in the U.S. quite some time ago. Thirty-five remain licensed in the UK. Strangely, the Avenger was built in Iran from 1978-80, where a kinder climate (non-political of course) results in sightings of the Persian version that are nearly as frequent as public floggings in downtown Tehran.
1975-84 Vauxhall Chevette (ENDANGERED): The Chevette was GM's first true world small car. Sold under Opel, Chevrolet, Pontiac, Isuzu and Holden badges as well as some obscure brand in Ecuador that nobody in the English-speaking world seems to recall, the Chevette was a simple rear-wheel-drive design that was immediately behind designs like the Golf and Fiat 128. It did at least sport a hatchback, one of the first in the UK in this size range. More than 400,000 were sold in the UK and a mere five remain licensed. In the U.S., where there is no equivalent to the MoT, a few stragglers hang on, mainly in Western states where rust is less of an issue. One particularly comical U.S. version sported fake wooden sides. All had the massive 5 mph bumpers required of American cars of the day. Even there, extinction looms for the New World species.
1969-85 Fiat 128 (THREATENED): Of all the cars mentioned here, the Fiat 128 perhaps most deserves a better fate than to be included on a list like this. It was, after the Mini, one of the first modern front-drivers and it also shared a lot of the Mini's cheek and cross-demographic appeal. Enzo Ferrari even kept one as a personal car. Available in multiple body styles from an estate to a booted saloon and three-door hatch, it donated its mechanicals to create the brilliant X1/9 mid-engine sports car. All were fun to drive when used in the classic near-abusive Italian manner. Sadly, the 128, like Alfas and Lancias of the era, were among the first truly green cars in the sense that they were essentially biodegradable. Most have returned to the elements. Only 22 likely intensively Waxoyled examples remain on UK roads