Most vintage-car enthusiasts are familiar with the big annual gatherings like The Goodwood Festival of Speed and The Revival here in England, Pebble Beach in California and Rétromobile in Paris.
But the Techno Classica show, held each spring at the Messe Essen exposition center in Essen, Germany, isn't nearly as well known. Techno Classica, which celebrated its 25th anniversary this year, combines dealer exhibits with car-club displays and a classic-car auction by Coys, along with hundreds of vendors selling new and used parts, accessories, clothing, die-cast model cars, literature and manuals.
How much is your car to insure? Find out in four easy steps.
Get a quote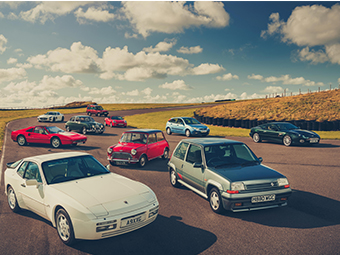 Techno Classica may be the closest thing the classic car world has to an all-encompassing trade show. Consider the numbers: 2,500 cars on display, 234 participating clubs, 1,250 vendors and 1.3 million square feet of display space. Nearly 200,000 people attended over five days in mid-April.
Essen is in northwest Germany just 30 minutes by cab or train from the Düsseldorf airport. And while it's not Paris, Essen has its charms even though little of the old city survived the RAF's attention in World War II. (The next Techno Classica is scheduled for March 26-30, 2014.)
Some of the larger shows feature enthusiastic participation by new car manufacturers. But at Techno Classica, automakers' involvement is positively off the charts, with a strong presence by Alfa Romeo, Aston Martin, Audi, Bentley, BMW, Citroën, Ferrari, Ford, Jaguar, Mercedes-Benz, Mini, Opel, Peugeot, Porsche, Volkswagen and Volvo. The companies' lavish displays suggested that they were all aware of the equity in their heritage.
BMW's display was particularly impressive, celebrating the history of the "M" cars from its Motorsports division and the 90th anniversary of BMW motorcycles. And just to remind everyone of what country they were in, a giant beer tap was set up in the trunk of a BMW 502 sedan from the 1950s. The tap seemed to be in service nonstop from the 9 a.m. opening until the 6 p.m. close.
Club displays ranged from the Spartan — a few cars with owners and club members sitting nearby — to the elaborate and often incomprehensible — like a Borgward Isabella sitting in a large makeshift bathtub. The more humble displays tended to showcase autos, like the Trabant and Wartburg, from the former East Germany.
A great deal of what was on display would have been a bit unfamiliar to all but the most knowledgeable enthusiasts, including the Borgward — along with its companion Lloyd, Goliath and Hansa marques — and the cars of Glas and Bitter. The profusion of models from familiar marques like BMW, Volkswagen and Opel would hold the attention of a curious enthusiast nearly indefinitely.
The number of vendors was remarkable even if some of the wares were rather standard swap meet fare. Every car show on the planet seems to have some bloke selling a miracle metal polish that will make an empty soda can shine like a mirror.
As one might imagine, given the location, Techno Classica was short on '57 Chevy grilles and long on Karmann Ghia bumpers and taillamps. One could pass the time staring into seas of red and amber taillamp lenses and puzzling over what cars they fit.
One vendor specializing in rebuilt vintage radios claimed to have virtually every type of postwar Blaupunkt unit, with prices starting at a lofty £190 for a basic unit that appeared to have come from an old VW Beetle. Steering wheels, carburetors, interior fabrics and leathers were common. Aside from wares for popular German marques, quite a few British vendors offered parts and accessories for MGs, Triumphs and Austin-Healeys.
Die-cast cars were available for nearly every make and model imaginable at prices ranging from £5 Chinese-made show specials to more than £1,010 for a meticulously handmade Auto Union Grand Prix car from the 1930s.