British fuel specialist Coryton is selling a range of new sustainable petrol aimed at classic car owners, but it will be hard to come by.
Coryton Sustain Classic is available in three grades: Super 80 contains at least 80 per cent renewable content, Super 33 contains 33 per cent sustainable fuel and Racing 50 is made from at least 50 per cent renewables. Super 80 and Super 33 are 98RON grade, while Racing 50 is 102RON and aimed at competition drivers. In each case there is less than one per cent ethanol making the fuels suitable for older vehicles.
How much is your car to insure? Find out in four easy steps.
Get a quote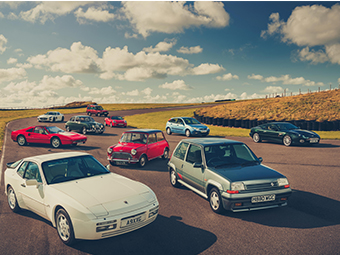 Unlike e-fuels, which use carbon captured from the atmosphere in their manufacture, Sustain is a bio-fuel made from agricultural waste, including straw and crops which are unfit for consumption. The theory is that the fuel only uses carbon which already exists in the atmosphere and has been absorbed by the plants as they grow. As a result Coryton claims that its Super 80 saves 65 per cent of greenhouse gas emissions compared with fossil fuel, with Super 33 saving 25 per cent, and Racing 50 saving 35 per cent.
"The availability of true fossil-free fuel components is limited," says David Richardson, Business Development Director at Coryton. "So, we're setting truthful and realistic goals, producing fuels that have a meaningful impact whilst meeting the demands of the user. While we could use 'mass balancing' techniques to certify this fuel as 100 per cent, we believe that it is important to be open about technology readiness and traceability. The industry will get there with the right support – which is why we think it's important to start getting these products into the hands of consumers so they can see how easy and effective the switch could be."
Coryton prices its Super 33 at £3.80 per litre, Super 80 costs £4.65 per litre and Racing 50 is £5.24 per litre, making it considerably more expensive than the UK average price of around £1.60 per litre for super unleaded.
The bigger issue is distribution, however, as Sustain Classic is currently only available from one supplier, Motor Spirit at Bicester Heritage, near Oxford, although more retailers will be rolled out soon.