Over the last few years, there has been an explosion of 'themed' car events springing up all over the country. You know the sort of place: lots of motoring paraphernalia, a few battered enamel signs, and everyone dresses up in tweed. Sometimes, I find that at these events the cars find themselves relegated to the background.
Last weekend, I visited Martin Chisholm's oasis for historic motoring in the heart of the Cotswolds: The Classic Motor Hub. I was there for the Classic Drive-In Movie night, an event sponsored by Hagerty. We even supplied the popcorn.
How much is your car to insure? Find out in four easy steps.
Get a quote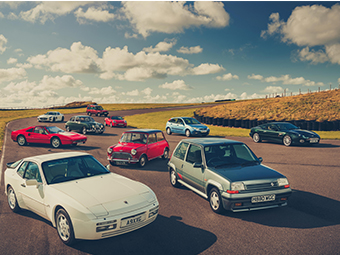 On the surface, the Hub meets the description of the themed event quite well, but this place is the real deal. Although there are bits of motoring history everywhere, this isn't just the set dressing you'll find at so many other locations. The pictures on the wall are original posters from the 1920s onwards and vehicle parts are those salvaged from their fleet once beyond repair. Even the new fixtures & fittings aren't trying to be something they're not: the fire pit drums laser cut with the Hub logo are very much 21st century, but look cool and in place without trying. This sort of understated style takes a huge amount of effort to get right, and the massive popularity of the Classic Motor Hub confirms that Chisholm has got the balance just right.
There's also little that would detract from the Hub's amazing collection of cars for sale. Outside of one of the main hangars stood a wonderful Aston Martin 1 ½ Litre. This was Chassis S4, the fourth car built by Aston Martin Motors Limited in 1927, a car that was intended to run for Le Mans. Behind it was an extraordinary collection, spanning everything from a Lamborghini Countach 5000 QV to an immaculate 1920 Mathis 8/20C.
The night itself was a great event. Under a balmy summer evening sky, the Hub filled with all manner of classics. The mix was eclectic: three pre-war Bugattis pulled up alongside a slammed VW Golf GTI on low-profile tyres and BBS alloys, while a MGB followed on behind. Porsches, Bentleys, Chevys and all manner of other cars joined them.
The film on this occasion was Grease, but the title was almost irrelevant. People came to see the cars, join their friends and make new ones in the licensed bar marquee, listen to live music and enjoy the evening. That said, some dressed the part: there were at least two groups of T-Birds and Pink Ladies. As night descended and the Hagerty logo became visible on the screen, most made it back to their cars or deckchairs, glasses in hand, to enjoy the rest of the evening.
For more information on events at The Classic Motor Hub, visit www.classicmotorhub.com