Over the past few years the 'Classic Car Boot Sale' has been gathering momentum attracting huge crowds of people with an interest in classic vehicles as well as being a family-friendly celebration of all things vintage, collectible and upcycled. It is the brainchild of Wayne Hemingway MBE the acclaimed fashion designer and the co-founder of fashion house Red or Dead who wanted to showcase timeless designs after running the successful festival 'Vintage at Goodwood'.
Having previously attracted very large crowds on London's Southbank and as a result outgrowing the venue, the event has now moved to the other side of the river just next to Kings Cross Station, an area that is undergoing a vast amount of investment and regeneration. The first of two, two day events this year took place over the weekend of the 16/17th April suffering somewhat from the wintry weather on the Saturday.
How much is your car to insure? Find out in four easy steps.
Get a quote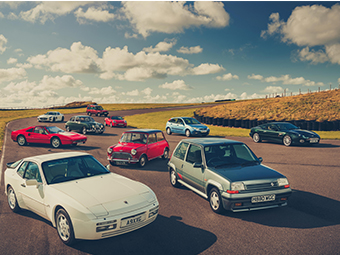 Despite masses of advertising and coverage in numerous print and on-line magazines and social media, the content and crowds suffered and apart from a few classic car dealers there were few private vehicles for sale and virtually no motorcycle content in the large covered area despite the promises made of 100 plus vehicles!
Here though could be found members of the Classic Car Club team trying to get people to sign up for membership which allows the use of a whole range of classic cars on a daily basis. Several dealers were offering some restored cars, but there was masses of unused space caused by exhibitors being put off by the inclement weather or having to journey into London.
However, a few hundred yards away in the recently opened new public space, known as Lewis Cubitt Square, there was an enticing array of some of the finest mobile eateries serving street food, coffee, cocktails and craft beer from converted vintage vans and buses and this area was constantly busy.
Live music from spinning vinyl music from the 40s to 80s kept everybody entertained while they browsed vintage clothing and hardware from a bygone era draped over some stunning classic motors owned by the sellers making the entry worthwhile.
Out front by the fountains, a mobile cinema had people queuing to watch period films, while classic buses, taxis and Mini's showed how things used to be on out roads. The event was also linked with BOB (Best of Britannia) – another well-established event that was showcasing the best of British manufacturing and products for people to see while queuing to pay the £5.00 entry fee.
The idea is sound and no doubt the event will continue to grow as people realise they can exhibit and sell to like-minded people and in particular fellow petrol heads while having a good day out. So it is worth keeping an eye on their website for detail of future events, especially if you are London based.